China Bans Anti-Blockchain Sentiment As It Prepares For Launch of State Cryptocurrency
Thanks to a subscriber for this article from the Independent which may be of interest. Here is a section:
It is understood that the new law will precede the launch of China's state-backed cryptocurrency, which is expected to be unveiled early next year. No specific dates have been given but in August a senior official at China's central bank said it was "close to being out".

China's interest in the space appears to have had a positive impact on already established cryptocurrencies like bitcoin, which some say add legitimacy to the cryptocurrency industry.

China's plans were accredited for bitcoin's recent price surge that saw its value rise from below $7,500 to above $10,000 in the space of just a few hours.

"This is a clear signal that the leader of the world's second-largest economy is moving towards embracing the technology – in which Bitcoin plays a vital part – and therefore taken as a positive boost for the whole digital currencies sector," Nigel Green, CEO of financial advisory firm deVere Group, told The Independent.

"Perhaps quite sensibly, investors could not ignore the comments and sentiment expressed by President Xi and reacted by increasing exposure to bitcoin. It also comes as China is said to be developing its own national digital currency, which is further proof that in some form or another, digital currency is the future."
China is well on the road to completely dispensing with cash. It is now increasingly difficult to use cash in stores and an increasing proportion of business is transacted online. The benefits for a sovereign, of creating a digital currency where it has full control over the issuance, supply and availability but enforces the use, flow and acceptability of transactions are obvious. Quite whether it is beneficial for investors and consumers is an altogether different question.

China wants its state backed currency, whether the Renminbi or something else, to supplant the US Dollar as the world's reserve currency. How do you do that? It is already the world's biggest buyer of commodities but that has done nothing to negate the Dollar's dominance. China is already one of the world's largest economies by many measures but the international use of the Renminbi is a trivial compared to the Dollar, Euro, Yen, Pound or Franc. So how do they get to the goal of reserve currency from here?

They have likely concluded it is via transactions. The SWIFT system transacts about $5 trillion per day. The aim of many crypto projects is to disrupt this system and to disrupt the wire transfer and transfer market. If a state backed cryptocurrency can take the place of that system it would go a long way towards reserve currency status. That's the likely aim of a Chinese backed cryptocurrency.

The immediate effect is it creates a parallel currency to the Renminbi so big questions would need to asked about whether it is for domestic or international use or both. Any sovereign backs up its bonds and currency with interest and the sovereign's ability to tax its citizens. What would back up a sovereign crypto? It's not immediately clear.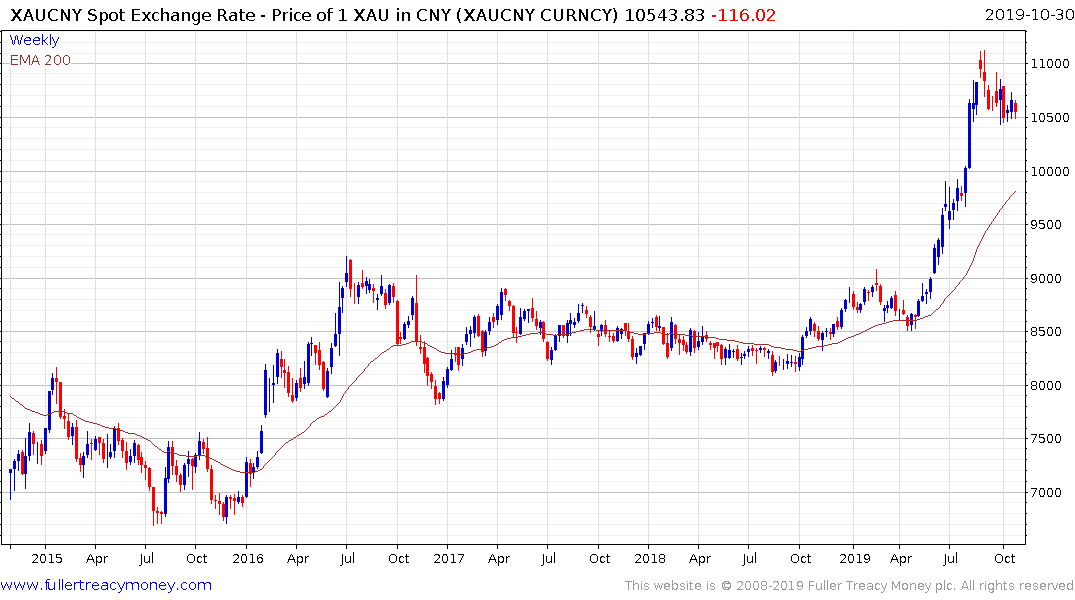 Scepticism on behalf of investors is understandable since it appears to offer the sovereign an avenue to devalue the currency debts are denominated in while it promotes the value of a currency transactions occur in. Little wonder gold in renminbi remains on a recovery trajectory.
Back to top