China Approves New GMO Soybeans in Positive Sign Amid U.S. Talks
This article from Bloomberg News may be of interest to subscribers. Here is a section:
China approved a new strain of genetically modified soybeans developed by a U.S. company, a move that could bolster looming trade talks.

The variety approved for import is an insect-resistant soybean from Dow AgroSciences LLC, according to a list published by China's agriculture ministry on Monday. The nation also approved a new type of GMO papaya and renewed permits for 10 crop varieties, including corn and canola.

China and the U.S. are gearing up to sign the first phase of a trade deal, with the South China Morning Post reporting Chinese Vice Premier Liu He is set to lead a delegation to Washington on Jan. 4. The countries agreed to speed up the approval process for imports of GMO crops as part of efforts to boost bilateral trade.

"The news helps confirm China's opening of its market to U.S. GMO products and dropping additional non-tariff barriers," said John Payne, senior futures and options broker at Daniels Trading in Chicago.

GMO crops have been a source of tension with the U.S. arguing China's stance isn't based on science and has been used as a non-tariff barrier. In 2013, China rejected several cargoes of corn and distillers dried grain from the U.S. due to the presence of a GMO variety that took the Asia nation almost five years to approve, said Darin Friedrichs, a senior analyst at INTL FCStone in China.

The Phase 1 agreement to at least usher in a hiatus in the trade war means China will be buying a lot more US agricultural products. The challenge is that will bring the total to a record and there are questions about how sustainable that is with the USA's current production figures. The move to accept more genetically modified grain is reflective of the efforts under way to lower barriers to additional imports.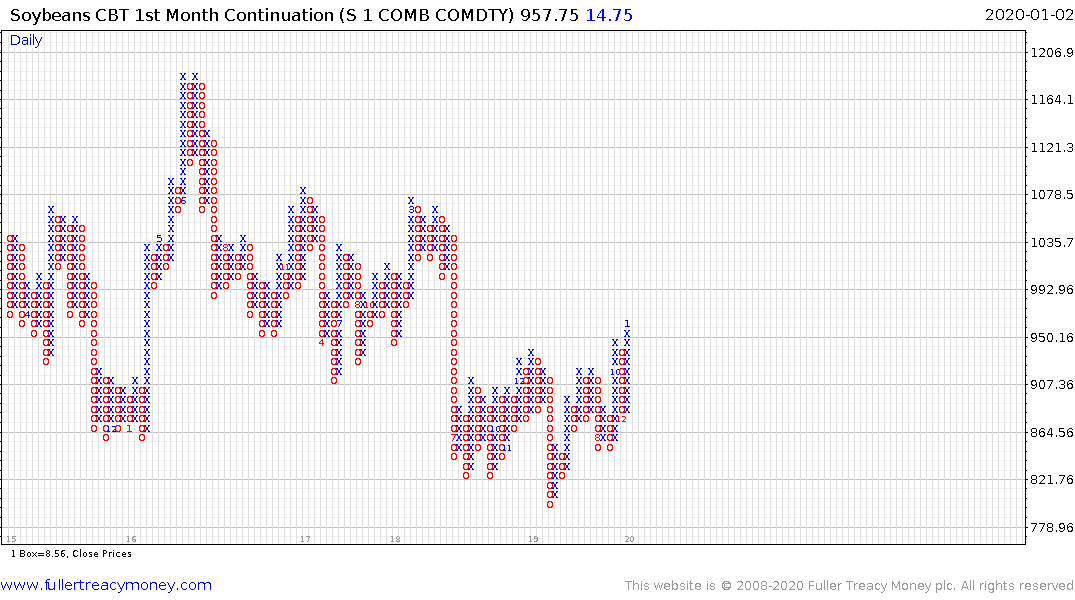 Soybeans prices remain in a five-year base formation but hit a new 12-month high today as it continues to firm from the lower boundary.BASF trended lower for two years but is now firming from the region of the trend mean as it continues to build support.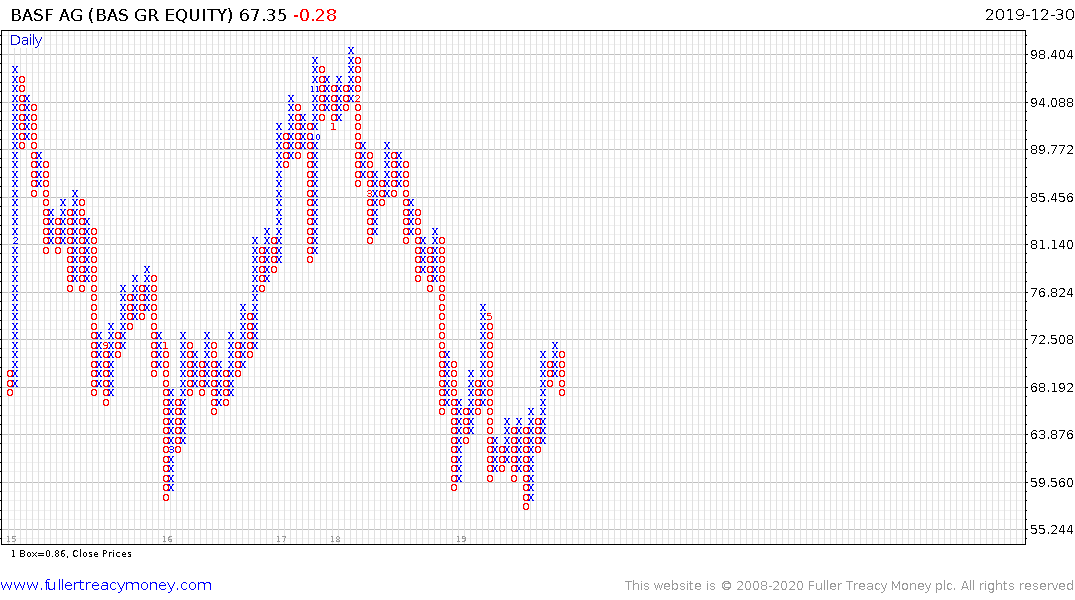 BASF trended lower for two years but is now firming from the region of the trend mean as it continues to build support.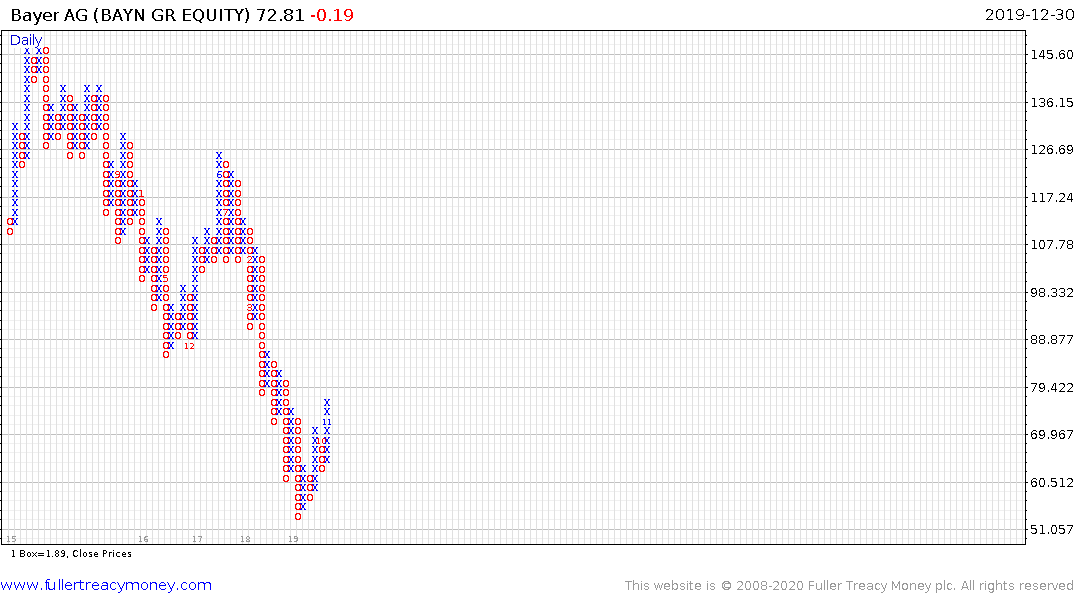 Bayer broke its downtrend in August and continues to trend higher.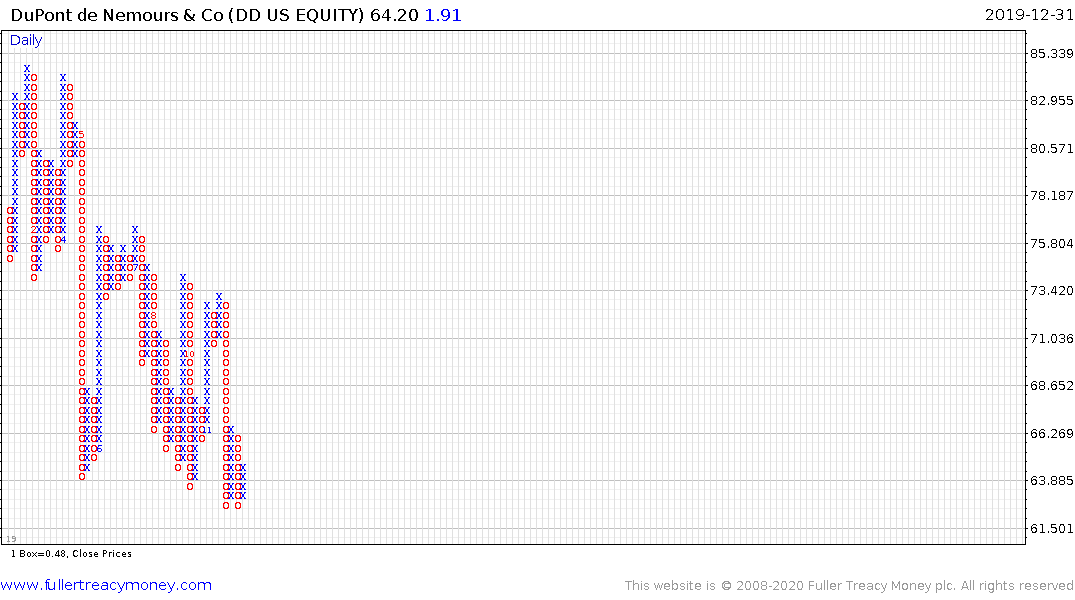 Dupont De Nemours is attempting to steady in the region of the lower side of its six-month range but needs to sustain a move above $70 to break its medium-term downtrend.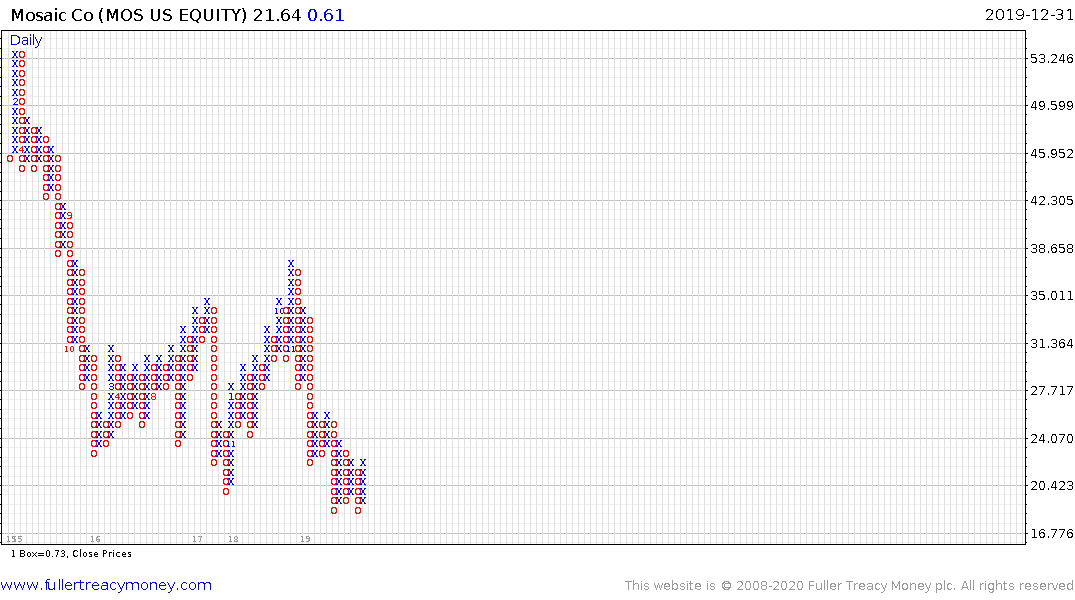 In the fertiliser sector, Mosaic has been ranging around the 2017 low near $20 since September and is now testing the region of the trend mean. A sustained move above that level would lend credibility to the recovery hypothesis.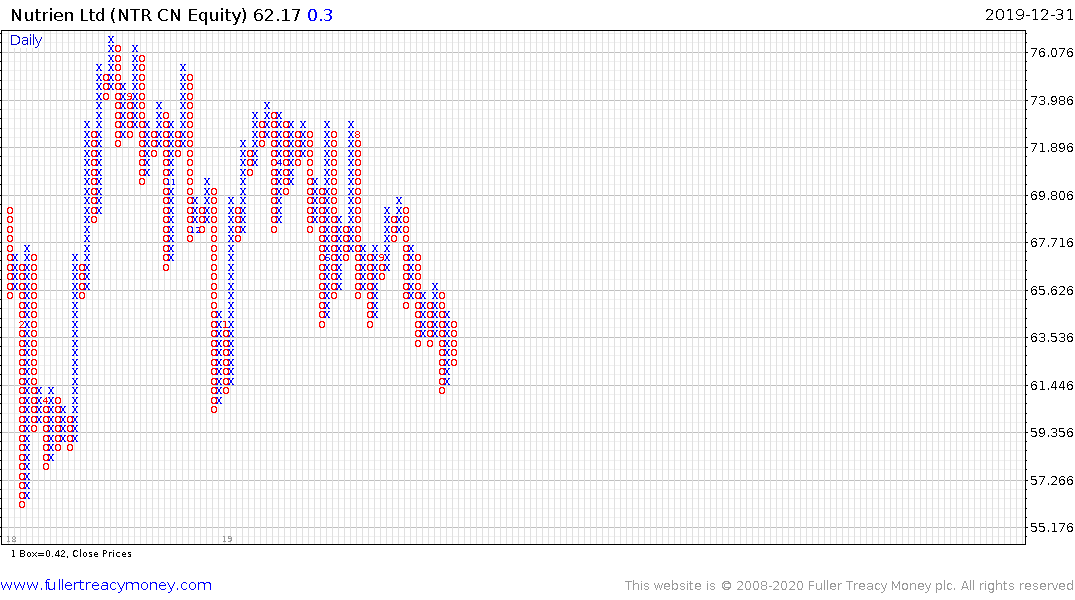 Nutrien's sequence of lower rally highs remains intact.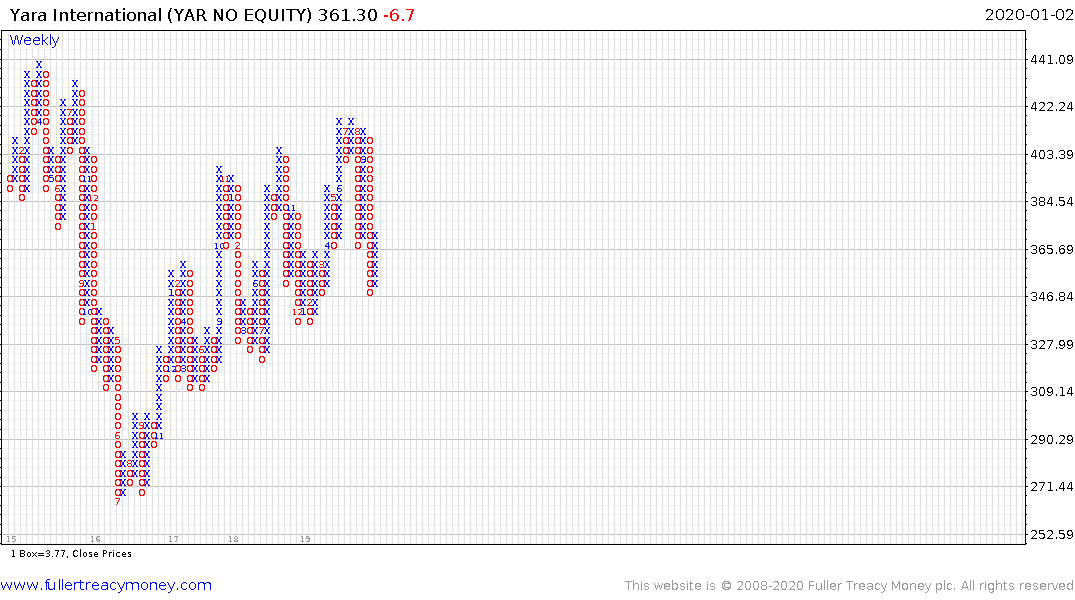 Yara International pulled back today from the region of the trend mean and needs to hold the medium-term sequence of higher reaction lows, within what has been a very choppy uptrend, if the benefit of the doubt is to continue to be given to the upside. The low price of natural gas has been a saving grace for many fertiliser companies but the still unconvincing return to demand dominance for agricultural commodities remains a headwind. There is potential the rebound in seed companes may be leading since seeds will need to be fertilized once planted.
Back to top