Chew on This. Cheap China Food Deliveries Won't Last
This article by Shuli Ren for Bloomberg may be of interest to subscribers. Here is a section:
Underpinning Meituan's success is what the company calls "abundant labor supply." The cost of paying workers for each food order is about $1, or 20 percent of the expense incurred by delivery services in the U.S. An average order takes about 35 minutes, versus more than an hour in America.

For that, China's urban consumers can thank the army of rural migrants who have crowded into cities in search of work. A deep pool of more than 280 million such workers exists to service the needs of middle-class city dwellers, enabling fast e-commerce and offline-to-online businesses.

But don't take them for granted. Soon, there may be no cheap labor left in China's large cities.

To fight pollution and traffic jams, mega-cities have started to restrict and even kick out migrant workers. Beijing plans to cap its population at 23 million in 2020, only 1.3 million more than its current size. Meanwhile, Shanghai has a target of 25 million by 2035, leaving room for only 800,000 newcomers. Meituan, which is battling Alibaba Group Holding Ltd. for food delivery customers, alone deploys more than half a million of delivery riders daily, over half of whom are based in the four tier-1 cities of Shanghai, Beijing, Shenzhen and Guangzhou.
As the author above states it can be pretty cozy to live in China's major cities. The quality of restaurant food is excellent and deliveries, which are essentially free, means you do not have to wait in line. However, this situation is predicated on cheap labour and even in China that is an exhaustible resource.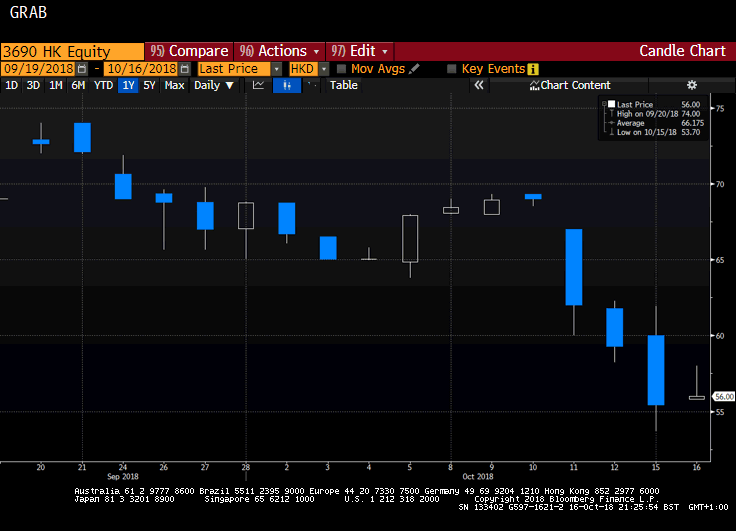 Meituan Denping's share has been trending lower, along with most of China's tech sector since it IPOed.
The broader issue is that many of the labour-intensive sharing economy companies that now have multi-billion Dollar valuations have little to no chance of ever being profitable without automation. The Uber and Lyft drivers I have spoken to don't generally have any conception of the fact that the only way their employers are going to survive is to get rid of them.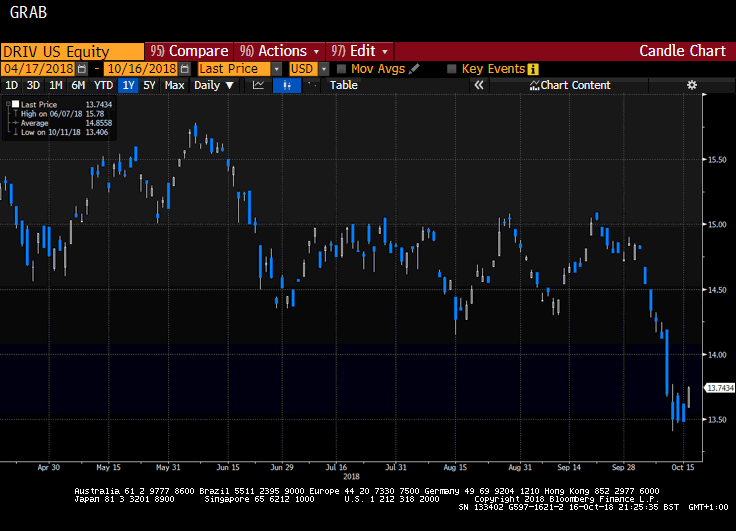 The Global X Autonomous & Electric Vehicles ETF has a deep oversold condition which looks likely to be unwound in the short term but it has a lot of work to do to demonstrate more than temporary steadying.
Google makes just about all of its money from advertising but it needs something big and new to drive future profitability. It is now testing its Waymo self-driving taxi service in Phoenix and has a realistic chance of becoming the first to market with truly autonomous vehicles. That would set it up as a major competitor for labour-intensive companies with rich valuations, no profits and enormous debts.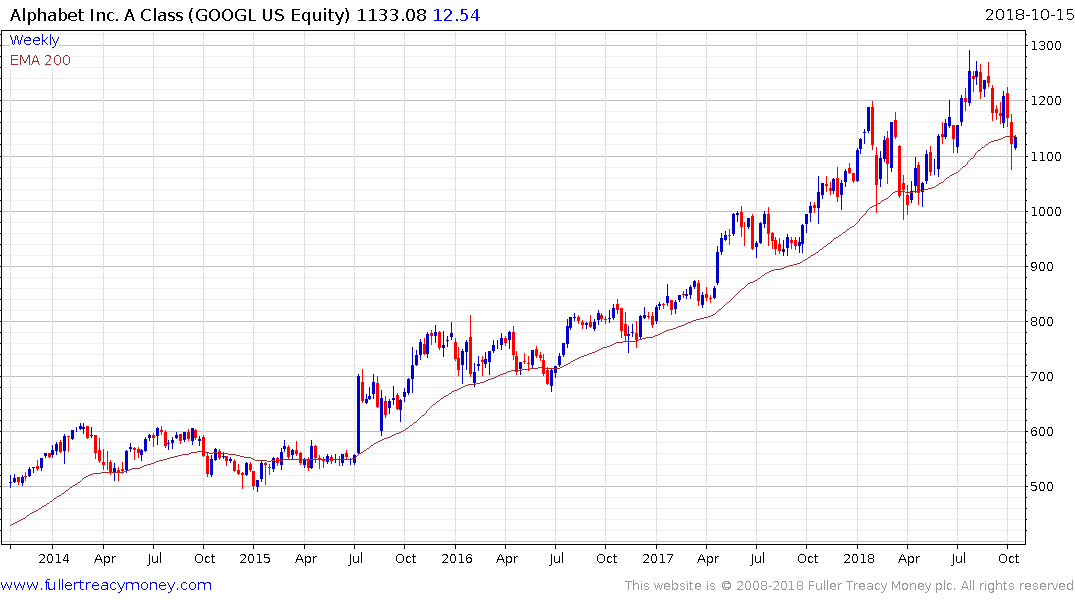 The share is testing an important area of potential support at the trend mean and needs to hold last week's low if medium-term scope for continued higher to lateral ranging is to be given the benefit of the doubt.
Back to top