CAR-T therapies a blue-sky scenario
Thanks to a subscriber for this report from HSBC focusing on Novartis which may be of interest. Here is a section:
Kymriah indicated for refractory ALL patients, but other indications are larger. Although Kymriah is only approved in the US to treat the small number of patients with refractory acute lymphoblastic leukaemia (ALL), additional indications such as Diffuse Large B-Cell Lymphoma (DLBCL) represent a significantly larger addressable patient population. Kymriah is the first Chimaeric Antigen Receptor T-cell (CAR-T)-based treatment approved globally.

Blue-sky scenario not that much of a stretch…Over 100,000 patients die from leukaemias, lymphomas and myelomas (haematological cancers) annually in the US and Europe. They are largely, by definition, refractory to available treatments. In due course, this patient group, or a proportion of it, could be addressed by CAR-T-based treatments. Further, CAR-T-based treatments could potentially be used earlier in the treatment of cancers and potentially in some solid tumours as well. Note that these figure do not include Japan, China, or elsewhere.

…25% of refractory blood cancers, 2.5% of other cancers. In our blue-sky scenario for CAR-T treatments, an assumption that 25% of refractory blood cancers and 2.5% of other refractory cancers in the US and EU could be treated with CAR-T therapies in due course (although this would require sizeable manufacturing expansion by all CAR-T manufacturers) would yield peak sales of just under USD26bn. If Novartis garnered 50%, it would generate peak sales of just under USD13bn for Kymriah and other CAR-T therapies versus USD3.3bn that we currently forecast (27,000 patients treated versus 7,200 on our current forecast). In our view, this bluesky scenario is not an unrealistic possibility in terms of patient numbers.
Here is a link to the full report.

Immuno-oncology is the leading growth sector within the healthcare sector because for the first time it holds out the promise of curing cancer. What is so compelling about Novartis' newly approved drug is that it succeeded in achieving a 90% remission rate for people that failed to respond positively to conventional chemotherapy and other treatments.
I've addressed the promise of immuno-oncology on multiple occasions since the turn of the year and the pace of M&A activity continues to pick up as large companies seek entry. Generally speaking the pharmaceutical sector relies on biotech firms and early investors to take the risks required to fund basic research. They then move in to acquire the most promising candidates. Kite Pharmaceuticals and Ariad Pharmaceuticals were both acquired this year by much larger rivals for just that reason.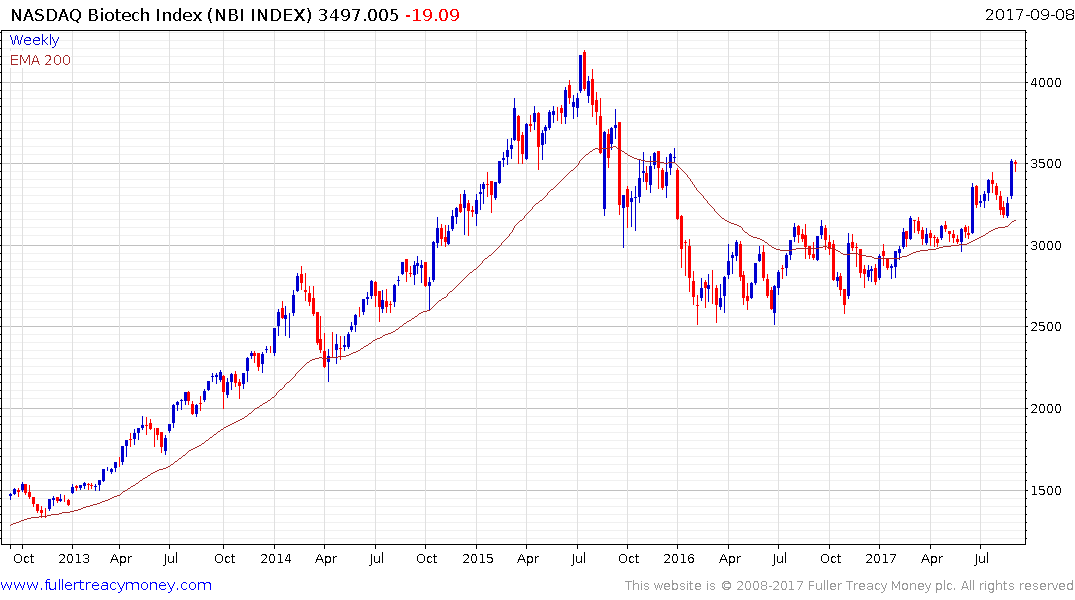 The Nasdaq Biotech Index remains on a recovery trajectory.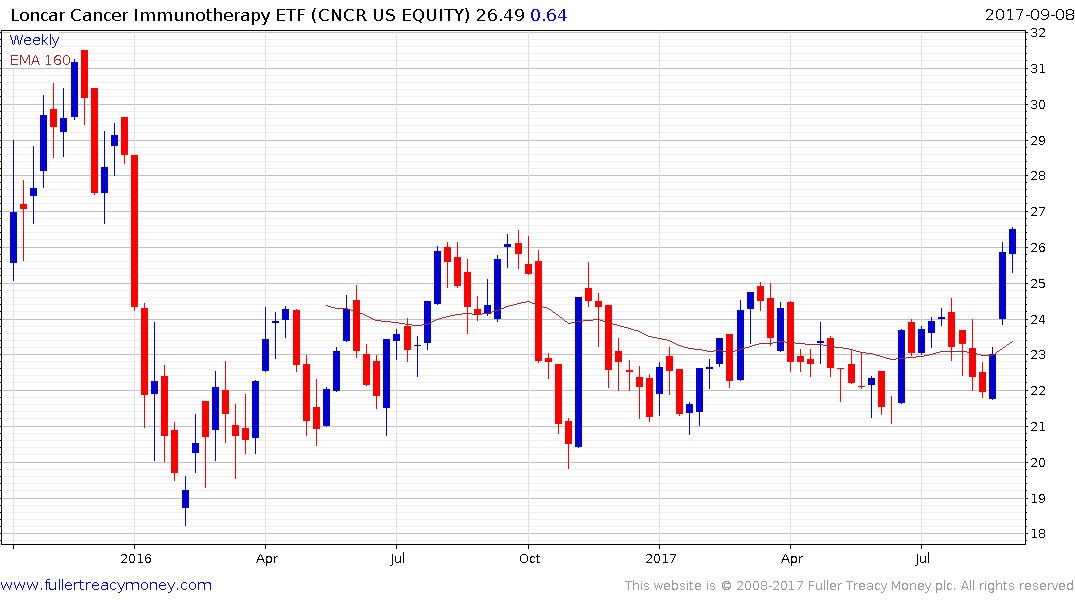 The Loncar Immunotherapy ETF is testing the upper side of a 21-month base formation and a clear downward dynamic would be required to check potential for additional upside.
Back to top