Canopy Growth Leads Pot Stocks Up Amid Decriminalization Hearing
This article from Bloomberg may be of interest to subscribers. Here is a section:
Canopy Growth jumps as much as 16% to a three-week high ahead of a US Senate committee meeting to explore decriminalizing marijuana next Tuesday.

The Subcommittee on Criminal Justice and Counterterrorism scheduled a hearing to "examine decriminalizing cannabis at the Federal level, focusing on necessary steps to address past harms," set for July 26

Shares of cannabis companies jumped, including; Tilray Brands Inc. up as much as +8.8%, Cresco Labs +9.2%. Aurora Cannabis Inc. +8.2%, Curaleaf +4.5%, Green Thumb Industries Inc. +6.2%, Sundial Growers Inc. +7.2%

The ETFMG Alternative Harvest ETF rose as much as 5% to its highest point in three weeks

Pot stocks have rallied on news that Senate Democrats plan to introduce a bill to decriminalize marijuana, known as the Cannabis Administration and Opportunity Act, as early as this week
I have mixed emotions about cannabis. My libertarian instincts lead me to favour supplying people with all the information they might need and letting them do as they please. Any trouble they get into is at their own risk and personal responsibility should imbibe individuals with a sense of risk aversion.
My more conservative devil's advocate reminds me that proliferation of social lubricants tend to have negative social consequences, as use proliferates beyond a narrow swathe of the population. These arguments are equally applicable to tobacco, alcohol or more illicit substances. At least cannabis does have medical uses.
This article from nj.com covers the intention to decriminalize cannabis at the federal level which will be discussed on the 26th.
Earlier this month, Booker and five other Senate Democrats asked President Joe Biden to use its existing powers to remove cannabis from the list of Schedule I drugs, which also includes heroin, and to pardon all individuals convicted of nonviolent marijuana crimes.
Ending the federal ban on marijuana would allow states to legalize cannabis without running afoul of U.S. law. Many, including New Jersey, have not waited for the federal government to act and allow sales of cannabis within their own borders.
The biggest challenge for cannabis companies to grow beyond their home state is transporting cannabis across state lines is illegal and no FDIC insured bank can provide funding. Despite some innovative solutions cannabis is very much a cash business. The removal of the Class-A designation and relaxation of the Federal limitation on sale would open the sector up to a massive surge of investment.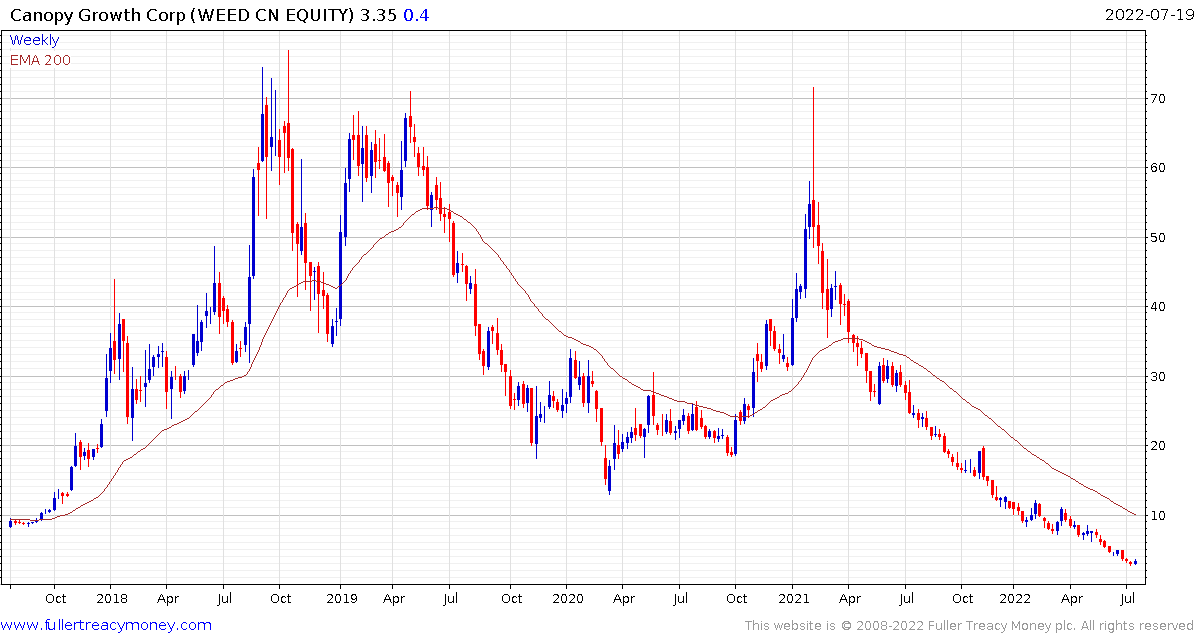 Cannabis shares have been trending lower for what feels like a long time. Tilray made a new two-month high today. Canopy Growth Corporation also firmed. Cronos Group is firming from the lower side of a six-month base formation.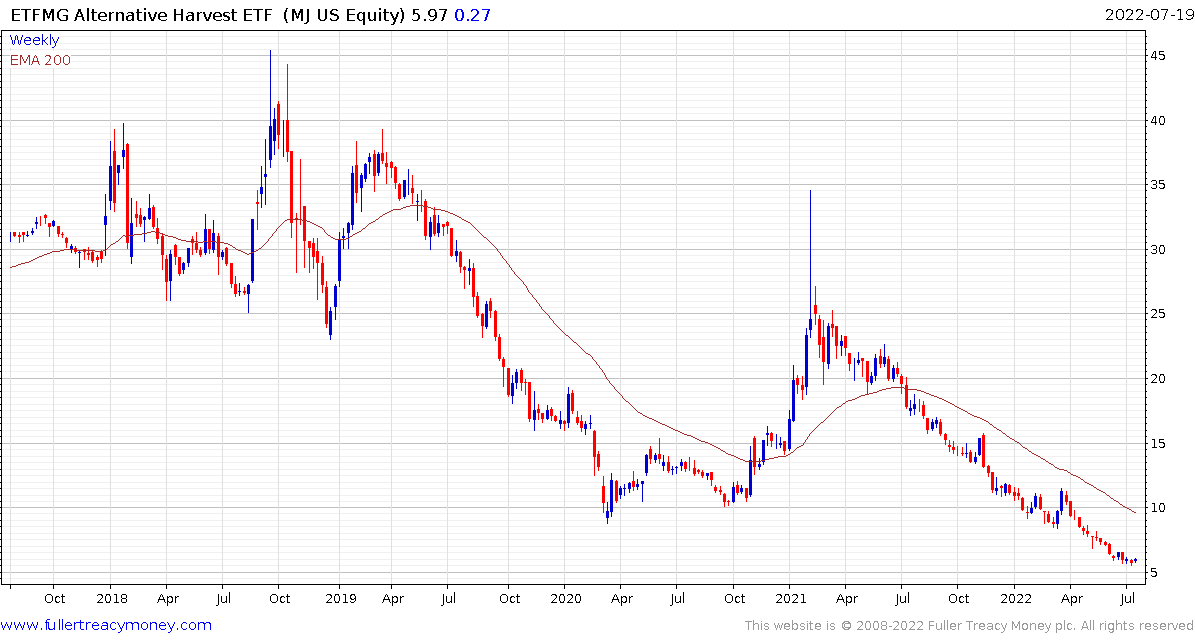 The Alternative Harvest holds both cannabis and tobacco companies. It is also rebounding from a deep oversold condition.
Back to top