Cannabis-Focused ETF Get Boost from Harris Comments
This note from Bloomberg may be of interest to subscribers. Here is a section:
Marijuana stocks jumped Thursday, sending the ETFMG Alternative Harvest exchange-traded fund up as much as 6% after U.S. Senator Kamala Harris made a strong statement about the prospects for legalization in Wednesday night's vice-presidential debate. "We will decriminalize marijuana and we will expunge the records of those who have been convicted of marijuana," Harris said. Bloomberg Intelligence Analyst Ken Shea said he saw no other news to account for the broad-based rally. "Maybe her comment served as a reminder to the market, and the prospects of a democratic president and/or sweep seems increasingly possible, based on polling trends," he said.
Four years ago there was a lot of momentum behind the cannabis movement. Money was flowing in, partnerships with established drinks and tobacco companies were flourishing and the market was awash with start-ups.
Donald Trump's electoral success and his ambivalence towards legalisation resulted in a significant rationalisation for the cannabis sector. The market suddenly looked smaller, the challenge of banking, transportation across state lines and the battles for market share took chunks out of growth forecasts. Many stocks went bust and even the largest experienced deep declines.
Looking at another electoral cycle, where the result represents a binary outcome, the cannabis sector is better positioned than it was four years ago. Sales have ramped upwards during the pandemic but share prices are still very depressed.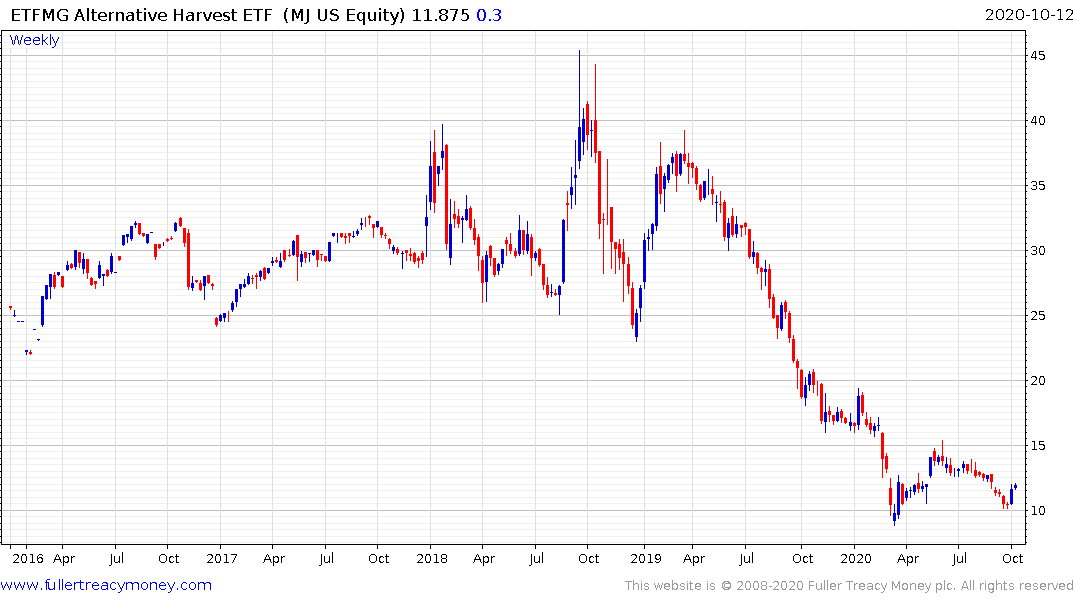 The ETFMG Alternative Harvest ETF yields 6%. None of the cannabis companies pay a dividend so the pay-out is achieved by investing in tobacco companies. It's a logical approach since both cannabis and tobacco are valuable cash crops. Tobacco companies would obviously welcome the opportunity to diversify into a growing rather than declining market and the two crops grow in similar climates.
The sector is firming from depressed levels at present on renewed speculation US federal opposition will be dropped. If that does in fact happen, it will be the catalyst for large companies to take a much greater interest in the sector.
Back to top