Canadian Home Buyers Losing Steam, and Cash, as Rate Hike Looms
This article by Katia Dmitrieva for Bloomberg may be of interest to subscribers. Here is a section:
The chain of events began in October when the federal government tightened mortgage insurance requirements, and continued into April when the province imposed a 15 percent tax on foreign purchasers. Home sales fell 37 percent in June from a year earlier and prices rose the least since January 2015. Then last week the regulator said it's considering requiring lenders to stress test uninsured mortgages, which is expected to cool things further.

On top of all this, Governor Stephen Poloz will lift the benchmark overnight rate on Wednesday to 0.75 percent from 0.5 percent, according to 22 of 31 economists in a Bloomberg survey while the rest see no change. The rate could rise to or past 1 percent in a year, a separate survey shows. In anticipation, Canada's biggest banks are also tightening. Royal Bank of Canada raised its fixed rates for 2-,3-, and 5-year term mortgages by 20 basis points.

An increase of 75 basis points to 100 basis points in the Bank of Canada's key rate by the end of 2018 would remove 6 percent to 8 percent of buyers from the country's real estate market if banks fully price it into their loans, according to Will Dunning, chief economist at industry group Mortgage Professionals Canada. A slowdown in property deals may pose a risk to Canada's growth -- the fastest among Group of Seven countries -- just as the economy seems to be overcoming a slump triggered by a drop in global oil prices.

"Right now people are staying away from buying," Dunning said by phone. "If they stay away over a longer period of time, that could become dangerous, that could become deflationary."
Canada avoided the worst ravages of the credit crisis because its banks were not exposed to subprime loans, its domestic housing market was not as overbought in 2007 as the USA's and commodity prices staged an impressive rebound. The near bankruptcy of Home Capital, only avoided by a last-minute investment by Warren Buffett, was a warning shot for the financial system that is now dealing with elevated real estate pricing in both Vancouver and Toronto.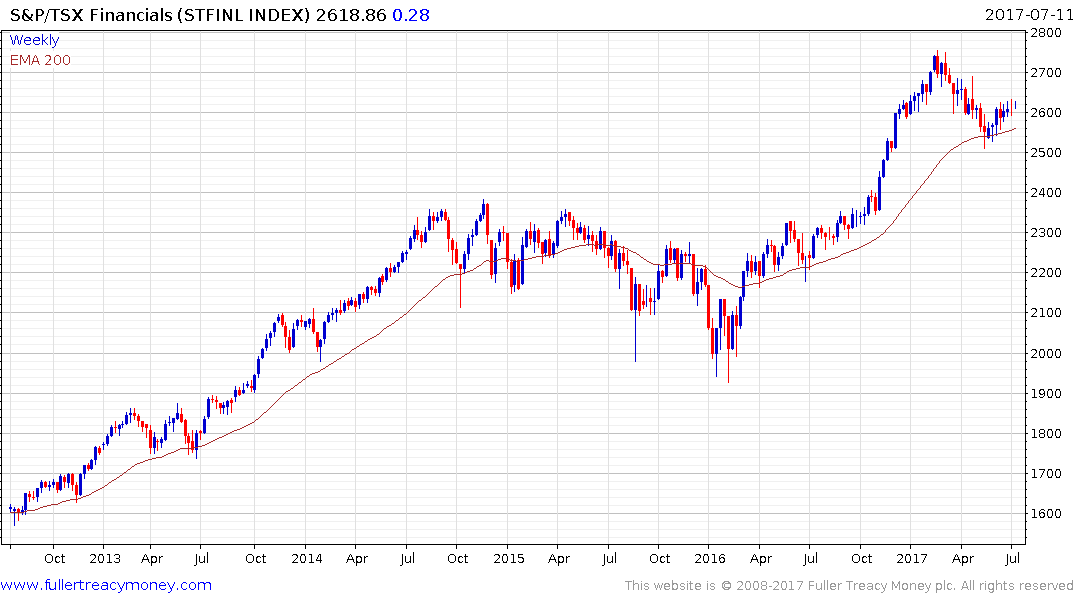 Generally speaking higher rates are positive for banks but the leverage in the real estate sector represents a challenge in an otherwise benign environment. The S&P/TSX Financials bounced over the last month from the region of the trend mean and a sustained move below 2500 would be required to question medium-term scope for additional upside and to suggest the challenges facing the banking sector are growing graver.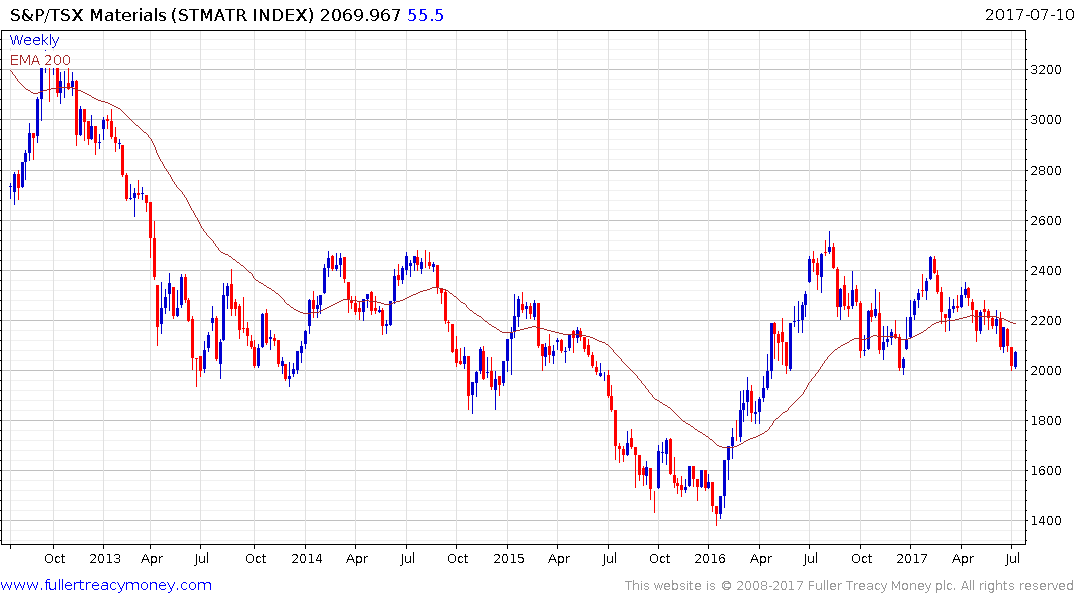 The S&P/TSX Materials Index is testing its December low near 2000 and will need to hold this level if support building is to be given the benefit of the doubt.

Meanwhile improving performance in the grains and beans sector is stoking interest in the depressed fertilizers sector.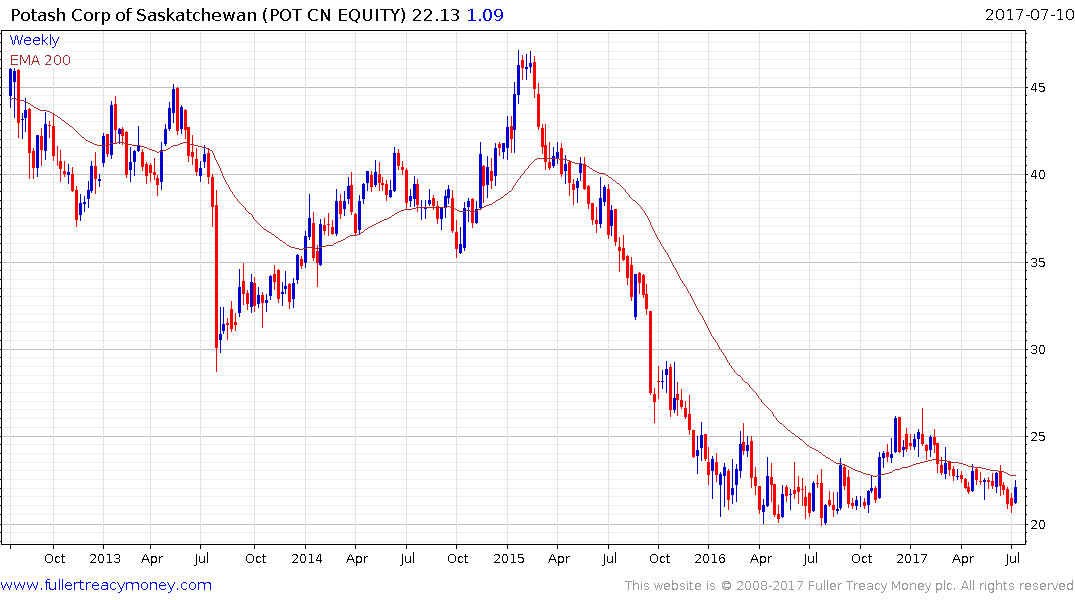 Potash Corp has been ranging in a gradual support building phase for 18 months and a sustained move above the trend mean would confirm at least near-term support in the C$20 area.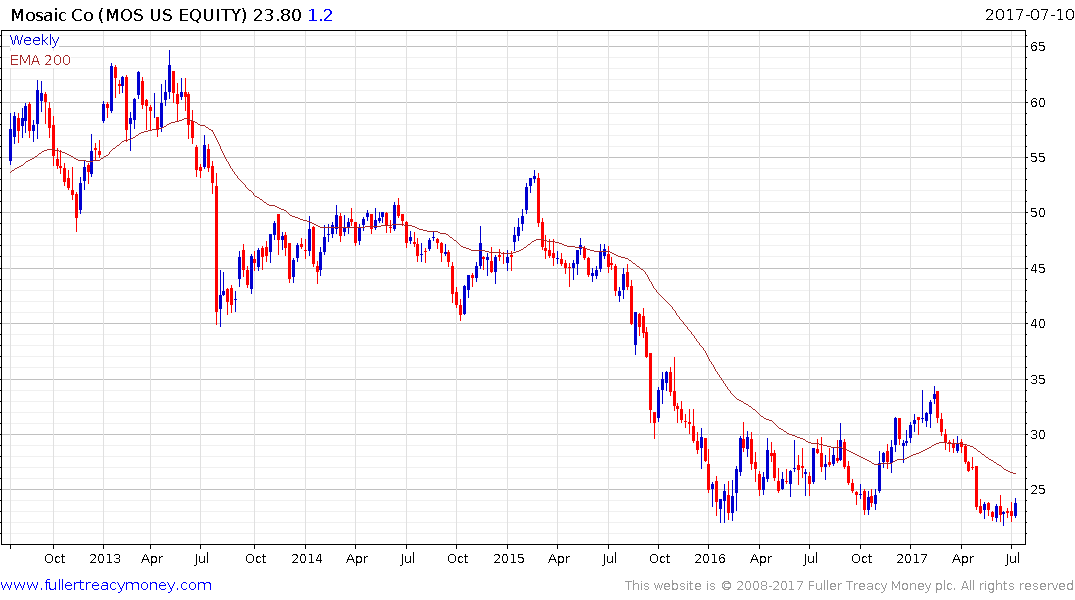 Mosaic has a similar pattern and firmed yesterday from the lower side of its range.
Back to top