Canada Ponders an Unusual Drug Problem: a Shortage of Marijuana
This article by Josh Wingrove and Jen Skerritt for Bloomberg may be of interest to subscribers. Here is a section:
"Ultimately the biggest problem that appears after today's discussion is one of supply," Sousa said in an interview this week. Finance ministers were told demand is "quite high" for marijuana already in Canada, he said. "So we want to make certain that, when we do proceed, there is sufficient supply to accommodate the activity because what we're trying to do is curb the illicit use and organized crime that now exists around it."

Trudeau's framework for legalization, unveiled in April, will rely on Canada's provinces to set up sale and distribution regimes, while at minimum selling recreational pot by mail beginning some time before July 2018. Key details including taxation remain up in the air. Federal Finance Minister Bill Morneau has said he favors a tax rate that will starve out the black market, one of the government's key objectives. "That as a conclusion would lead us to say taxation rates have to be low," Morneau told reporters after the June 19 meeting, where he said they discussed the need for a "coordinated" approach.

Initial Shortage
Canada's burgeoning marijuana industry has ballooned in value amid optimism over Trudeau's plan for recreational sales, which Canaccord Genuity Group Inc. said in November could reach C$6 billion ($4.5 billion) annually by 2021. Combined demand for recreational and medical marijuana may reach 575,000 kilograms by 2021, according to the report.

The government says a key aim is to shrink or altogether kill the black market, and any shortage of legal weed would hinder that effort. Trudeau's plans also allow people to grow up to four plants in a home.
November 4th was a mixed blessing for the cannabis sector. On the one hand an increasing number of US states, including California, adopted recreational cannabis laws which in many cases go into effect on January 1st 2018. The flip side was that President Trump has made no secret of his ambivalence towards the sector which has decreased the potential of the Federal ban to be lifted during his tenure.

Canada's decision to adopt sweeping tax and control standards for recreational cannabis use is a potentially important catalyst for the sector.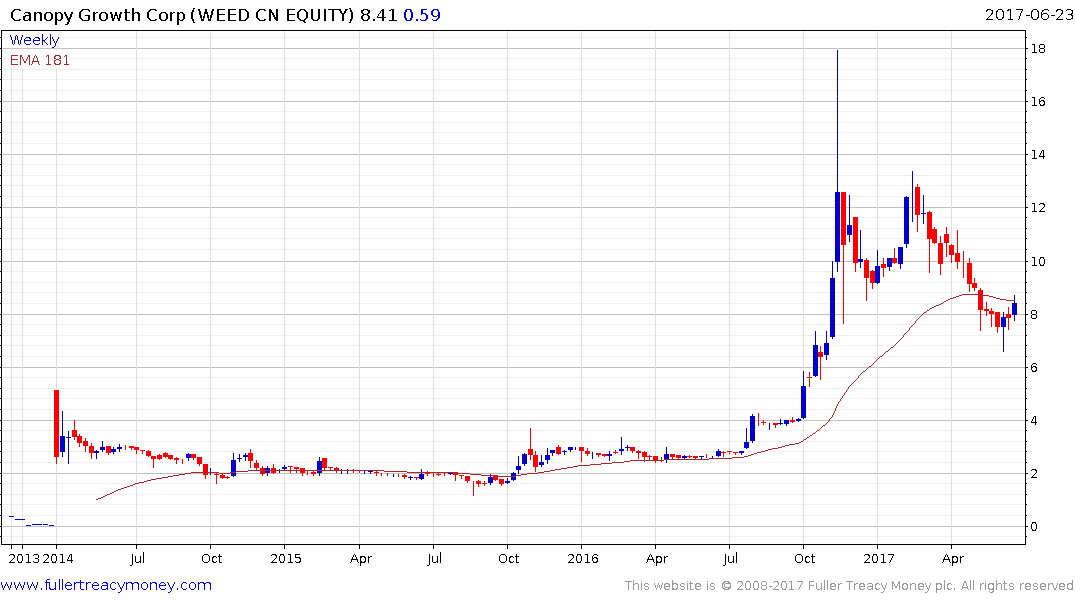 Canaopy Growth Corp is one of the largest Canadian producers and it has been in a process of consolidation since November. The share declined steadily from a retest of its peak in February before bouncing from early this month to now test the region of the trend mean. It will need to at least hold the region of the June 7th low near C$6.60 if potential for a rebound is to be given the benefit of the doubt.

Among cannabis related pharmaceutical companies: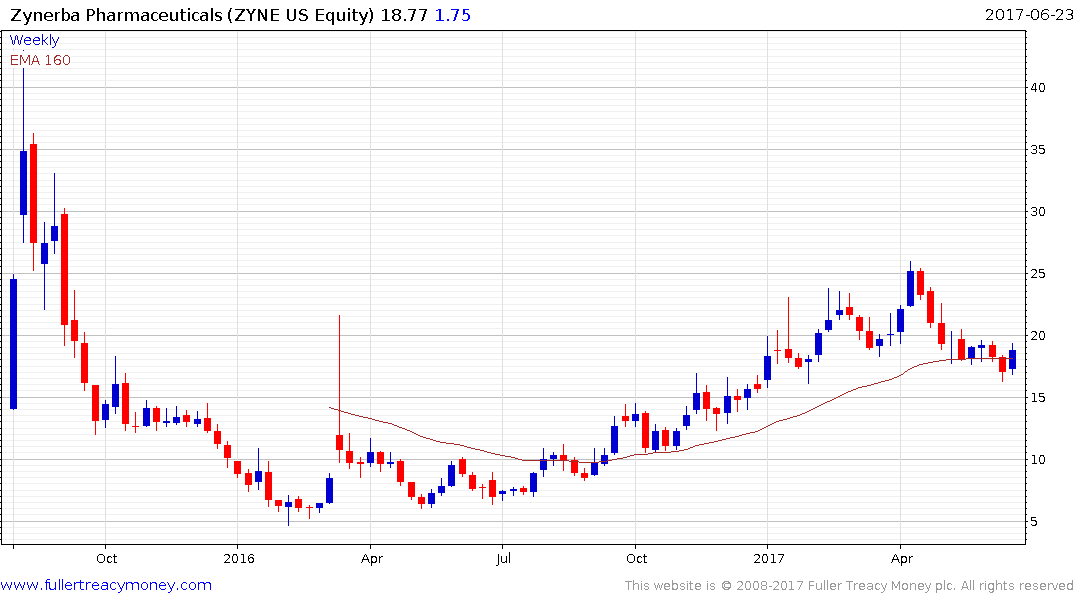 Zynerba is trading in the region of its trend mean.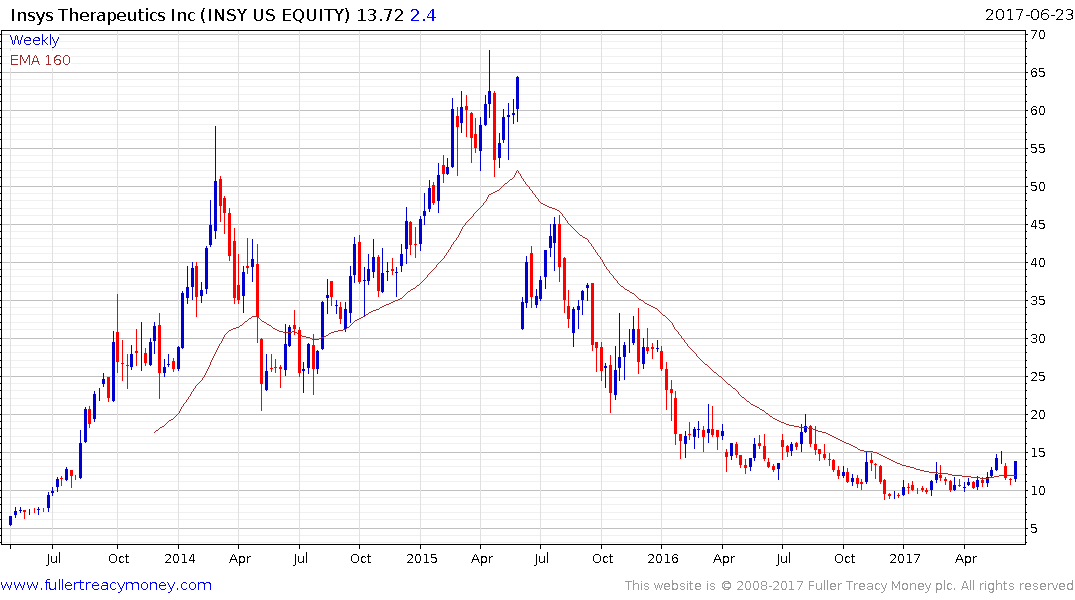 Insys Therapeutics is firming from the lower side of a developing 8-month base.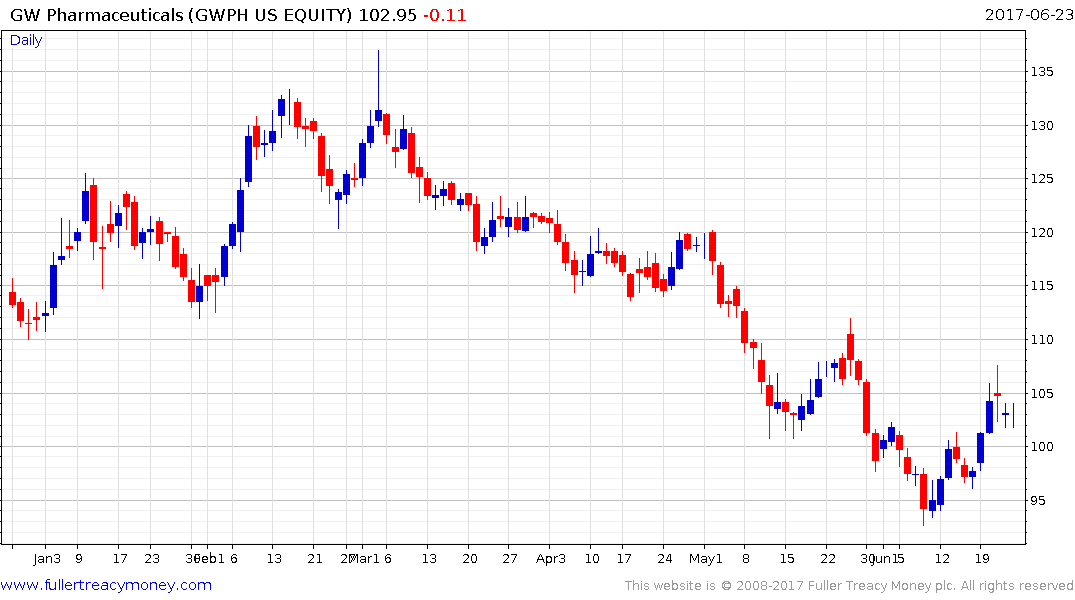 GW Pharmaceuticals moved its listing from the UK to the USA last year. The share will need to sustain a move above the $110 area to reassert demand dominance.
Back to top