Campbell Soup May Be Downgraded by Moody's Amid CEO Departure
This article by Molly Smith for Bloomberg may be of interest to subscribers. Here is a section:
Moody's Investors Service said it may cut Campbell Soup Co.'s credit rating after the company posted a steep drop in profitability and its chief executive officer suddenly stepped down.

All of the company's ratings are under review, including its Baa2 senior unsecured rating, Moody's said in a report Monday. That's only two steps above speculative-grade. Moody's did not say how many levels the downgrade could amount to.

Campbell Soup has short- and long-term debt of $9.84 billion and its leverage as measured by debt-to-Ebitda -- earnings before interest, tax, depreciation and amortization -- was about five times at the March closing of the Snyder's-Lance Inc. acquisition. Moody's says it's now doubting that the company can meet its expectations to reduce that metric to below four times within two years via cash flow and cost savings.

"The sharp and unexpected decline in profitability in the third quarter casts serious doubt that Campbell will be able to meet its deleveraging plans following the Snyder's-Lance acquisition," Moody's analyst Brian Weddington said in the report. "Additionally, the departure of the CEO adds further uncertainty about whether the company will respond successfully to its operating challenges in the near term."
Campbell Soup is not a dividend aristocrat because there have been occasions in the last 30 years when it cut the dividend. On each of those occasions it stopped raising the payout before the decision to cut. That is at least part of the reason that the share has been falling over the last year but does not explain the fall from the peak in 2016.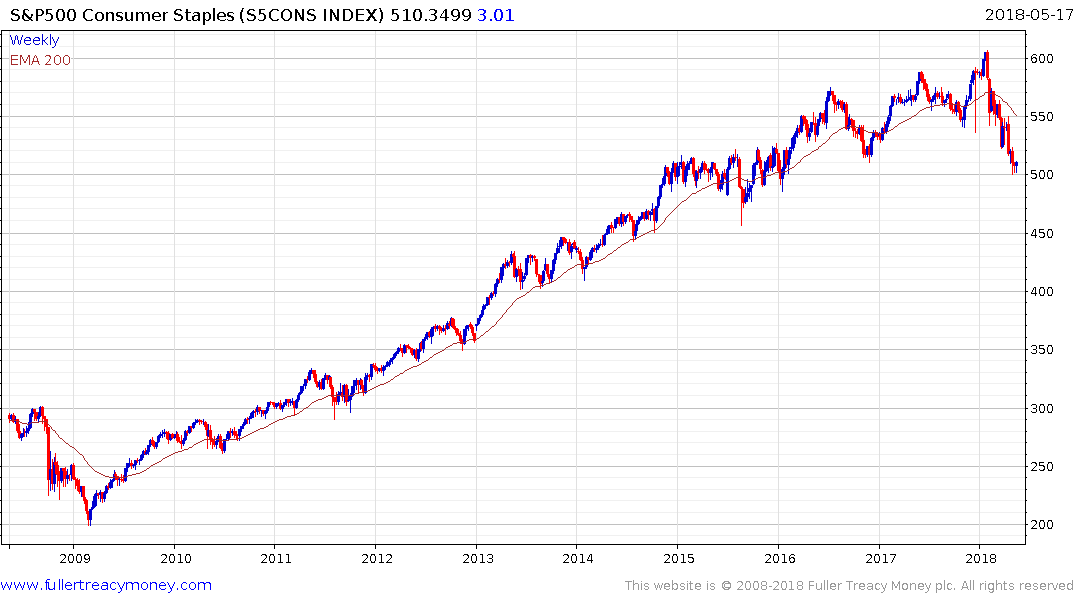 The Consumer Staples sector grew impressively over the last decade as the global economy expanded and the middle class expanded. That growth now has more competition from newer brands and changing consumption habits which established companies are struggling to combat.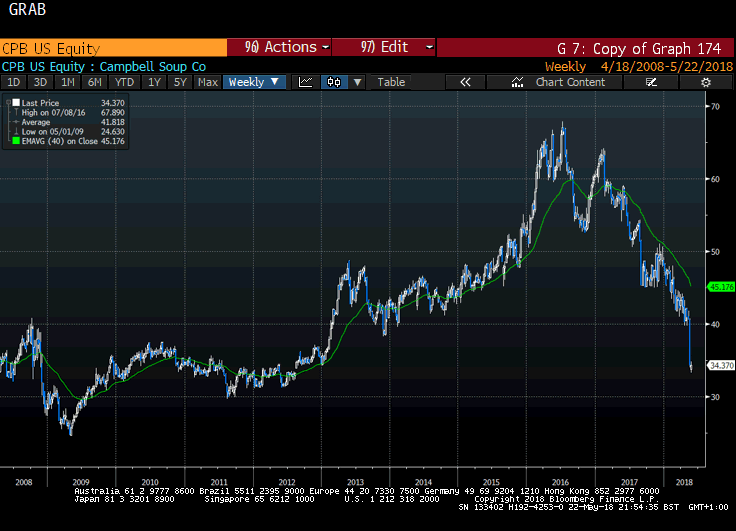 The other reason investors were buying the sector was because of the bond-like characteristics of their cash flows. With bonds yields now pushing up that is questioning the relative spread in the yields for these companies. Increasingly investors are demanding more yield and so far that has translated into lower prices.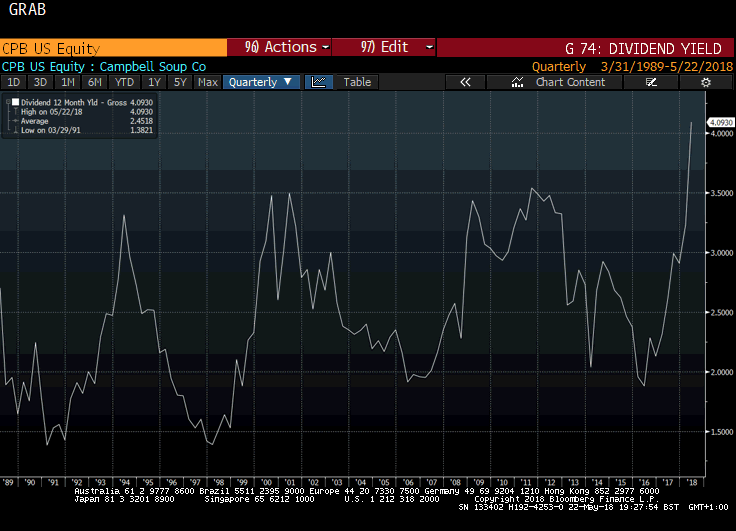 Campbell Soups' dividend ranged below 3.5% since at least 1994, but is currently at 4.09%, following the recent decline. I've observed on previous occasions that 3.5% was something of a magic number for consumer staples companies over the last few decades but is increasingly being challenged as investors begin to think bond yields will continue to rise rather than trend lower.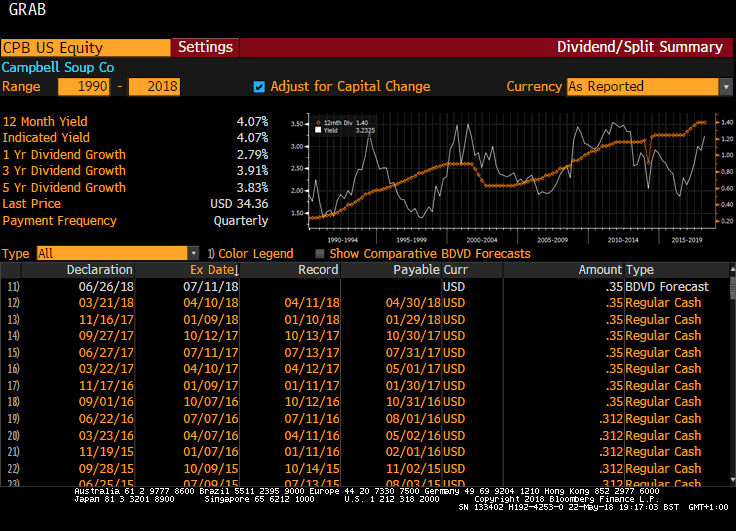 Nevertheless, the share has accelerated to its recent low, valuations are reasonable with an Estimated P/E of 11.8 and potential for a reversionary rally have improved.
Back to top