California Wants to Pay Farmers to Not Farm This Year
This article from Modern Farmer may be interest to subscribers. Here is a section:
This year, California farmers have been given a financial incentive to not plant crops.

​Much of the state is already experiencing extreme drought conditions. As part of a $2.9-billion plan to try to keep water flowing in California rivers, the state will pay farms to keep thousands of acres vacant this growing season.

Both state and federal officials, as well as some major water companies in the region, signed the plan on Tuesday. Their hope is to keep upwards of 824,000 acre-feet of water every year in the Sacramento-San Joaquin River Delta. The Capital Press explains that one acre-foot of water adds up to around 325,000 gallons of water—or typically enough to supply water to two households for a year.

The most impacted sector will be the rice industry, as the plan would leave 35,000 acres of rice fields in the northern Central Valley—adding up to about six percent of the yearly crop—unused.
The conversion of acre feet quoted above doesn't appear to be accurate but reducing the acreage of rice planted by 6% is a significant event.
California has been dealing with chronic drought conditions for a decade. Water rights are one of the most sensitive topics in the Western portion of the USA. They are jealously protected by their owners. The laws governing ownership and use of water are as old as the states themselves. Improving efficiency is virtually impossible because any effort to change the law will be fought aggressively by powerful vested interests. That means the state government has very little option but to pay farmers to plant less.

Rice is extremely water intensive and is also the staple food for about half the global population. The USA is by far the biggest exporter because it is not a major consumer of the commodity. Reducing supply by 6% will have a meaningful effect on prices.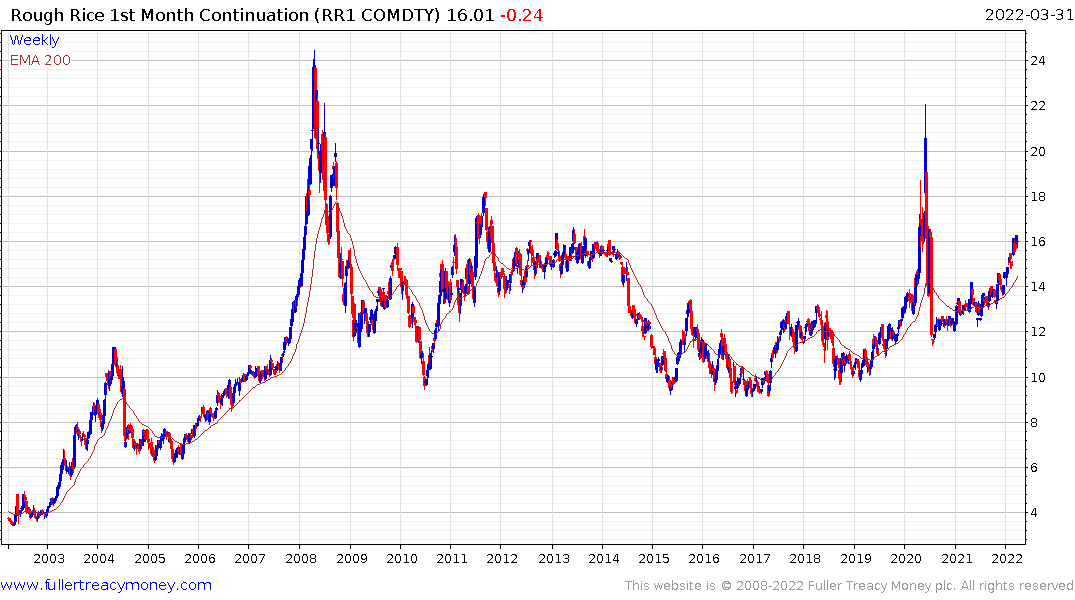 Rough rice contracts took a meaningful leg higher in 2008 and have been ranging above the long-term base formation since. The price is currently testing the upper side of the decade-long range and some consolidation is underway. However, a sustained move below the 200-day MA would be required to question potential for additional upside over the medium-term.
Pricing of agricultural commodities is beginning to reflect the difficulty of increasing supply against a background of uncertain climate conditions. The world has plenty of arable land, but socio-political conditions don't promote maximisation of productive capacity. The EU has been paying farmers not to plant for more than a decade. Meanwhile the global population continues to grow, and economic growth contributes to higher calorie consumption per capita. That's a recipe for higher prices.

The pandemic and geopolitical stress are contributing to the rising cost of production by making fertilisers prohibitively expensive. Fertiliser stocks continue to respond favourably to this condition.


Mosaic rebounded impressively from its intra-week low to retest its peak today.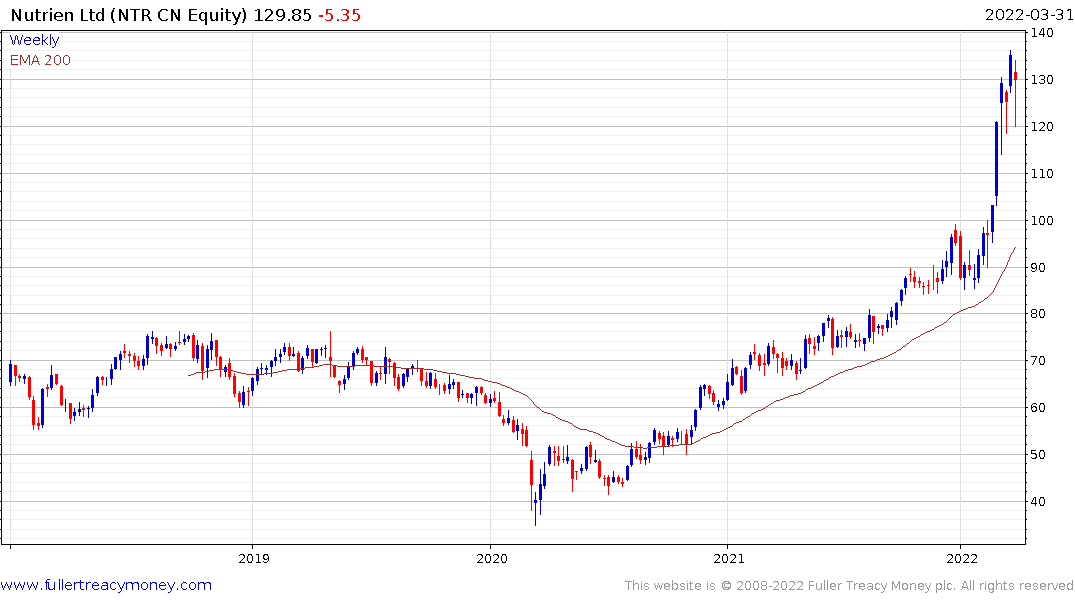 Nutrien has a similar pattern.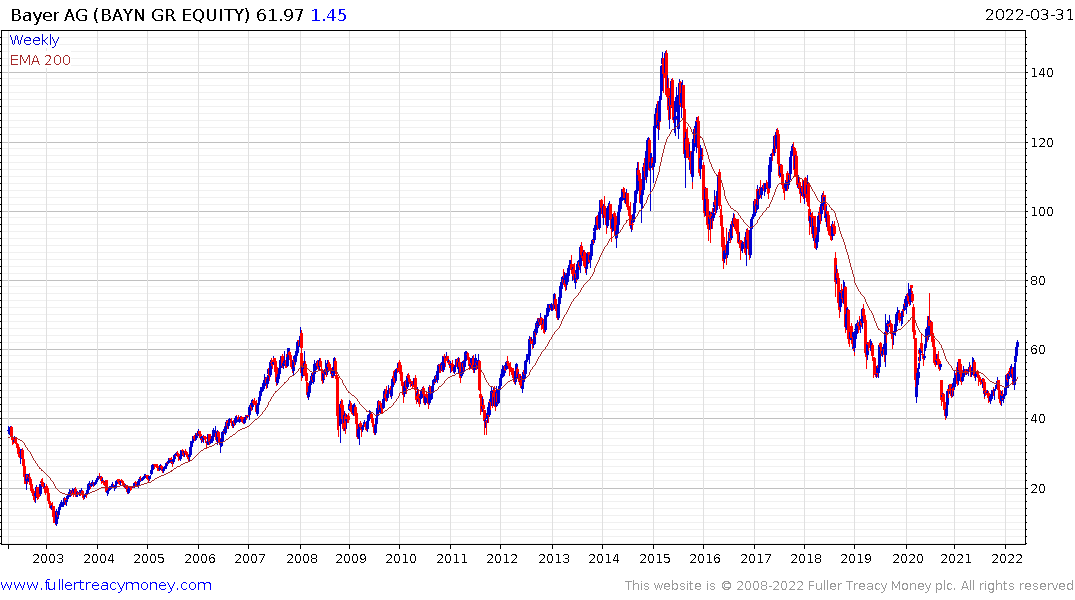 Bayer has finally completed its base formation.
Back to top