California's Gasoline Panic
This article from the Wall Street Journal's Editorial Board may be of interest to subscribers. Here is a section:
But about 95% of gas stations with convenience stores are independently owned, which includes mom-and-pops that license brand names. Some consumers will pay more for brand-name gas as they will for Prada purses or Starbucks lattes. As gas prices rise, consumers may also burn more money than they save driving in search of the cheapest stations.

Notably, the commission ignores that retail margins include labor costs, utilities, rent and taxes. In 2012 the state increased taxes on high earners, which hit many small businesses. California's minimum wage has increased by 50% since 2013. According to the Bureau of Labor Statistics, worker wages at California gas stations over the last five years have increased 50% more than nationwide.

Mr. Newsom has threatened legal action against oil companies to "protect the public." But liberals have long wanted higher gas prices so folks will ditch gas-powered cars. The Governor last month ordered revenue to be redirected from the last gas tax hike, which was supposed to fund highway construction, to projects that "reverse the trend of increased fuel consumption and reduce greenhouse gas emissions."

So Californians in the future can look forward to paying more to drive on deteriorating roads as they head to homes without electricity due to blackouts. How long will it take California voters to figure out that these are problems made in Sacramento by politicians?
Spikes in crude oil prices are associated with recessions because they represent a tax on consumption. It's not coincidence that one of the reasons Europe's economies have subpar growth is because they tax economic output through regulation and carbon trading with the express aim of increasing costs. California is well on the way to achieving the same outcomes.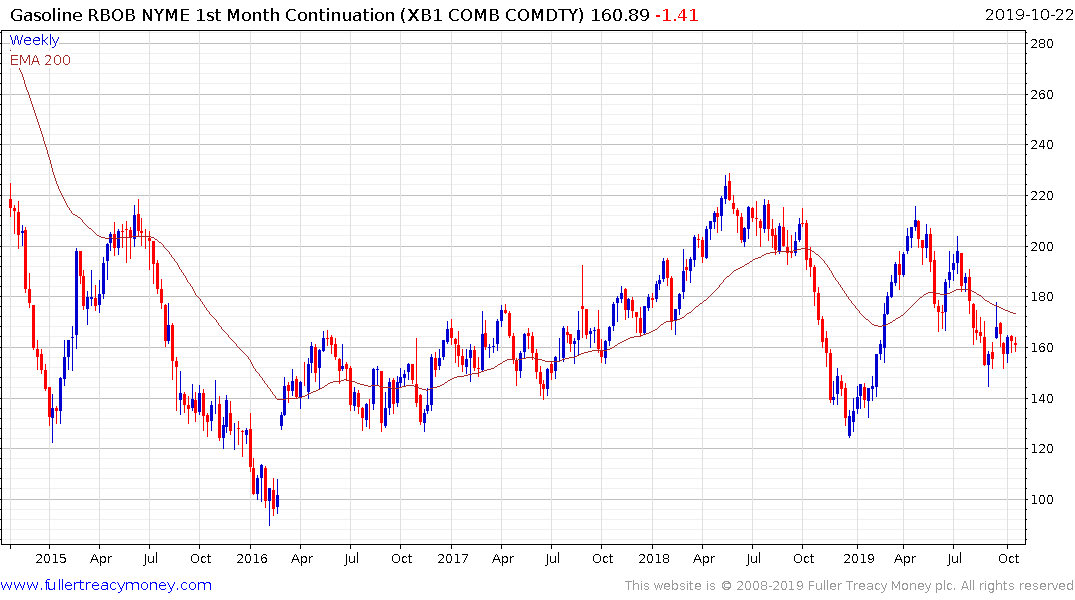 The mountain pine beetle decimated forests in California just like much of the rest of North America but nothing was done to excise the dead vegetation. The droughts up until last year only made the situation worse by drying out the countryside. More fires as a result of this mismanagement is hardly unexpected, but heaping the blame on the now bankrupt utility and voluntarily imposing blackouts is hardly a long-term solution.
Meanwhile the tax on gasoline is a psychological burden more than an economic burden for most regions, except for the fact that Southern California, in particular, is a car heavy region where people routinely drive 1-hour commutes each way. $4 and $5 a gallon is something that resonates with consumers. The gasoline chart looks like prices are going higher from here.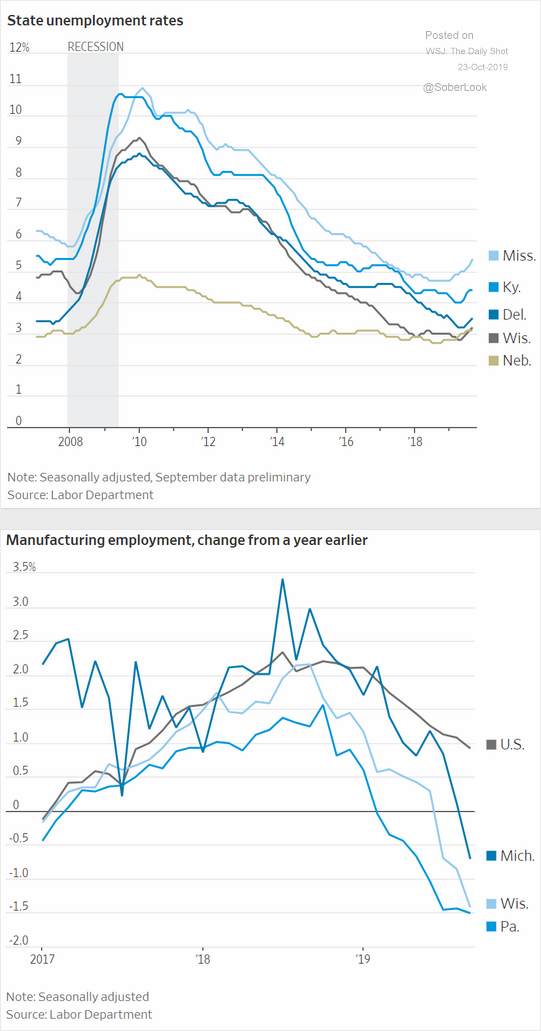 Meanwhile manufacturing data in a number of midwestern states is much more highly exposed to Chinese tariffs than the national average. This suggests evidence of a slow in isolated areas of the economy, particularly where the burden of tariffs and/or regulation hits hardest but the services sector is probably holding up better.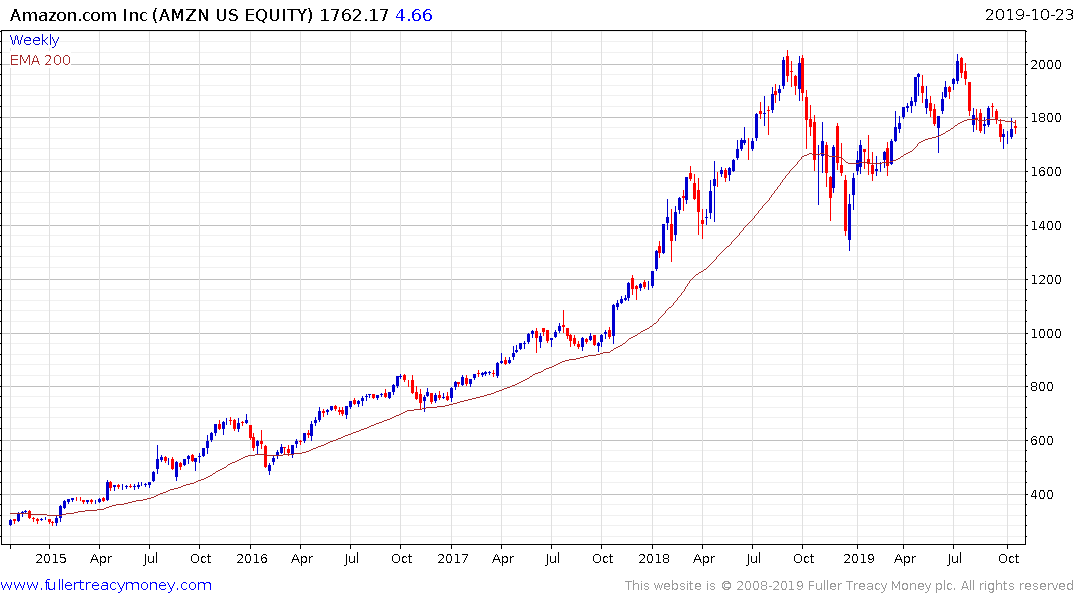 Amazon's exposure both to the corporate sector through its Web Services division and the consumer through its marketplace will be on show when earnings are released after the close tomorrow. The challenge for the company is it now has a lot more competition for cloud services than when it started out in 2006. The share is back testing the lower side of its six-month range and needs to confirm support in this area if a much deeper and more troubling corrective phase is to be avoided.
Back to top