CAD Software Firm Autodesk Soars On Quarterly Earnings Beat
This article by Patrick Seitz for Investor's Business Daily may be of interest to subscribers. Here is a section:
Analysts were modeling Autodesk to lose 15 cents a share on sales of $488 million.

Autodesk's annualized recurring revenue rose 18% year over year to $1.74 billion in the first quarter because of strong sales of subscription plans.

"Broad-based strength across all subscription types and geographies led to another record quarter for total subscription additions and a fantastic start of the new fiscal year," Amar Hanspal, Autodesk co-CEO and chief product officer, said in a statement. "Customers continue to embrace the subscription model, and we're expanding our market opportunity with continued momentum of our cloud-based offerings, such as BIM 360 and Fusion 360."
Subscription models have some pretty impressive advantages for companies not least because they get steady streams of income, do not have to worry about how well the next softward update is going to sell and have less pressure to discount. Consumers pay less upfront costs, have better ability to plan their expenditure and are always guaranteed to have the latest product so it is a win-win relationship.


Adobe Systems was among the first companies to adopt a subscription model for its Photoshop and other suites of software. The reliability of eaernings as well as the growth in its business that the subscription model has delivered has contributed to the consistency of the share price over the last five years. It is somewhat overbought relative to the trend mean at present but a sustained move below the 200-day MA would be required to question medium-term scope for additional upside.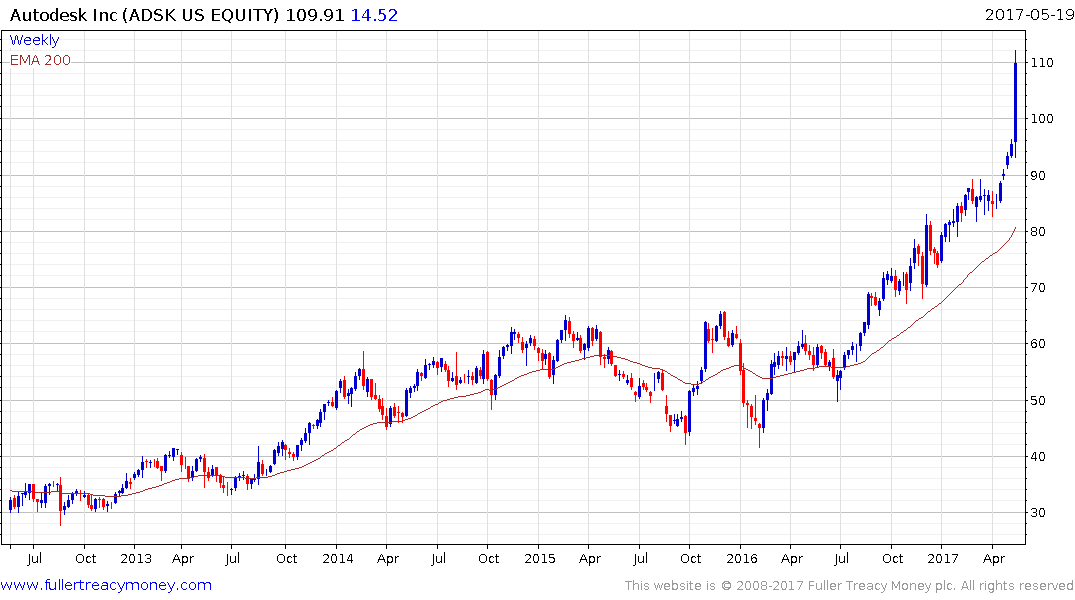 Autodesk adopted the subscription model little more than a year ago but it has been similarly transformative for the share price.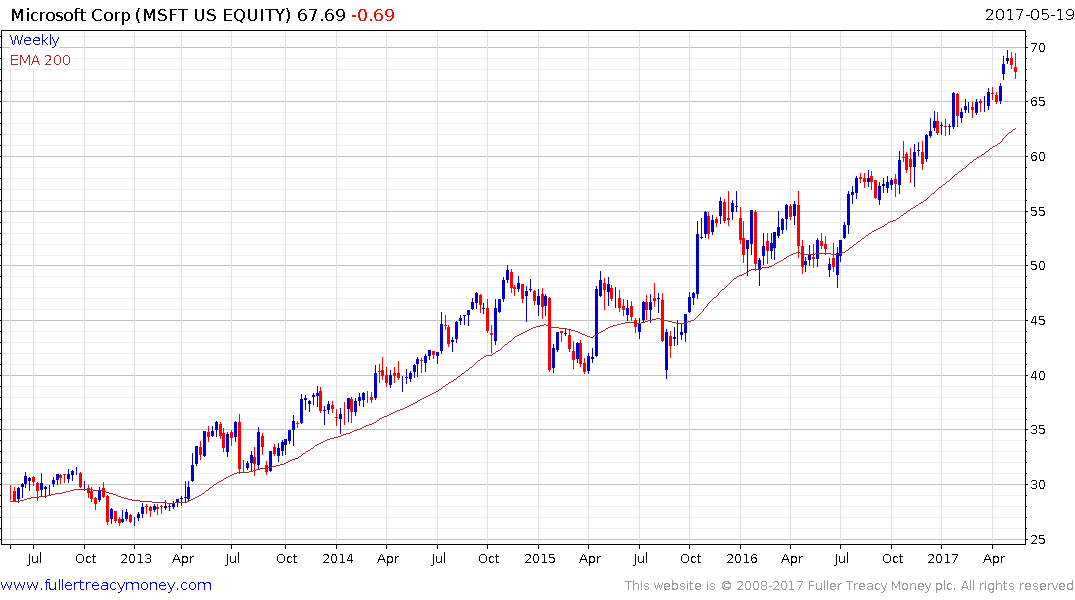 Microsoft has been following a subscription model for a number of years already for its Office suite of software and while susceptible to some consolidation remains in a reasonably consistent uptrend.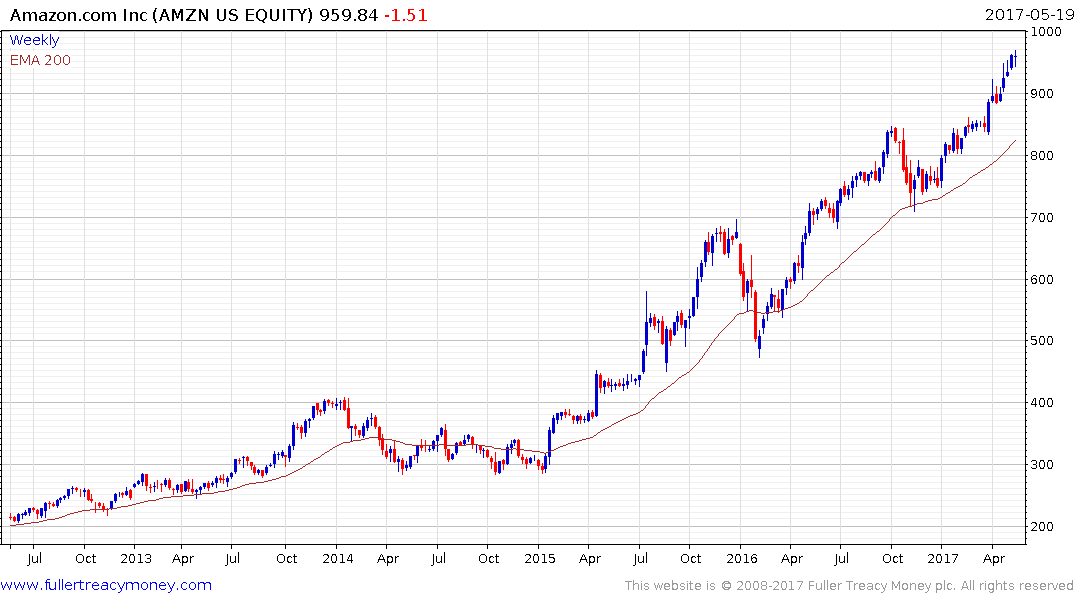 Amazon's Prime subscription service has doubled its number of subscribers over the last 18 months to 80 million and while it does a lot more than subscription there is no denying the solidity of Prime revenues. The share continues to rise towards the psychological $1000 level but the progression of higher reaction lows, currently near $940, will need to hold if the consistency of the short-term advance is to remain intact.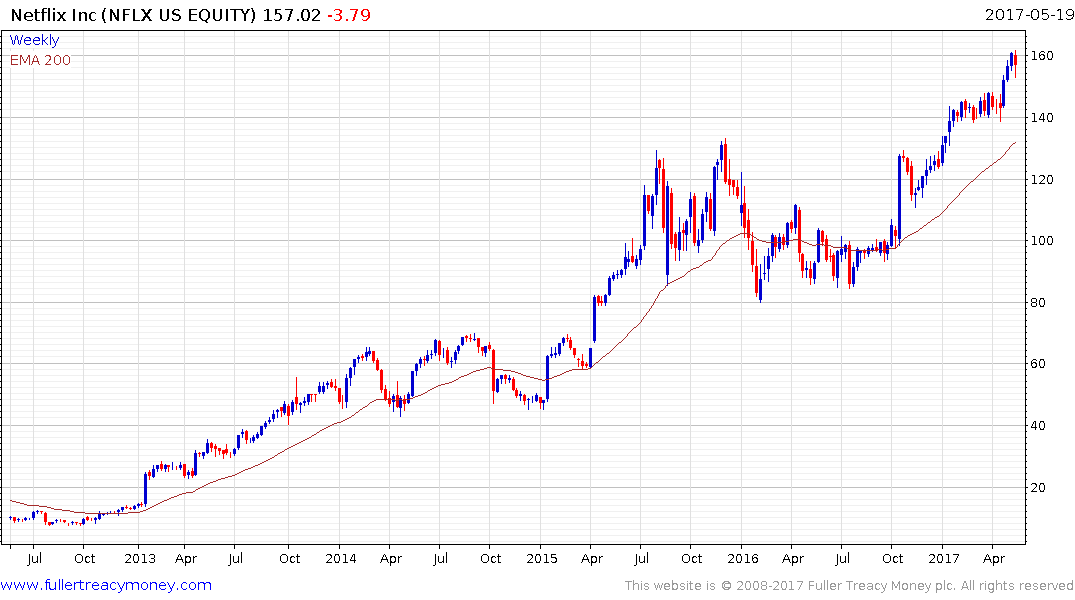 Netflix is also a subscription business and broke out to new highs in January. It is also susceptible to mean reversion but a sustained move below the 200-day MA would be required to question the medium-term upward bias.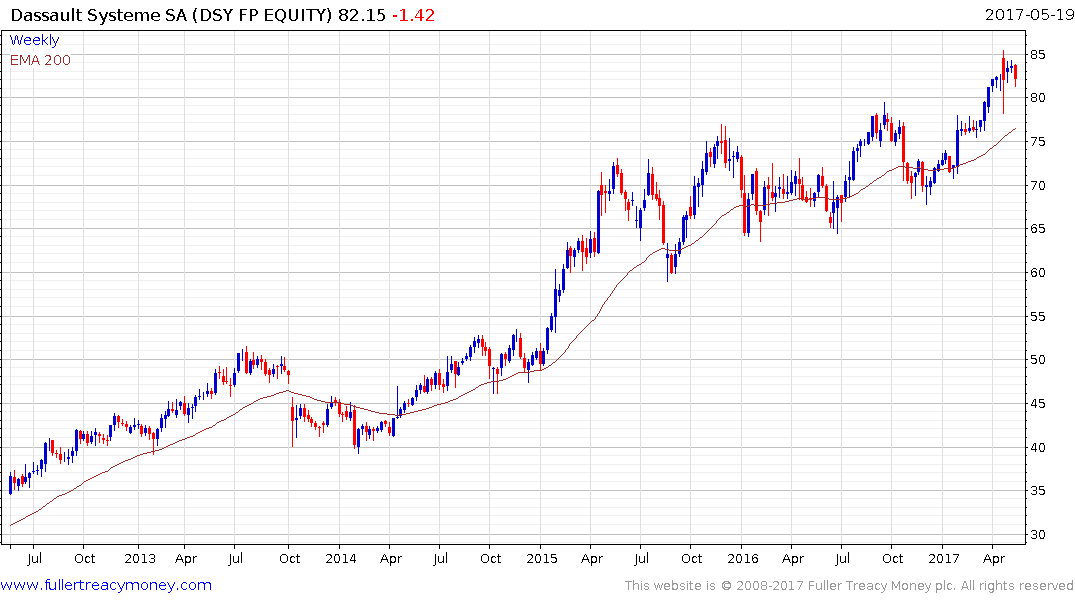 Dassault Systems is one of the few European companies I know of that follows a subscription model. The share broke out to new highs

The broader point is that subscription model fits very well into the sharing society which the millennial generation is so enamoured with. You might not own the products you use but that doesn't mean you end up paying less for them.

Also see Comment of the Day on October 3rd 2016.
Back to top