Byron Wien and Joe Zidle Announce the Ten Surprises of 2020
Thanks to a subscriber for this note from Blackstone which may be of interest. Here is a section:
1. The economy disappoints the consensus forecast, but a recession is avoided. Federal Reserve Chair Powell lowers the Fed funds rate to 1%. Without a comprehensive trade deal in hand, President Trump exercises every executive authority he has to stimulate growth and ward off recession. He cuts payroll taxes to put more money in the hands of consumers.
This year I was struck by how close to consensus the majority of the forecasts are, but the first one is certainly headline grabbing. The consensus in the bond market suggests one additional rate cut this year, not three. If the 9th surprise of Treasury yields at 2.5% were to come to fruition it would represent a massive steepening of the yield curve.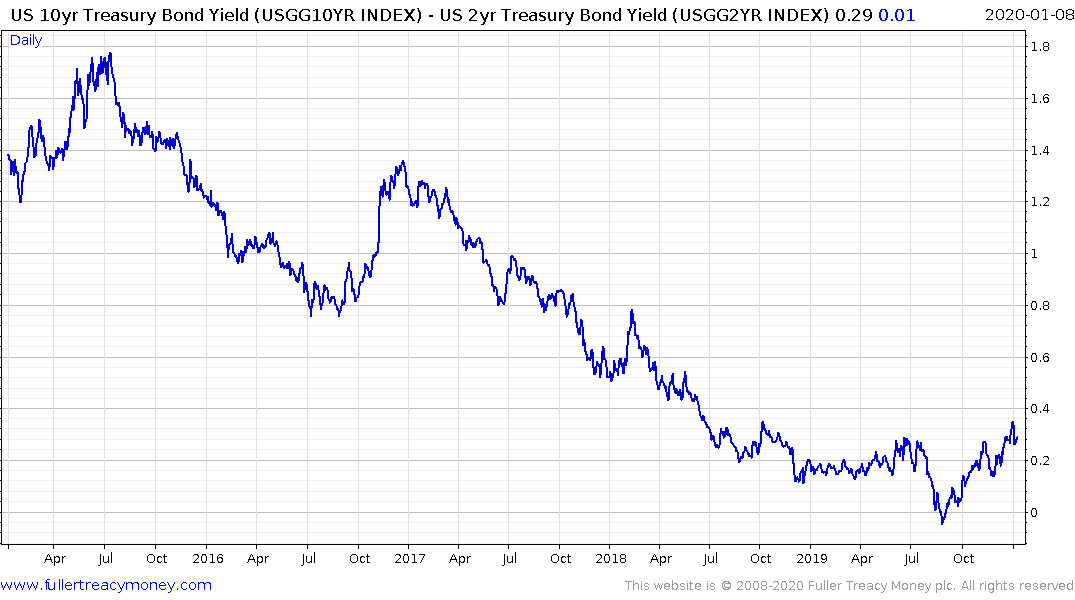 The primary signal from an inverted yield curve that is represents a lead indicator for recessions. The timing signal, often following a lengthy hiatus, is when the spread surges higher following an inversion. That widening is usually in response to the Fed acting decisively to cut interest rates in a response to sharply lower growth. That is when stock markets take fright because of justified fears of a recession.
Rather than cut interest rates, I suspect the Fed is currently more interested in continuing to expand the size of its balance sheet which is already highly stimulative. That is depressing yields at the front end of the curve because Repo buying is short-term by definition. There is no Fed buying of longer dated issues and that is contributing the current mild expansion of the yield curve.
The risk is inflation but it is still very understated by statistics. In Jeff Gundlach's Just Markets talk yesterday he discussed how much PCE understates inflation. He gave the example of the measure using Medicare reimbursements rather than insurance premiums to calculate healthcare inflation. My premiums rose 40% this year because we wanted to continue to have access to UCLA and Cedar Sinai which are our nearest hospitals. That is not being reflected in the statistics.
Gundlach's other prediction was Bernie Sanders will win the Democratic nomination. One way to think about Donald Trump's electoral success is it was less a vote for him and more a vote against the substantially higher healthcare costs premiums and deductibles baked into Obamacare. That situation has not improved under Trump and Sanders is promising free healthcare. That is probably going to be the primary debate point in the upcoming US election and it represents a potential source of volatility.
Back to top