Buy Robot. Silicon Valley Misses a Trick as China Nabs Kuka
This article by Chris Bryant and Nisha Gopalan for Bloomberg may be of interest to subscribers. Here is a section:
Adding robotics exposure makes sense, as rising Chinese labor costs are expected to drive a big increase in factory automation there. At present, China uses much less automated manufacturing than more developed economies such as South Korea and Germany.
China's robot sales rose 16 percent last year, according to the International Federation of Robotics, which predicts that by 2018 it will account for more than one third of industrial robots installed worldwide.

So you can see the strategic sense of a Kuka deal. But it still begs the question: why didn't Silicon Valley jump in here? Midea's offer values Kuka's equity at 4.5 billion euros ($5 billion), chump change for the likes of Google, Apple or Amazon.

And yes, that whacking great premium is surely designed to see off any potential white knights, but -- just like China -- the U.S. tech giants aren't restricted by the usual rules of corporate finance.

There's been a lot of big talk there about robotics, but besides Amazon's clever acquisition of Kiva, which makes robots that whizz around its logistics centers, we've seen little fruitful action. In March, Google beat a partial retreat by putting its Boston Dynamics unit up for sale.

Of course, the U.S. reigns supreme in software, increasingly central to the success of robotics. But if you want to own the future, you'll have to marry that expertise to intelligent hardware. And it's here where Kuka excels.

The German company has branched out beyond its car-plant robot roots to other sectors, including electronics and medical applications. It's taking a run at the so-called "internet of things" by making its machines easier to program. Its lightweight model called the iiwa is a technological wonder that can work side-by-side with humans, without a safety cage.
China is investing heavily in automation because having achieved the moniker "workshop of the world" it intends to hold onto it as labour costs rise. However there is another reason China Inc. is on such a buying spree; acquiring everything from luxury hotels and food companies to robotics in the last year.

With China's reform agenda and rationalisation of overcapacity in a range of sectors underway, and expected to intensify, many Chinese investors expect a further depreciation of the Yuan. With currency controls it is not easy to hold balances offshore so making acquisitions of companies is an expedient way of spending excess cash and preserving its value as a hedge against devaluation.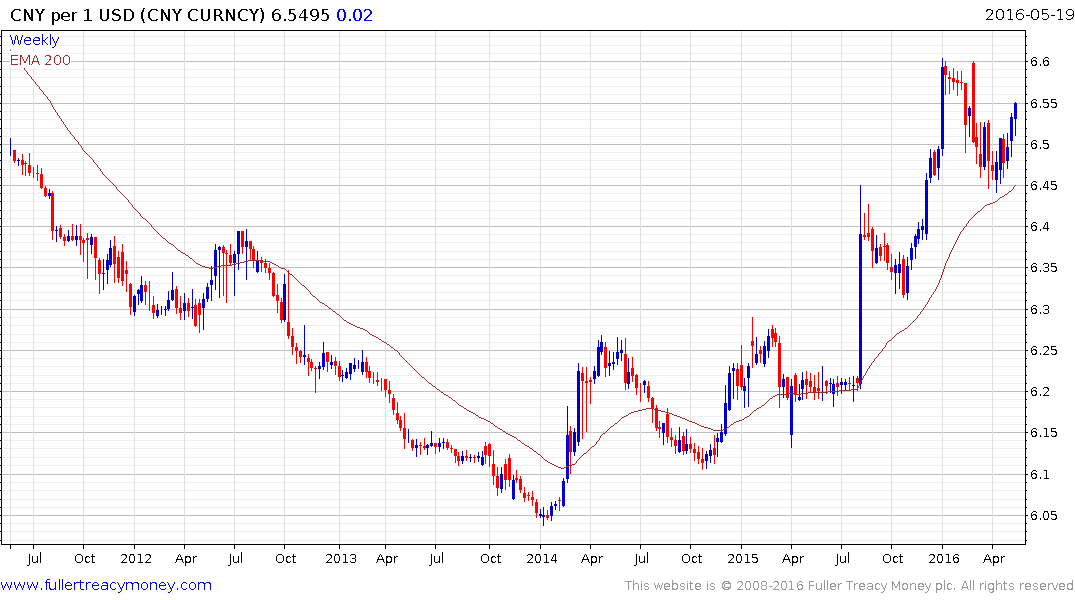 The US Dollar remains in a consistent uptrend against a Yuan and a sustained move below the trend mean would be required to begin to question potential for additional upside.
Back to top