Buy Gold "At Any Level" Mobius Says as Central Bankers Ease
This article by Ranjeetha Pakiam and Haslinda Amin for Bloomberg may be of interest to subscribers. Here is a section:
Veteran investor Mark Mobius gave a blanket endorsement to buying gold, saying accumulating bullion will reap long-term rewards as leading central banks loosen monetary policy and the rise of cryptocurrencies serves only to reinforce demand for genuinely hard assets. Prices climbed.

"Gold's long-term prospect is up, up and up, and the reason why I say that is money supply is up, up and up," Mobius, who set up Mobius Capital Partners LLP last year after three decades at Franklin Templeton Investments, told Bloomberg TV. He added: "I think you have to be buying at any level, frankly."
Gold is monetary metal and is therefore valued both as a currency and a commodity. In both markets the outlook for interest rates and supply are important considerations. Interests rates are on a downward trajectory everywhere. Just by having a zero pay-out, gold is looking more attractive. In an environment where competitive currency devaluation is a growing trend gold is a standout for holding its relative value.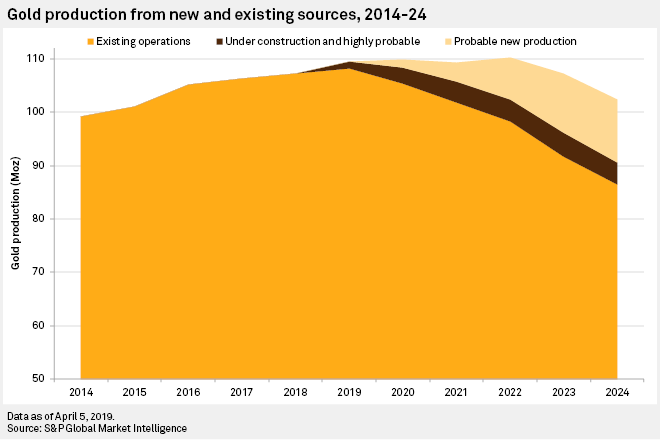 Meanwhile gold mine supply is rising. The bull market in metals prices up to the peak in 2019 resulted in a lot of sunk investment in new supply. Mining shares collapsed as high leverage and declining metal prices resulted in massive write downs but the mining infrastructure push is now delivering on new supply. The biggest point is that despite new records being set for additional new gold the quantity of additional new gold being produced is comparatively small.
That is the primary reason for the ability of the gold price to sustain its breakout. The potential demand for the metal in a loose monetary environment, dwarfs supply even in a rising production environment. That puts gold miners in a very favourable position provided they retain a strong focus on cost controls and limiting ambitious expansion plans.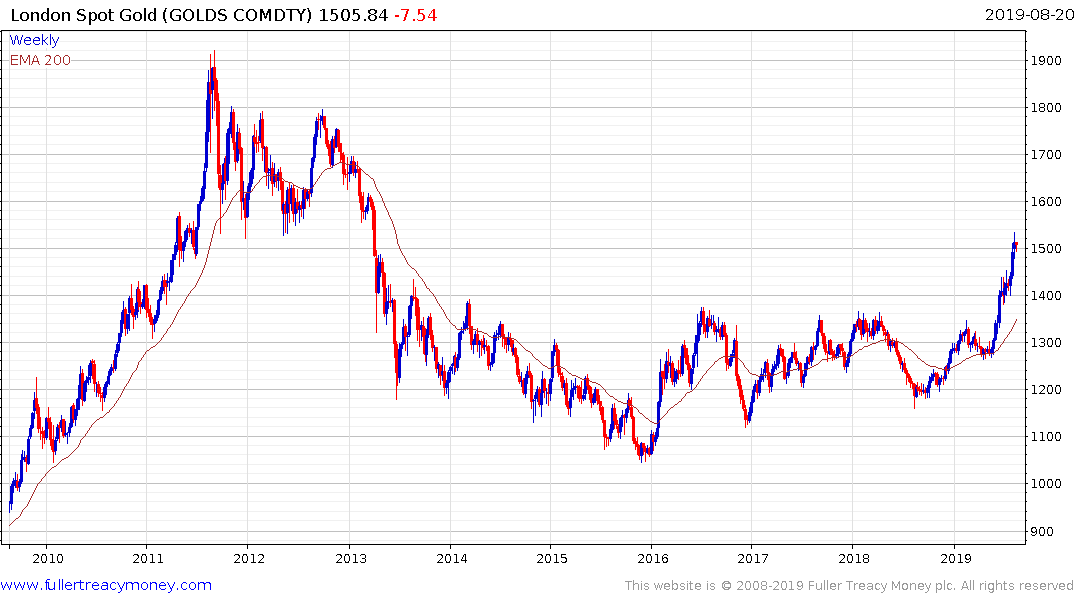 Gold continues to consolidate around $1500 as it holds the breakout from its six-year base formation.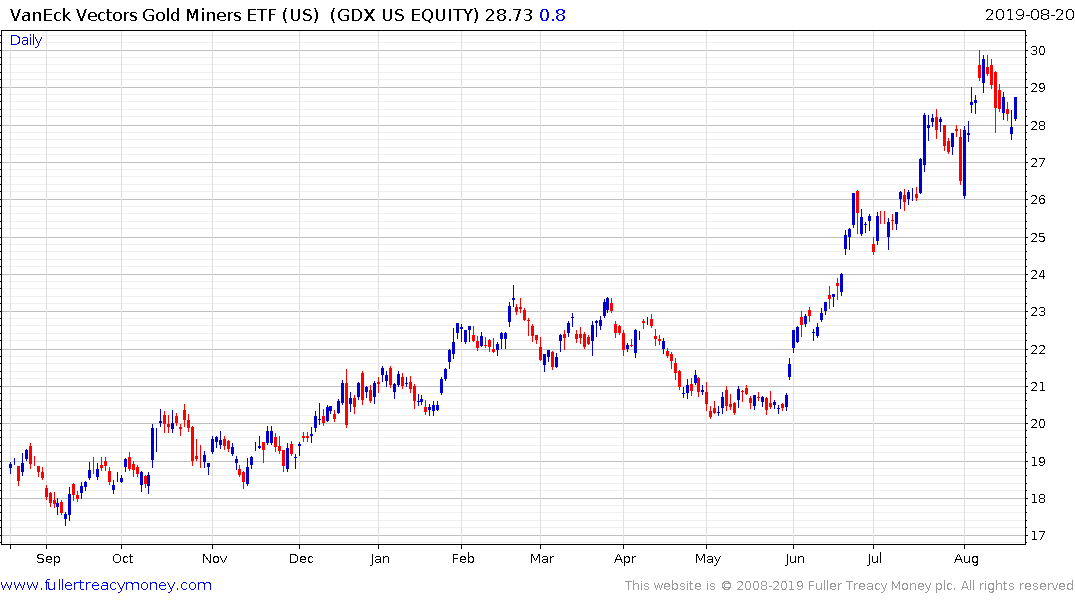 The VenEck Vectors Gold Miners ETF (GDX) remains in a consistent staircase step sequence uptrend and is bouncing from the upper side of if the underlying range at present.
Back to top