Bunging the EU billions of pounds for free shows the toxic ineptitude at the heart of May's Brexit deal
This article by Robert Rowland (MEP for the Brexit Party) for the Telegraph may be of interest to subscribers. Here is a section:
If you owned 16.1pc of the European Investment Bank (EIB) would you give it away free to the other wealthy members as you leave the EU?

That's what Philip Hammond, the former chancellor and his team of civil servants have done.
Hidden in Theresa May's discredited Withdrawal Treaty, ex-Chancellor Philip Hammond (then also on the Board of Governors of the EIB) gifted it €7.5bn of taxpayer's money for no concessions. He then accepted a 12-year repayment of €3.5bn with no interest, from a bank making €5bn profits in just the last two years.

The ultra-Remain ex-chancellor was prepared to leave the UK credit card open over a decade to ensure the EIB can continue to lend on non-commercial terms to the EU 27 at UK taxpayer risk.

The UK is also treaty-bound for another €36bn of "callable capital". This is money we will pay to underpin the EIB if the eurozone collapses. Additional toxic risk exposure comes through the EU Budget which guarantees €500bn of EIB loan note risk that we would be exposed to during any "transition". It is a truly toxic trick, conjured up by Hammond and his team.

But how did this happen?
Under May's Withdrawal Treaty, the UK's initial EIB capital contributions, mostly given in 1973, of €3.5bn – in today's money roughly €35bn – can be repaid in 12 instalments of around €300m a year.
This article provides a good example of the reasons why a substantial number of people believe the deal negotiated by Theresa May's government is untenable. It gives up all of the UK's primary negotiating points without demonstrating what concessions, if any were won in return.
The problem is the process has gone on for so long that the choice has been distilled down to either some version of the negotiated deal or no exit at all. Parliament has voted repeatedly to reject a no-deal Brexit, which suggests that despite all arguments in favour of a clean break it will not occur. If a fudge of the Irish border question can be agreed then it is increasingly likely the deal with be voted through Parliament.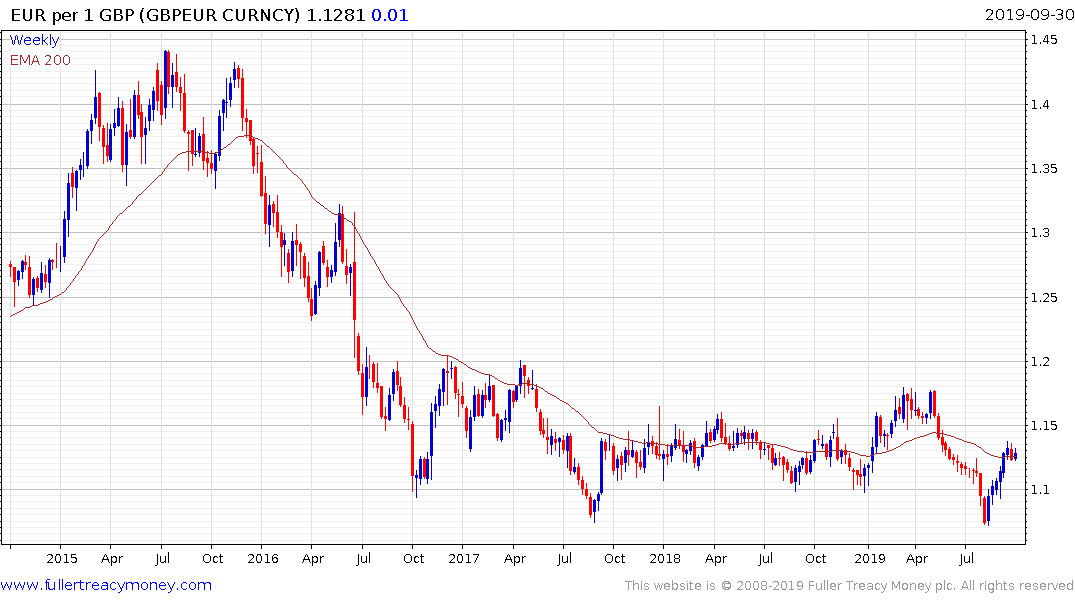 That would remove the Brexit question but it would highlight the drawbacks of what has been agreed to the wider public. The Pound is currently holding in the region of the trend mean against the Euro but needs to sustain a move above €1.14 to confirm a return to demand dominance.
Back to top