BRIC By Brick: The Demographic Dream Unravels
This article by Shankkar Aiyar for Bloomberg may be of interest. Here is a section:
The arc of electoral expediency demands a saleable alibi, a villain, and a promise of prosperity at the end of the rainbow. The rash of legislation and the promise to expand the enclave of reservations may at best serve as a placebo. The spectre which could come to haunt India is up ahead. What is important to recognise is the scale of the challenge. India's 2020 population is estimated at over 1.39 billion of which 67% or nearly 925 million are of working age. By 2050 India's population will touch 1.63 billion – and the working-age population is expected to touch 1.11 billion.

Demography is not destiny. India's politicians are right to fear the looming spectre of rising working-age population and unemployment but both the cause and consequence are of their making. India needs structural reforms to propel growth. Effectively the demographic dream rests on the hope that India's rulers would tune policy to empower the willing millions. Without growth, politicians will only be left with poverty and promises to redistribute.
Most India commentators adopt a glass half empty perspective. The performance of the stock market tells a different story.
India will soon have a larger population than China with only about a third of the land mass. It's going to get more crowded. That makes the task of improving the living standards of the majority a daunting challenge. However, significant progress is also both possible and probable. Technology helps a lot.
India has several hundred million young people available for work. Population growth over the last decade means that supply is secure for the next decade. Even small changes in the regulatory burden have the capacity to generate significant productivity gains for businesses.
The program to collect biometric data from every person, giving every family a bank account coupled with cheap 4G connectivity mean India's population are more connected to the formal economy than ever before.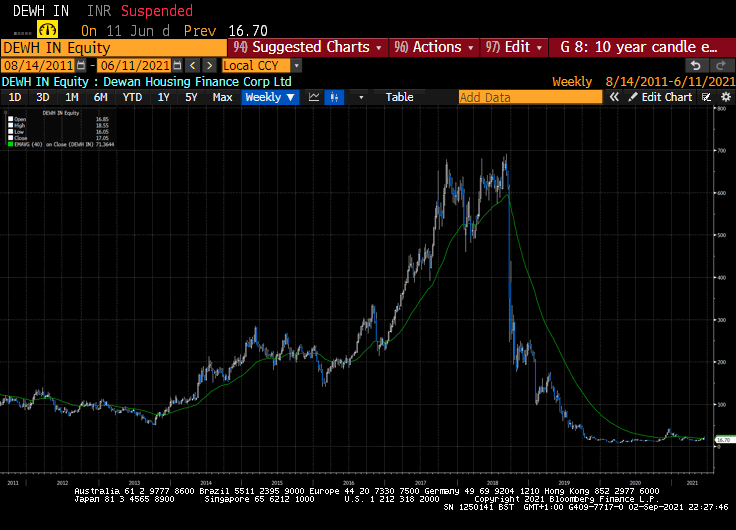 Perhaps more important is the fact that the financial sector deleveraging that began in 2018 has run its course. A significant number of housing finance companies went bust and overleveraged portions of the banking sector have experienced deep corrections. It is looking increasing likely a new credit cycle is unfolding in India. That suggests there is scope for re-leveraging which should support economic activity and asset price appreciation.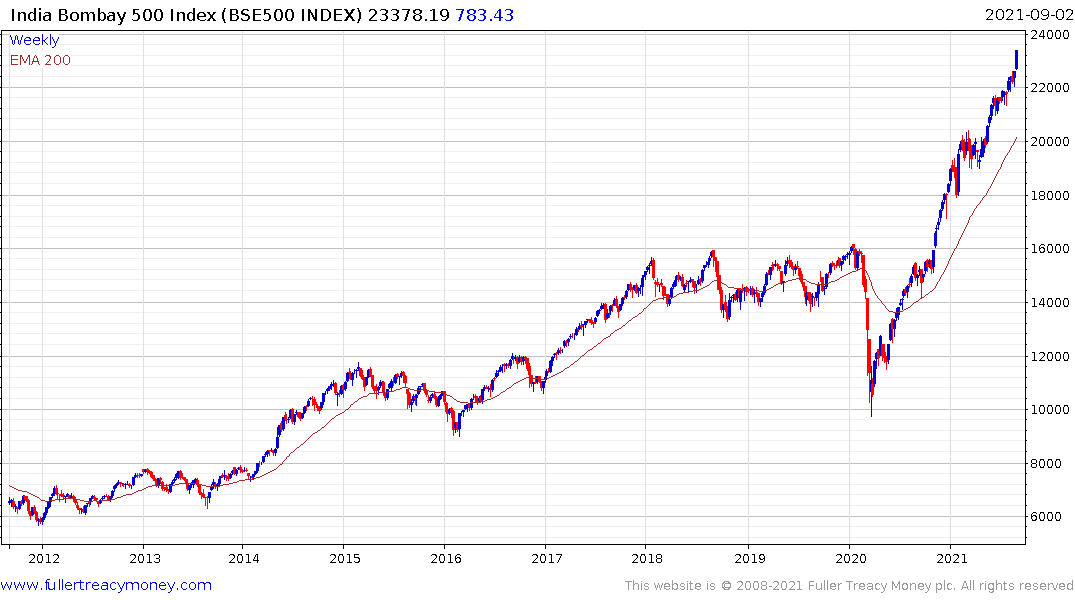 The BSE500 Index doubled in the year following the March 2020 low, consolidated for a few months and broke out again in May. It is somewhat overbought in the short term but a break in the sequence of higher reaction lows would be required to signal a peak of more than very short-term significance.
Back to top