Brexit Talks Head for Crisis as Johnson Decides Whether to Walk
This article by Katharina Rosskopf and Ian Wishart for Bloomberg may be of interest to subscribers. Here is a section:
"I can't say as we stand here that we'll necessarily get a deal -- we have prospects of a deal," Barnier told reporters after meeting with EU leaders, adding that, as far as he's concerned, talks will continue in London next week and Brussels the week after. "We shall remain available until the last possible day -- the negotiations aren't over."

While the U.K. thinks it has gone as far as it can, and wants the EU to compromise, leaders from the bloc insisted that the onus is on the British government. It wants the U.K. to make concessions on state aid, limiting the subsidies government can hand out to businesses, before it contemplates its own compromises on fishing.

European officials brushed off Frost's complaints and insisted they won't persuade the bloc to shift its stance, and several voiced irritation, asking not to be identified because of the sensitivity of the negotiations. Two said they judged the comments were aimed at Frost's domestic audience and two others said they might serve to harden the EU's position.
It might be nice to think that the Brexit story is about the triumph of freedom and national sovereignty over an overbearing increasingly federalist bureaucracy. However, the exit negotiations are much more about money and what competition will look like afterwards. The big question is not about fishing rights, financial services or customs borders. Instead, the primary sticking points are what modes of competition the UK is willing to give up in order to retain unfettered access to the EU's market.
Tax policy, regulation and government supports are where the meat of the negotiations reside. The UK obviously wishes to hold onto as many avenues to enhance its competitive edge as possible. The primary question is how that priority is balanced against the benefit gained from market access to the EU? If a deal is struck both sides will need to give up on some of what they want and then sell it to their constituencies. That has already tripped up one UK Prime Minister, it may yet trip up another.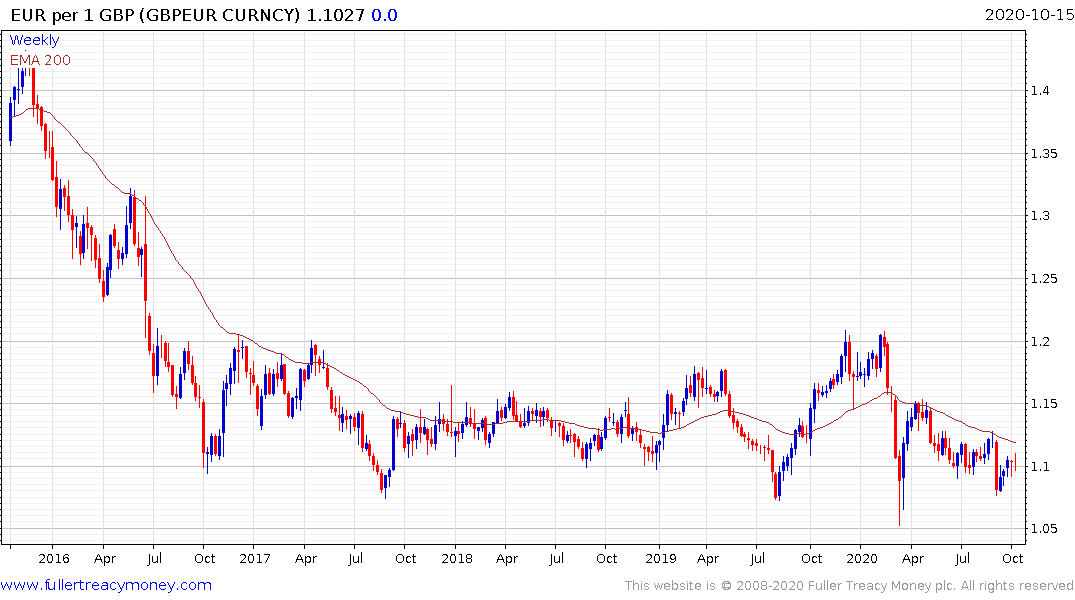 The Pound remains stable versus the Euro as its hold the €1.10 area. A break below €1.08, held for more than a day or two, would be required to signal investors are giving up on the idea a deal will be reached.
Back to top