Brexit Stalemate Deepens as U.K. Fails to Agree on a Way Forward
This article by Robert Hutton, Alex Morales and Tim Ross for Bloomberg may be of interest to subscribers. Here is a section:
The U.K. has two weeks to go to the EU with a plan for its next steps or face the prospect of leaving without a deal, something Parliament also opposes. The likeliest outcome is that May will ask for a longer delay to Brexit, but she will have to convince European leaders that Britain is on a path to solving its apparently intractable problems.

Hours after May promised her Conservative members of Parliament on Wednesday that she'd step down if they back her Brexit deal, she still looked short of having the numbers needed to win. It's already been overwhelmingly defeated twice.

Meanwhile, votes in the House of Commons intended to break the deadlock by finding a consensus also saw every proposal rejected. The pound fell.

May must decide on Thursday if she is going to bring her deal back for another vote and meet the EU's Friday deadline for getting it passed. The government declared that it was still the only option in play. Yet it too appears to be doomed despite the capitulation of some Brexit hard liners.

Liz Truss, a member of Theresa May's cabinet, told ITV television that Wednesday's votes show there are no other "serious options" than the one already negotiated with the EU, and that has "focused minds."

"There has been a significant shift now of people recognizing the reality of the options," she said. "What we have seen today is Parliament does not have an option apart from the prime minister's deal that is really a viable option for the future."
This chart from Bloomberg highlighting the range of options puts me in mind of Walter Scott's quote from Marmion "Oh what a tangled web we weave when first we practice to deceive"


The simple fact of the matter is Parliament doesn't know what it wants but it is very clear what it doesn't want. I get the sense a good many lawmakers would like nothing more than to turn back time and settle back into the status quo. Unfortunately, that is impossible and the outcome of future elections is likely to provide even greater polarisation.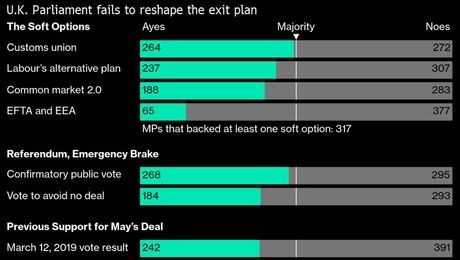 The customs union and public vote would likely have passed were it not for the DUP. That supports my belief Brexit was dead on arrival following the loss of the Conservatives' majority in parliament. The potential for another election or another referendum are the clearest possible outcomes if the deal cannot be passed. That is quite likely to put a lid on the ability of the Pound to rally, at least until some visibility on potential outcomes appears.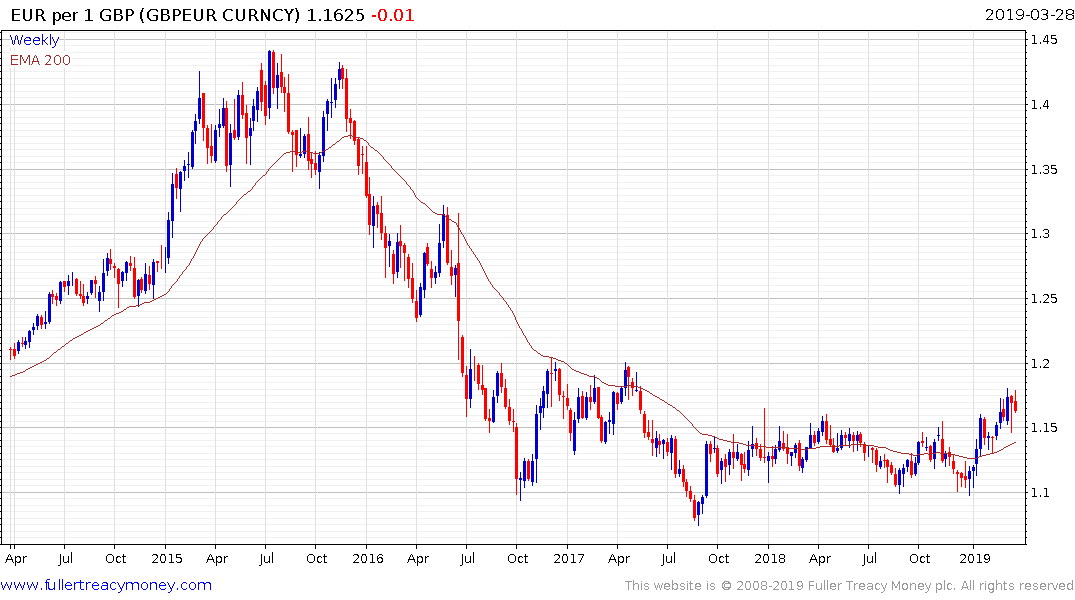 Back to top