Brexit Negotiators Reach Outline of Historic Trade Accord
This article by Ian Wishart, Alberto Nardelli and Kitty Donaldson for Bloomberg may be of interest to subscribers. Here is a section:
U.K. and European Union negotiators have reached the outline of a post-Brexit trade agreement, and are now working to finalize the wording of the deal after almost ten months of often fraught deliberations.

The accord still needs to be approved by British Prime Minister Boris Johnson and the EU, according to officials with knowledge of the matter. That means the deal could still fall apart, and any announcement could be some hours away, they said.

The pound soared, advancing by as much as 1.6% to $1.3571, for its biggest intraday gain in more than a week. The yield on 10-year U.K. government bonds was poised for the biggest gain since March.

Johnson and European Commission President Ursula von der Leyen intervened personally in recent days, holding several phone conversations in a last-ditch bid to reach an agreement before the U.K. leaves the single market at the end of the month.
The headline of a "deal" and the signal that sends about the willingness of politicians to avoid economic distress is positive for the stock market and the Pound. Of course, we do not know exactly what the deal will contain. I remain of the view that an agreement always looked likely, but that its scale is likely to be rather limited. There will still be years of wheeling and dealing over enforcement and relative advantage. Delivering Brexit was a major election promise, its success will be measured by how each individual household fares after the fact. In other words, now the hard work begins.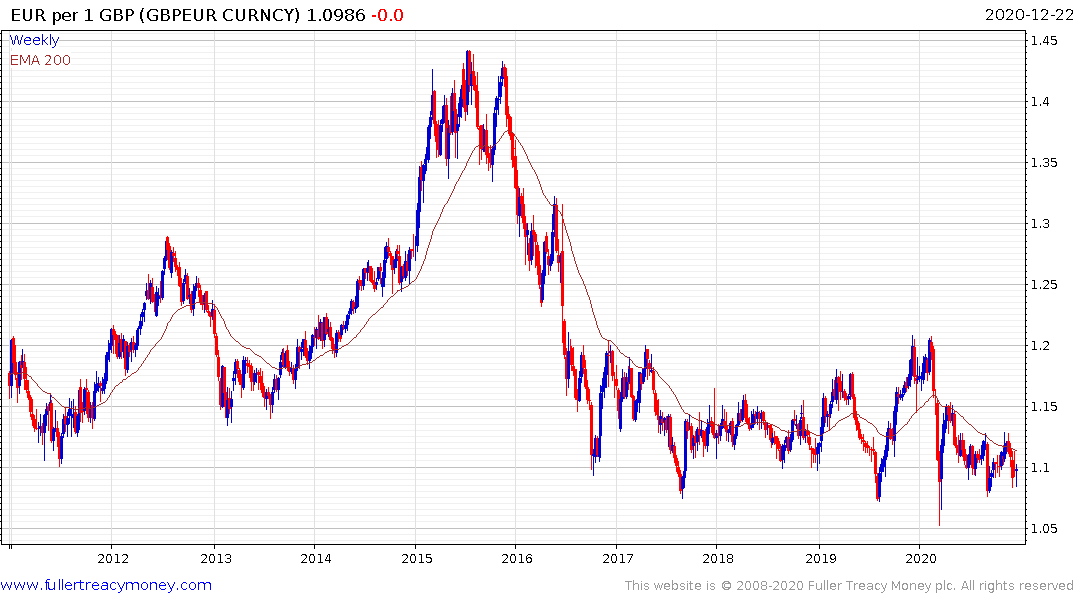 The UK stock market is trading at a significant valuation discount to other developed markets and the Pound is not far from its lows relative to the Euro. That suggests the UK has potential for a significant rerating over the course of 2021 on a currency-adjusted total return basis.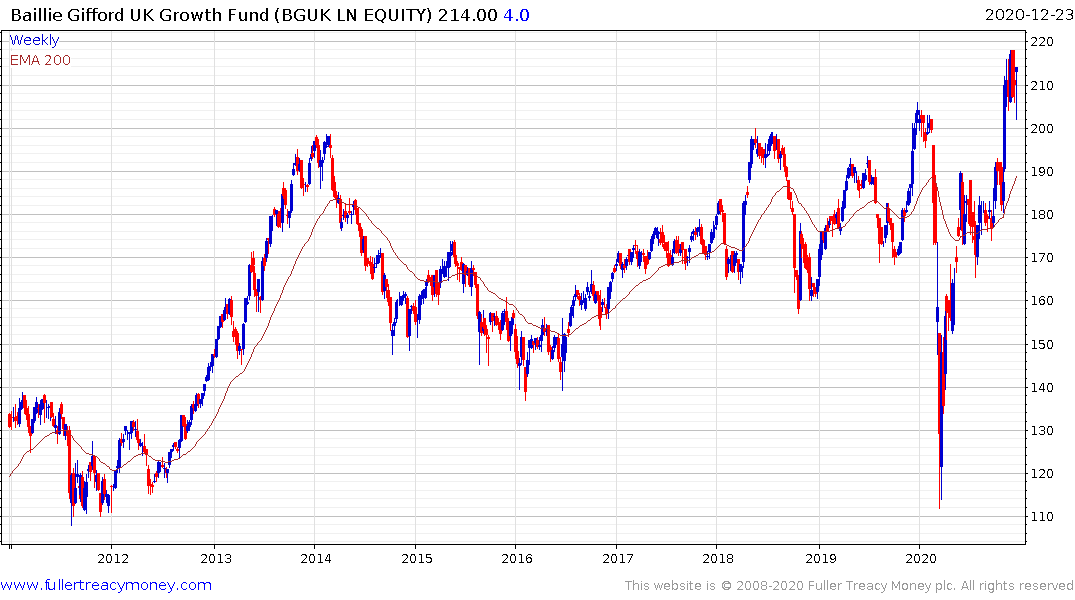 The Baillie Gifford UK Growth Fund trades at a mild discount to NAV of 1.5% and is currently firming from the upper side of a six-year range.
This report from Goldman Sachs may also be of interest. Strategy Espresso: Why the UK is a buy – the countdown to Brexit
Back to top