Delay Brexit? Ireland would not stand in the way
This article by Guy Faulconbridge, Conor Humphries for Reuters may be of interest to subscribers. Here is a section:
The Telegraph newspaper cited three unidentified EU sources as saying British officials had been "putting out feelers" and "testing the waters" on an extension of Article 50, which sets out the conditions for leaving the EU.

Brexit Secretary Stephen Barclay denied the report and said London would not seek to extend the divorce while German Foreign Minister Heiko Maas said it was not time to discuss such a course. Ireland, though, said it would not stand in the way if Britain made such a request.

"Certainly from an Irish perspective, if such an ask happens, we won't be standing in the way on that," Irish Foreign Minister Simon Coveney told journalists after a meeting with Maas in Dublin.

"If it is the case that at some point in the future that the British government seeks an extension of Article 50, then that is something that will have to get consideration at an EU level," Coveney said.

Ireland's economy would be hit hard by a disorderly Brexit and the most contentious part of May's deal is an insurance plan aimed at preventing a hard border between the Irish Republic and Northern Ireland.
May is said to intend to "move swiftly" if her deal is voted down in parliament, as seems likely. The UK is due to leave the EU on March 29th so 80 days from now. One is reminded of Phileas Fogg's race around the world but perhaps the more appropriate literary comparison is with Don Quixote and tilting at windmills, but this time in the Low Countries.
Try as she might, Theresa May has little chance of getting the EU to budge on the deal agreed, not least since it would require every government to vote unanimously to reopen negotiations. However, in true European fashion there is always time for talking and plenty of precedent for stretching deadlines.
At its most basic, half the people voted to leave the EU but far less than half of policy makers thought it was a good idea. That has resulted in at best a fudge and at worst a repudiation of the decision. Ultimately, it makes sense for the citizenry to have a say in whatever the politicians agree since it has been clearly demonstrated they cannot be trusted to deliver what it was people thought they were voting for. Quite whether that comes in the form of another referendum or a general election, or both remains to be seen.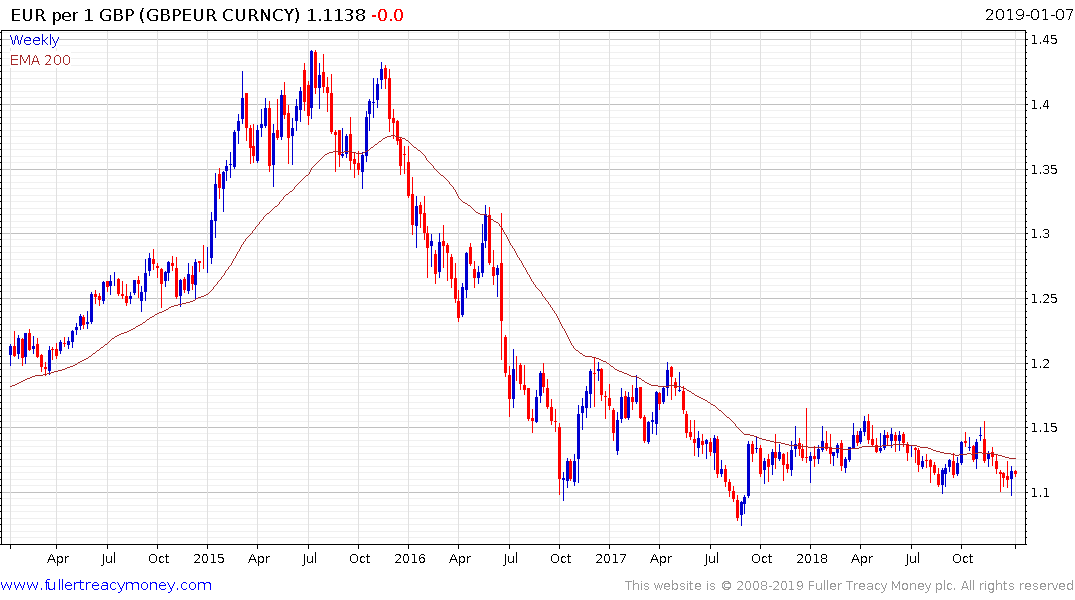 In the meantime, the Pound is steading from the lower side of its range against the Euro, confirm at least near support around the €1.10 level.
Back to top