Brazilian Assets Soar as Bolsonaro Starts to Deliver on Promises
This article by Mario Sergio Lima and David Biller for Bloomberg may be of interest to subscribers. Here is a sectionBrazilian Assets Soar as Bolsonaro Starts to Deliver on Promises
In a speech at his swearing-in ceremony in Brasilia on Wednesday, Guedes promised a sweeping overhaul of the country's state apparatus and business environment to unleash corporate potential and free future generations from debt.

"Private-sector pirates, corrupt bureaucrats and creatures from the political swamp have conspired against the Brazilian people," he said. "Excessive spending has corrupted Brazil." Bolsonaro has tapped Guedes, a graduate of the University of Chicago, to manage economic policy in a country hamstrung by rising debt, a gaping fiscal deficit and slow growth. Bolsonaro won the October election by a wide margin as part of a popular backlash against crime, corruption and economic malaise.

In his comments Wednesday, Guedes highlighted the urgency of the task ahead. "Our business class is chained down by interest rates, high taxes and labor costs," he said, adding that he believed the ideal tax burden would be around 20 percent of gross domestic product, rather than the current rate of 36
percent.

Earlier in the day, the new energy minister, Bento Albuquerque, said Brazil would deliver on plans to capitalize Eletrobras, prompting shares in the state-run company to jump as much as 9.7 percent. He added that he would seek a lower tax burden and few subsidies in the electricity sector.
Markets tend to reward the efforts of right-wing populists because they promise to streamline bureaucracy, cut regulation and boost economic growth; all of which tend to improve sentiment towards asset prices. Bolsonaro's decision to appoint a University of Chicago economist as his finance minister is a signal, he has growth and employment as his first set of priorities and that is likely to be appreciated by investors.


The iBovespa Index is breaking out to new all-time highs and is just about the only country index achieving that feat right now.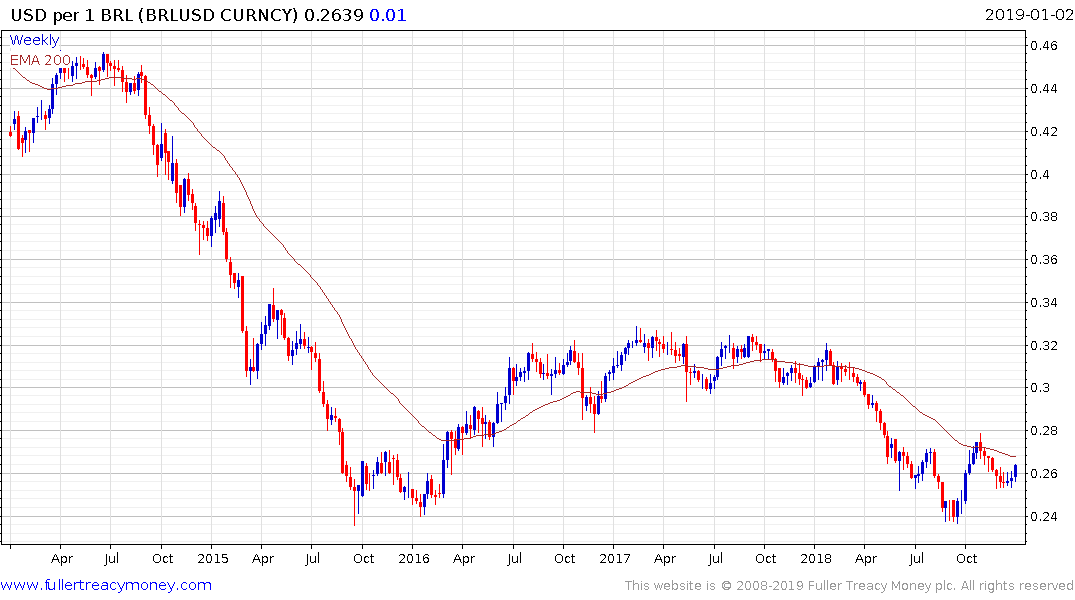 The Real has now posted a higher reaction low against the US Dollar and is back testing the region of the trend mean. A sustained move back above it would confirm medium-term lows are in place.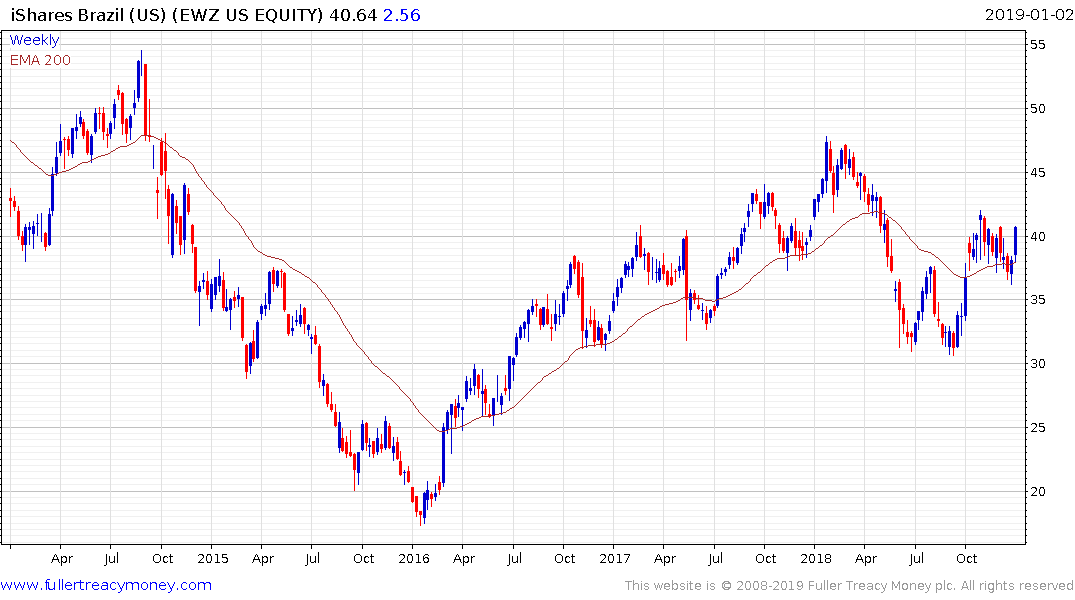 The iShares Brazil ETF is firming from the region of the trend mean.
Back to top