Brazil Worries the 'China of South America' Is Eating Its Lunch
This article by Bruce Douglas and Matthew Malinowski for Bloomberg may be of interest to subscribers. Here is a section:
As Brazil struggles through its worst recession on record, dozens of businesses have set up operations across the border, creating thousands of jobs. Broadly welcomed by the Brazilian government at first, the migration of investment is now facing increasing scrutiny as unemployment rises to unprecedented levels.

"It used to be a joke," said Murillo Onesti of Sao Paulo law firm OLN Advogados, referring to Paraguay's past reputation in Brazil as a source of cheap knock-offs. "China faced the same resistance at first. But people are seeing now that you can produce better quality goods at a lower price."

In effect since 2000, Paraguay's "maquila law" aims to replicate the success of Mexico's maquiladora -- or manufacturing plant -- operations. Goods can be imported tax-free for assembly, then sold locally or exported with only the value-added part taxed at a rate of just 1 percent.
It's been a long time since we heard anything resembling a capitalist growth story from Latin America. However following a decade where commodity driven profits ushered in high spending rates and socialist ideologues, the continent has had to reassess and more business friendly policies are emerging.

Most of what I know about Paraguay stems from Anthony Bourdain's Parts Unknown, yet the government bond yield has been reasonably steady and at a spread of 200 basis points over Treasuries reflects a similar rate to other emerging markets.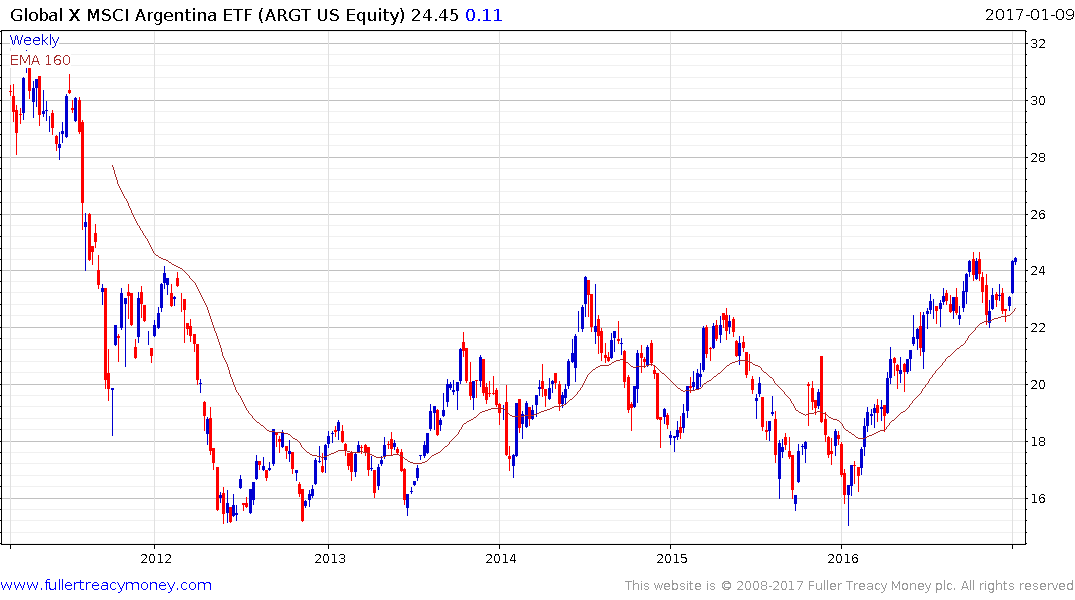 Paraguay's adoption of trade-friendly policies is an additional sign of improvements in Latin America's economic fortunes. The Global X MSCI Argentina ETF broke out to a new recovery high today.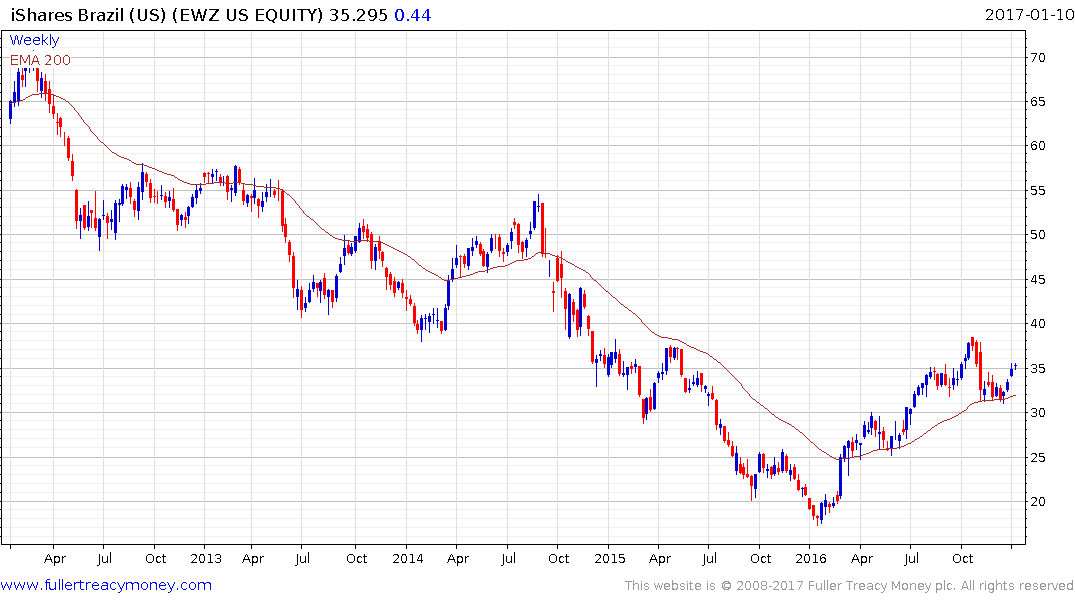 The iShares MSCI Brazil ETF found at least near-term support in the region of the trend mean and continues to bounce.
Back to top