Brazil Super Minister Shoulders Weight of Bolsonaro Economy
This article by David Biller, Cristiane Lucchesi and Rachel Gamarski for Bloomberg may be of interest to subscribers. Here is a section:
More long nights lie ahead. Brazil's nascent recovery from the worst recession in history hinges on his success, and the nation's benchmark index has climbed 13 percent since mid-September -- close to its all-time high -- on optimism Bolsonaro would win, giving Guedes a chance to implement business-friendly policies. They include dozens of privatizations, a massive reform of the pension system and a revamp for the nation's byzantine tax code.

Bolsonaro, who's admitted he has only a "superficial understanding" of economics, has said he's placing full control over the nation's finances in the hands of Guedes, who was trained at the University of Chicago and founded both a private equity firm and a think tank for liberal economic theories. Yet for all that success, he's had zero experience in implementing public policy.

"One thing's for certain: Guedes is the guarantor of Bolsonaro's alleged conversion to liberalism, and if for any reason he leaves the government, there will be an earthquake in markets," said Ricardo Lacerda, chief executive officer of Sao Paulo-based boutique investment bank BR Partners.

How big an earthquake? One top market analyst said Brazil's benchmark stock index could tank as much as 40 percent, reaching levels not seen since the 2016 impeachment of Brazil's former president, Dilma Rousseff. While that's probably overstating things, it's the kind of hyperbole that's characterized Brazil's election rhetoric ever since polls made it clear in recent months that Bolsonaro was heading to victory.
It's a truism but the market likes market friendly administrations. The potential for Bolsonaro to tackle engrained corruption, grant the central bank independence and streamline regulations have resulted in the Real rallying to test the region of the trend mean. Investors are probably now likely to wait and see what the new administration's program for government will be before getting more bullish.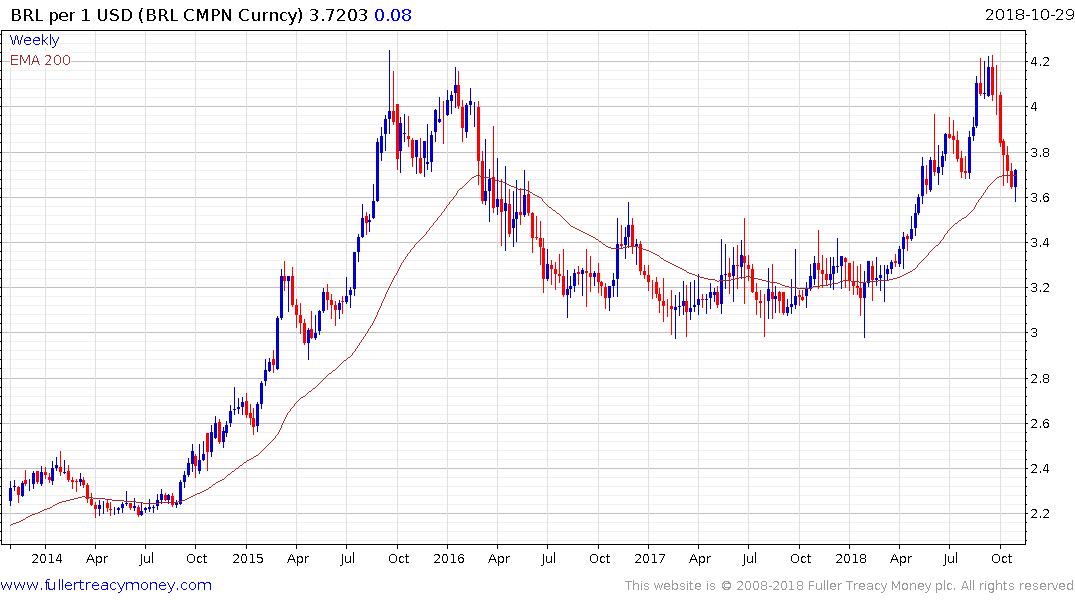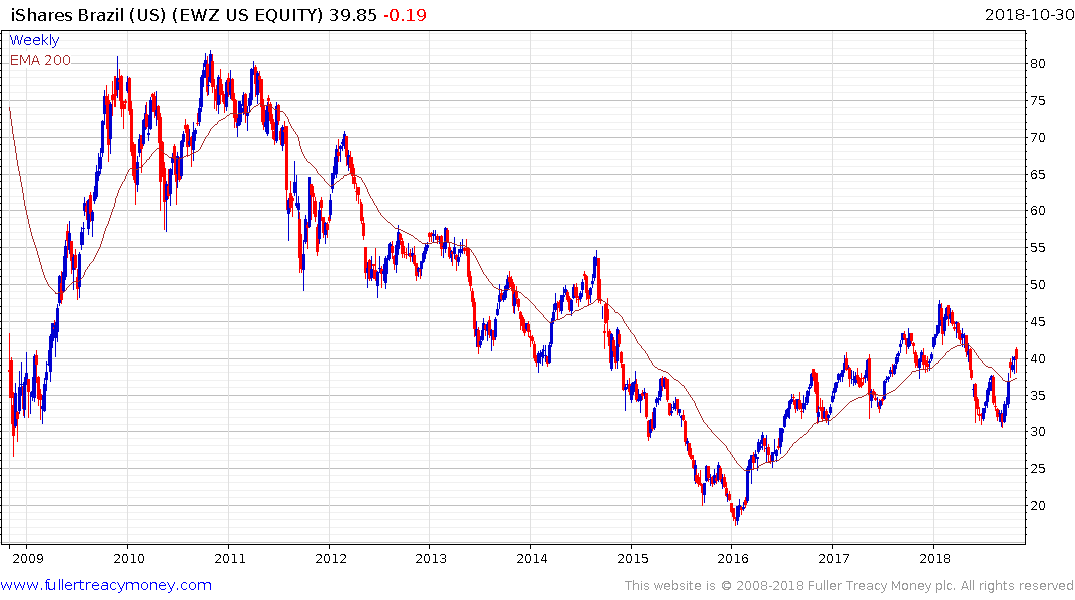 The IBovespa Index has spent most of this year ranging above the previous all-time peak and a sustained move below 70000 would be required to question medium-term scope for continued upside.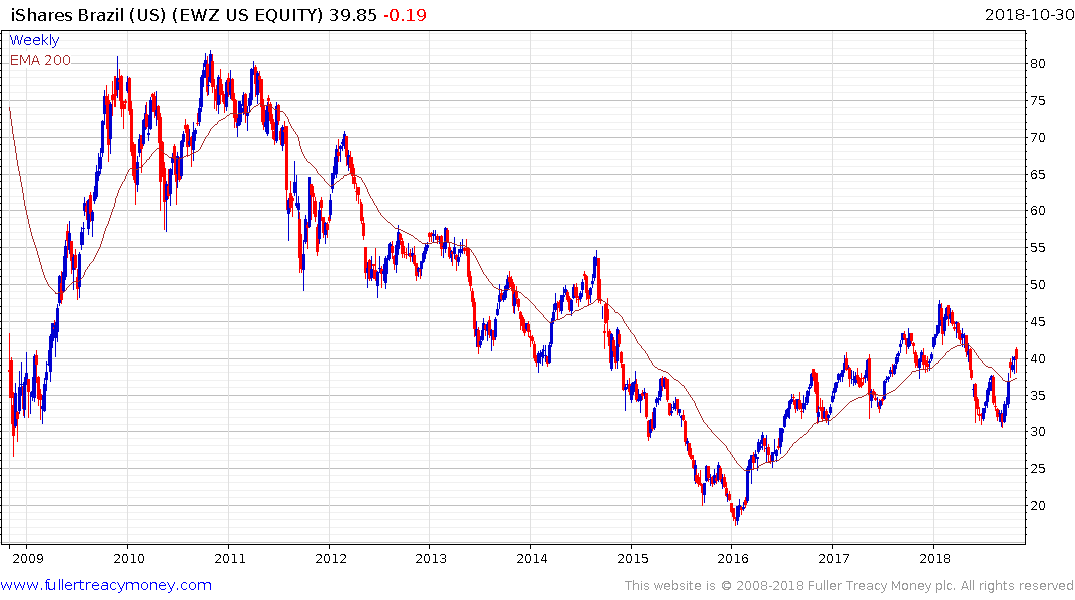 The iShares Brazil ETF is now trading above its trend mean and will need to hold that move during the current consolidation if recovery potential is to be given the benefit of the doubt.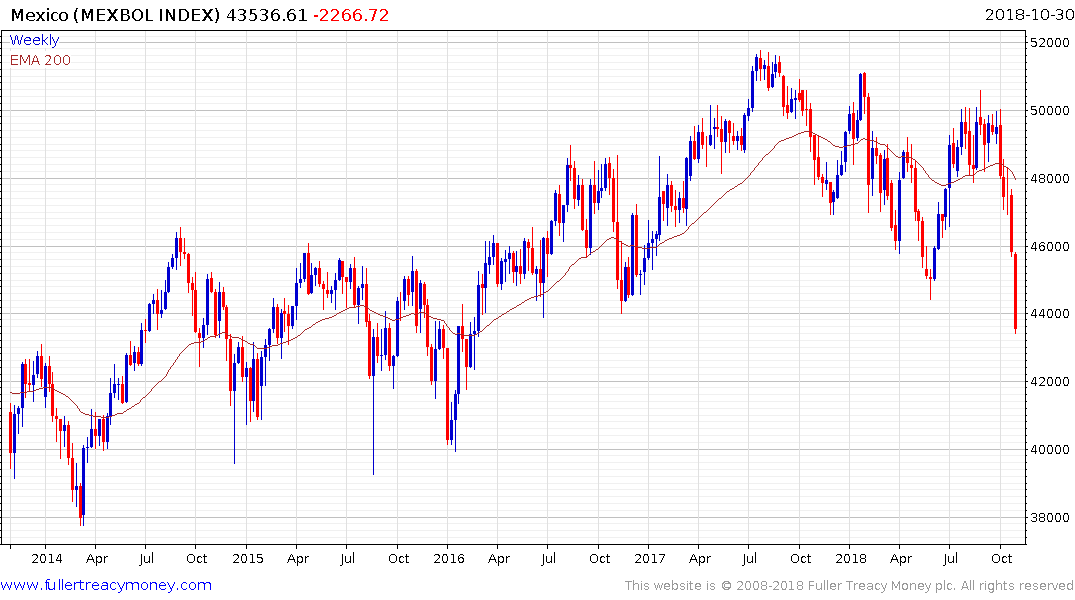 Meanwhile the success of Obrador (AMLO) in Mexico highlights the suspicion global investors have of socialists. The Mexbol Index dropped today to break below the June lows and while a short-term oversold condition is evident a clear upward dynamic will be required to check the momentum.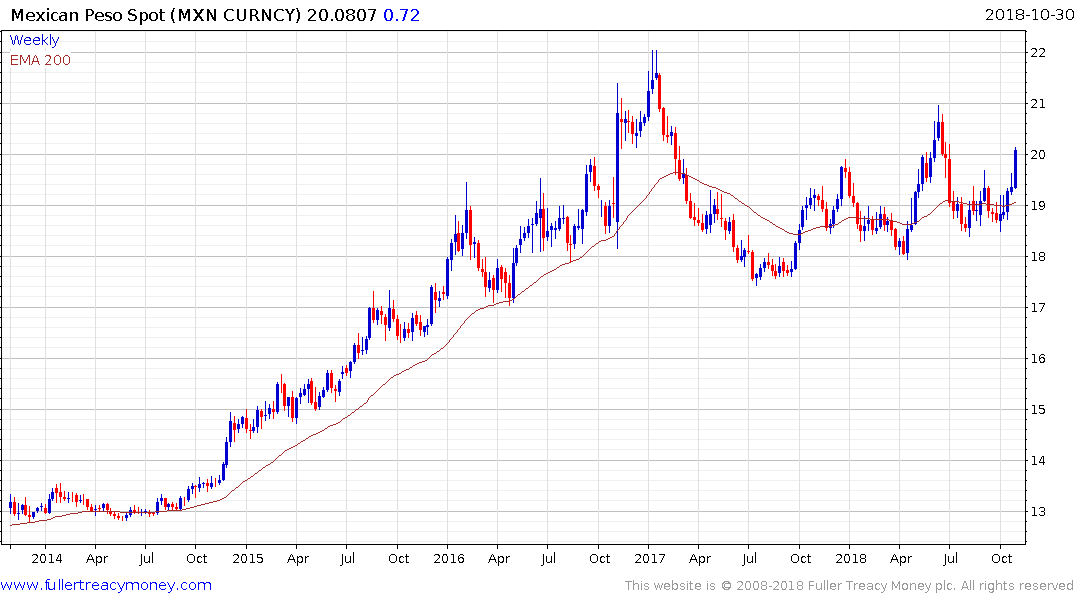 The Dollar has held a progression of higher reaction lows against the Peso since last year and a sustained move below MXN18.5 would be required to question medium-term scope for continued upside.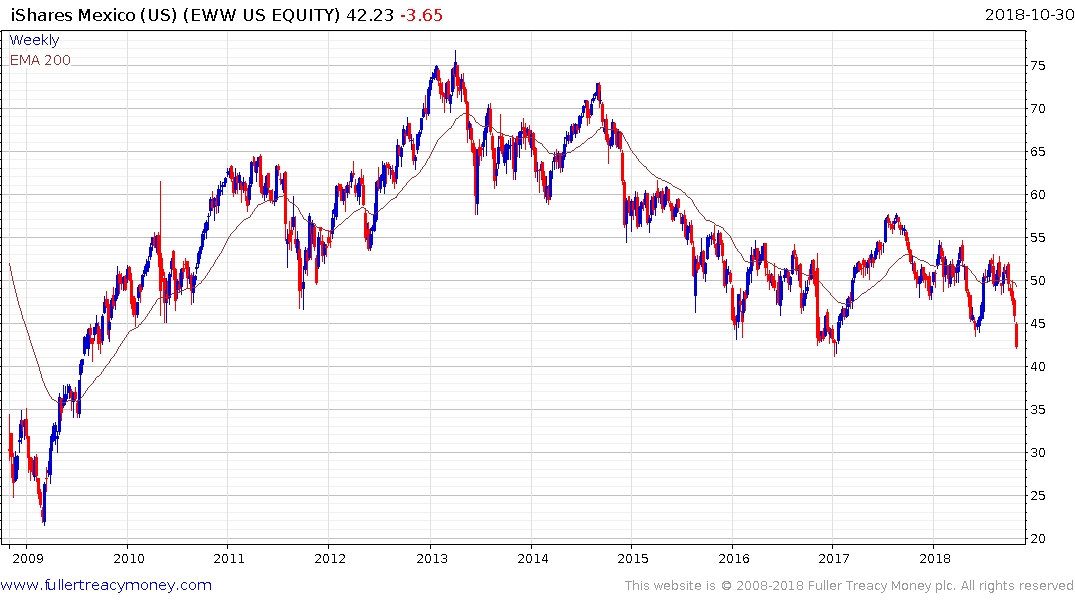 The iShares Mexico ETF is now testing the lower side of a three-year range and will need to bounce soon to avoid a resumption of the medium-term downtrend.
Back to top