Brazil's Strongman Closes in on Presidency After Round-One Rout
This article by Mario Sergio Lima, Raymond Colitt and David Biller for Bloomberg may be of interest to subscribers. Here is a section:
The next three weeks promise to be intense. For while Bolsonaro's lead appears almost insurmountable, the millions of Brazilians who vehemently oppose his populist candidacy – and its undertones of misogyny, homophobia and dictatorship denial - will make a furious, last-ditch effort to halt his march to the presidency. But they will be fighting against powerful forces not entirely dissimilar to those that helped put Donald Trump in office in the U.S. and Andres Manuel Lopez Obrador in Mexico and gave the U.K. its Brexit shock.

"It'll be three weeks of a dangerous and highly polarized scenario," said Mauricio Santoro, a political scientist at the State University of Rio de Janeiro. "The level of conflict will be very high," he said, adding that both have to overcome very high rejection rates to win.
The rise and success of fringe candidates is a not a coincidence but is rather a reflection of the global revolt against the status quo which is direct result of the failure of quantitative easing to fuel growth for asset owners at the expense of savers. The most recent symptom of that reaction is in Brazil where it has been the catalyst for millions of people to protest at the pattern of corruption which has been a fact of life for decades.
Bolsanaro's success in the first round, his commitment to rooting out corruption and his University of Chicago educated finance minister, have ignited investor enthusiasm that the country's domestic challenges might be tackled.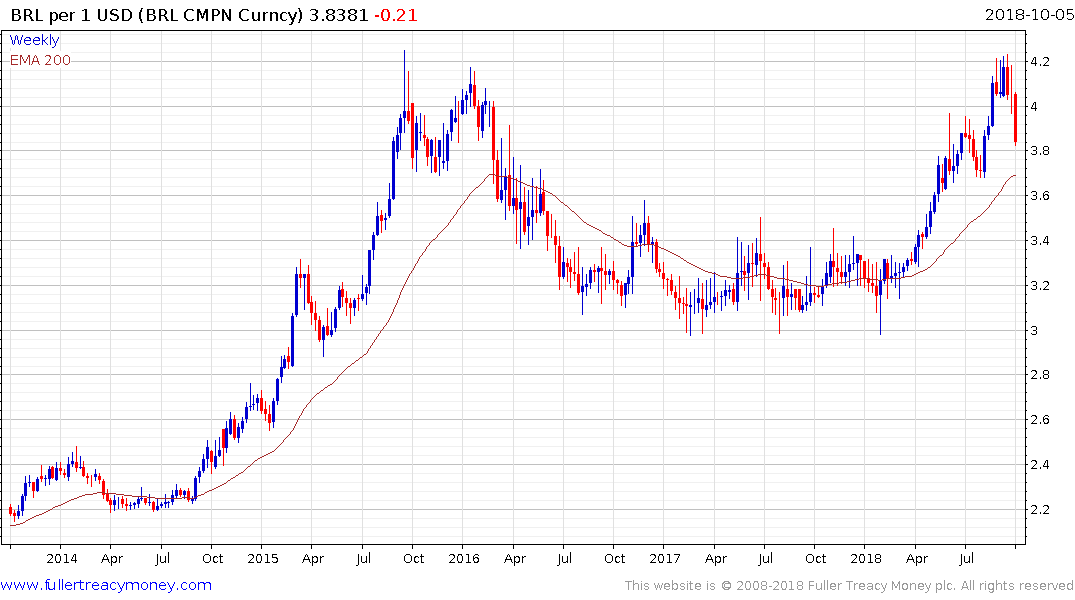 The Real is currently rallying to unwind its oversold condition relative to the trend mean and a clear downward dynamic will be required to question medium-term scope for continued strength.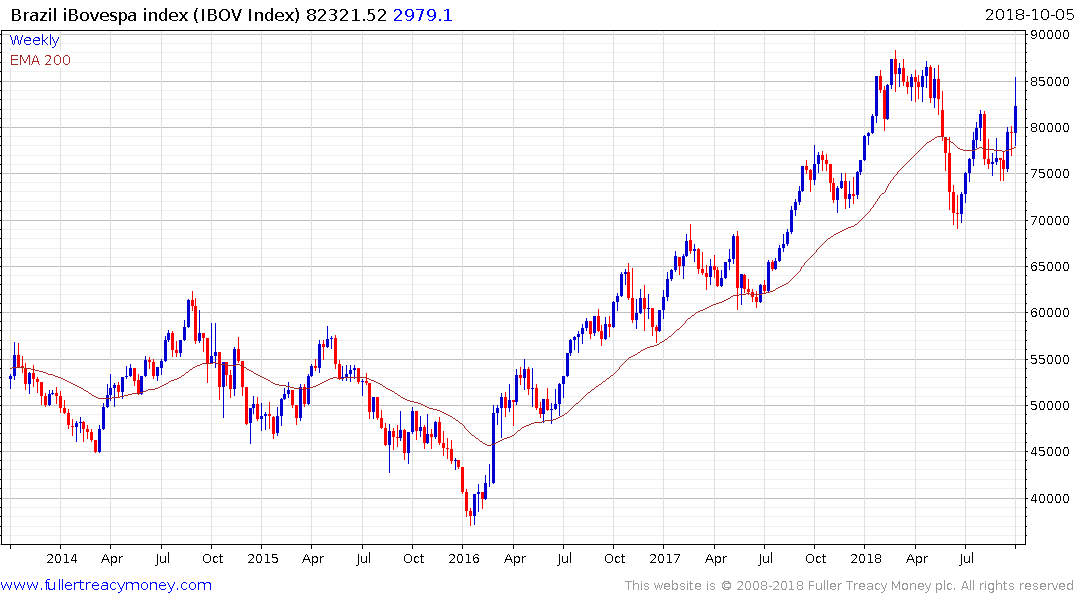 The iBovespa Index is back testing its highs while the iShares MSCI Brazil ETF jumped today to break back above the trend mean to signal a return to demand dominance.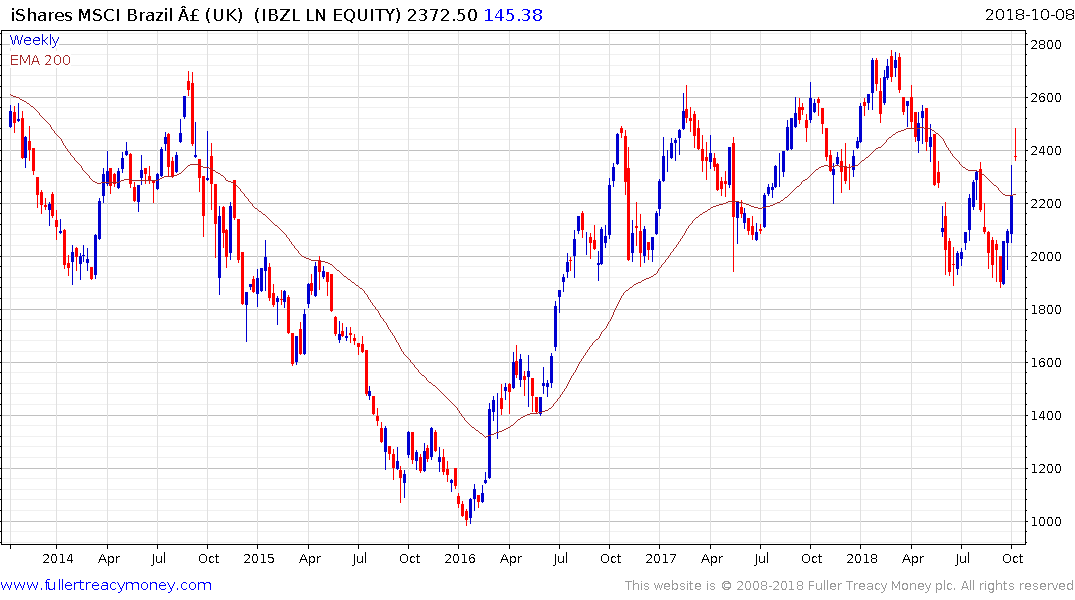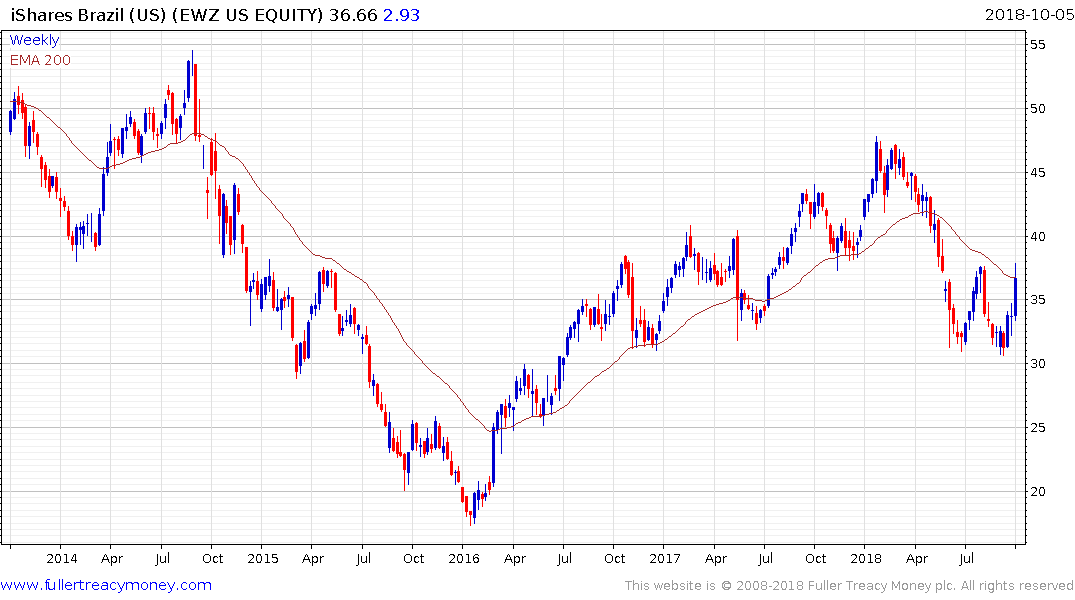 Back to top