Brazil Joins Turkey With Stepped-Up Currency Defenses Amid Rout
This article by Tugce Ozsoy, Julia Leite and Ben Bartenstein for Bloomberg may be of interest to subscribers. Here is a section:
Turkey and Brazil intensified efforts to protect their currencies from speculative attacks by investors as emerging markets face their biggest test since the 2013 taper tantrum.

Turkey surprised analysts by tightening monetary policy Thursday for the third time in less than two months, while Brazil's central bank sold extra foreign-exchange swap contracts for the second time this week, boosting investors' protection again further declines in the currency. The lira surged and the real briefly pared losses after the actions.

Thursday's actions are the latest in a series of efforts to shore up defenses in developing nations as policy makers from Argentina to India try to cope with higher U.S. interest rates, growing budget deficits, accelerating inflation and political instability. Emerging markets haven't been in this precarious a position since five years ago, when concern the developed world was pulling back on monetary stimulus sparked a rout in stocks and currencies.

"The failure to act preemptively to address macro imbalances has forced those central banks to take desperate measures to stem the pressure on their currencies," said Delphine Arrighi, a money manager at Old Mutual in London. "The risk is a tightening of financial conditions in EM that could ultimately impact growth negatively."

Turkey raised its one-week repo rate by 1.25 percentage point to 17.75 percent, a bigger increase than any analyst surveyed by Bloomberg had predicted. The move signaled policy makers trying to clamp down on double-digit inflation are willing to stand up against political pressure to keep borrowing costs low.

"Is this the start of a new era of Turkish central bank policy -- actually moving ahead of the market? Let's hope so,"
Generally speaking when a central bank intervenes to support its currency it has to persist in that policy until it achieves success, lest it be accused of wasting money. So far, Turkey's efforts to stave off an additional near-term Lira decline have been successful and the currency has stabilized below TRY5 to the US Dollar.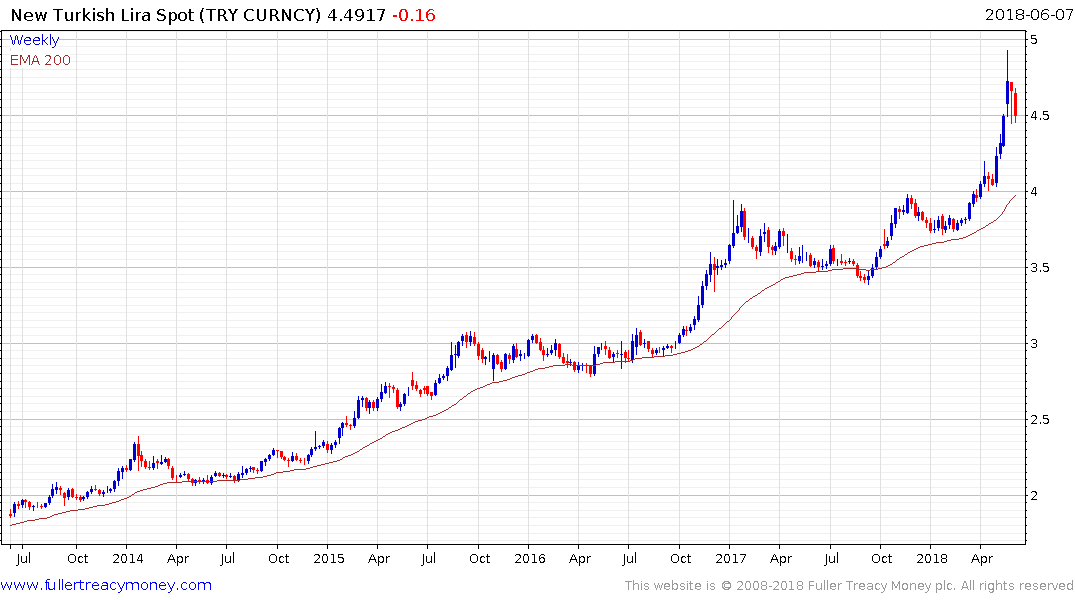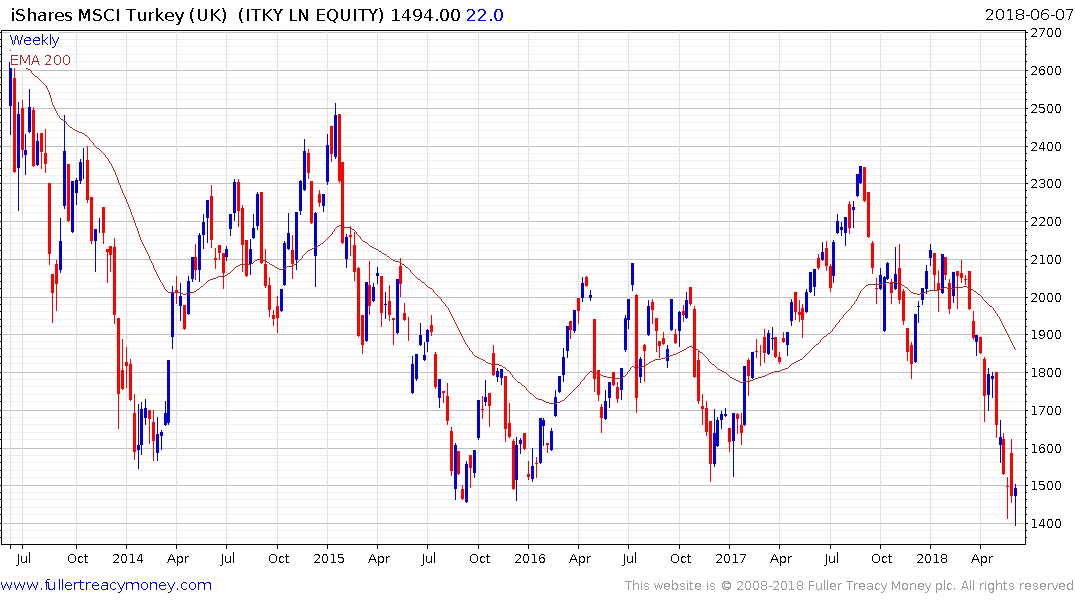 Turkey didn't end up with one of the weakest currencies in the world by accident. This is a situation which has been brewing for many years and is unlikely to be resolved beyond the next few months without some indication standards of governance are improving.
Brazil is also in a parlous state which increasingly vocal calls for a military coup. Here is a section from an article by Brian Winter for Americasquarterly.com:
The Brazil of mid-2018 is a frightened, leaderless, shockingly pessimistic country. It is a country where four years of scandal, violence and economic destruction have obliterated faith in not just President Michel Temer, not just the political class, but in democracy itself. It is a country where there will be elections in October, but most voters profess little faith in any of the candidates. Given that vacuum, many Brazilians – perhaps 40 percent of them, according to a new private poll circulating among worried politicians – believe the military should somehow act to restore order. Amid this week's strike, the clamor became so loud that both Temer and a senior military official had to publicly deny the possibility of an imminent coup.
This was all unquestionably good news for the presidential candidate most identified with the armed forces, retired Army captain Jair Bolsonaro, who was already running first in polls. Many analysts expect him to rise further after this week's events. It's a red alert for anyone else – foreign investors and ordinary Brazilians alike – with the old-fashioned belief that healthy civilian institutions are the key to long-term prosperity, or who still hold out hope that Brazil's economy and political outlook might finally stabilize this year.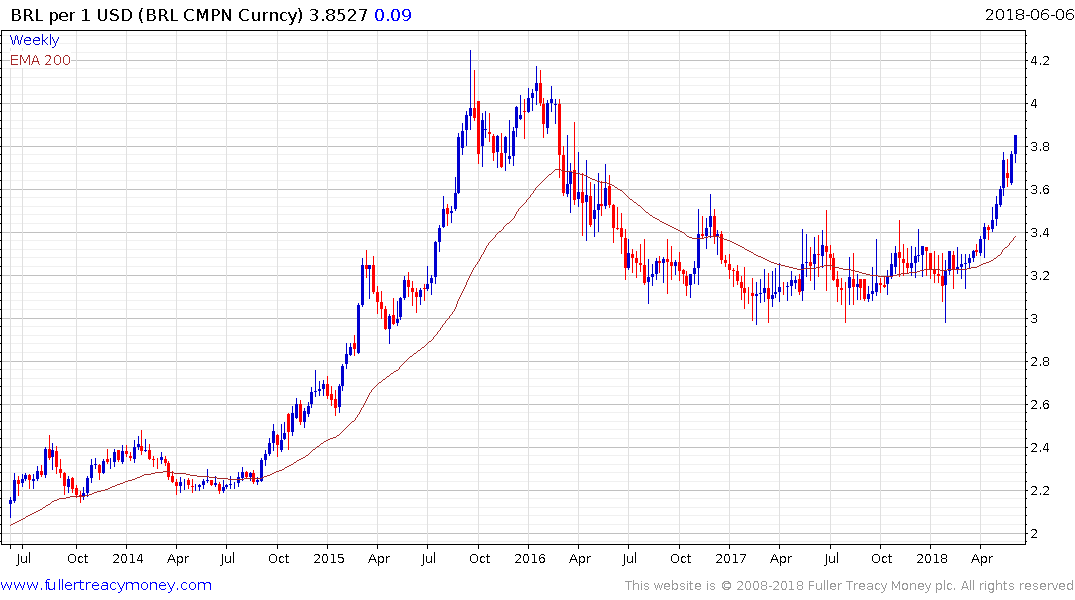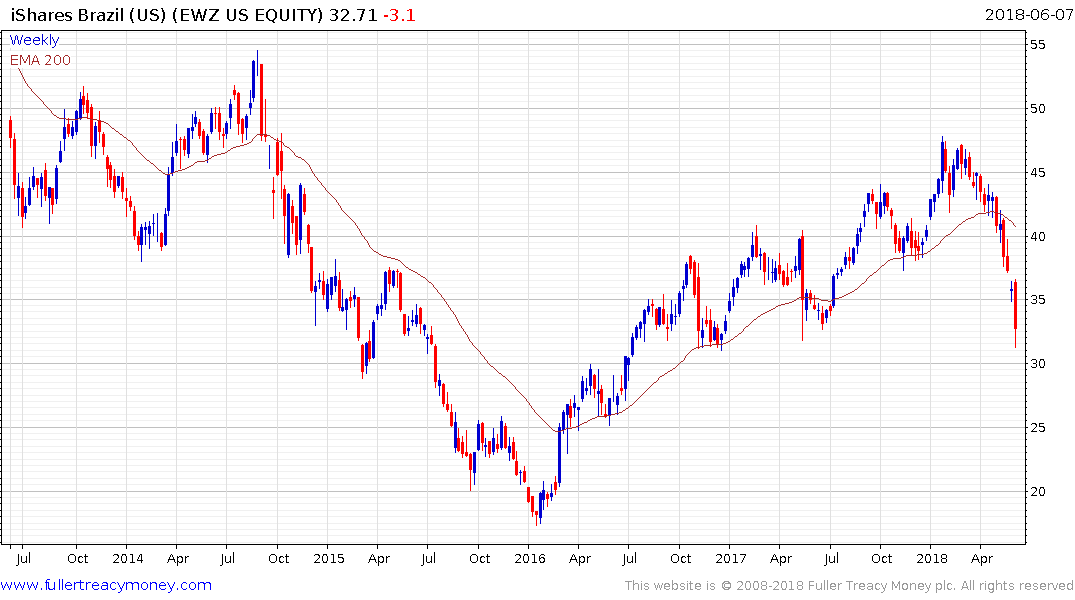 The Real is falling back toward the BRL4 level versus the Dollar and while there is potential for a pause in this area there are some big questions outstanding regarding the sustainability of Temer's administration. It is not particularly encouraging that the generals appear disinterested in taking over the mantle of leadership from what is effectively a morally corrupt administrative class. This week's clear break of the iBovespa's two-year progression of higher reaction lows represents a major change of trend.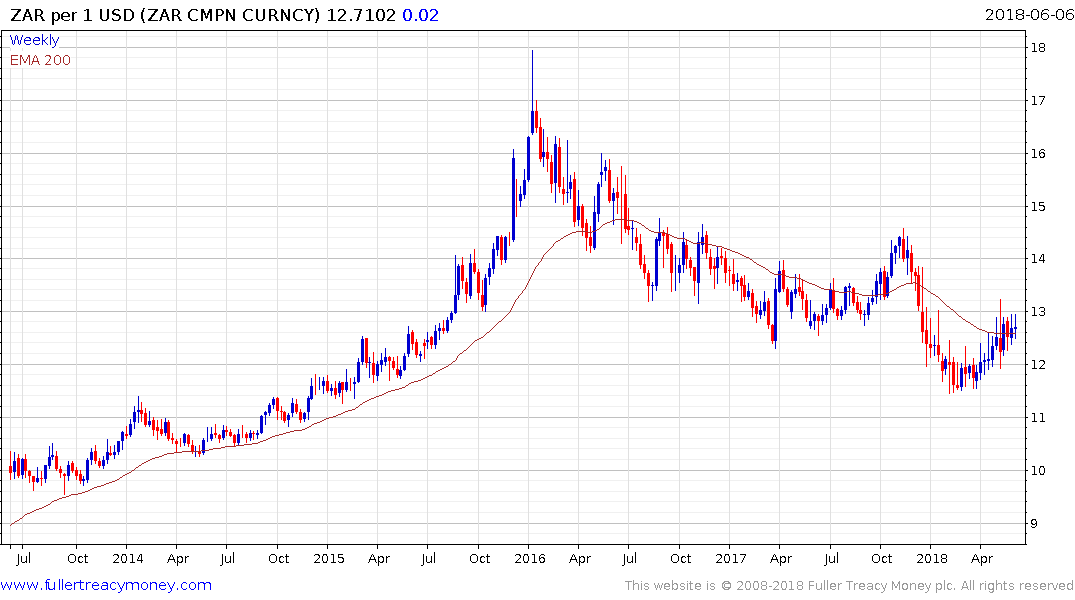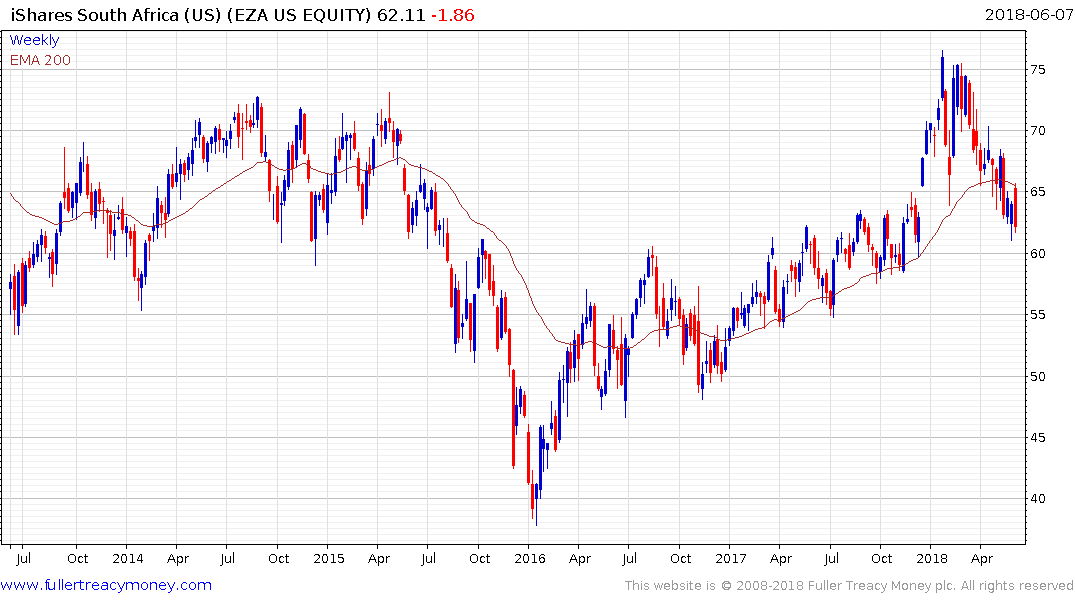 Meanwhile the South African Rand fell through ZAR13 today on expectations the SARB will not intervene to support it amid weak economic data. A clear downward dynamic would now be required to question Dollar dominance.
Back to top