Brazil farmers remove dead coffee trees, some switching to grains
This article from Reuters may be of interest to subscribers. Here is a section:
Adriano Rabelo de Rezende, technical head at the Minasul coffee co-op, who flew over damaged coffee fields https://www.reuters.com/world/americas/frosts-stain-brazil-coffee-belt-growers-see-nearly-third-fields-hit-2021-07-30 with Reuters after the frosts, said the recommendation is for farmers to wait for the rains before taking any action.

"With the rains some plants could recover, so it will be better to decide the best action: what type of pruning," he said.

Rains are expected in Minas Gerais by the end of the month. They will be key not only for the trees' ability to recover, but also for the flowering stage that will determine production potential for the next crop.

Mario Alvarenga, who has two coffee farms in Minas Gerais, said the drought remains challenging.

"You don't find any moisture in the soil up to 1 meter (40 inches) deep. Crops that were not hit by frosts are withering," he said.

Alvarenga estimates that 18% of his coffee crops were damaged by frosts. He has already started pruning where he thinks trees have a chance of recovering when the first rains arrive, leaving the ones that are dead to be taken out later.
Shortly after I started working with David, he was invited to speak at the World Money Show in Orlando. We used it as an experiment in direct marketing and had a booth. One of the most memorable conversations I had was with one of the delegates. He was asking about commodities and I said orange juice looked promising.

The price had been trending lower for more than a year and was at an historic low. He told me I was crazy. Didn't I know they were tearing out all the orange groves to make way for housing? No one was drinking orange juice any more. Between 2004 and 2007 the price rose 281%.
I was reminded of this encounter when I read the above article. If farmers can't make money from growing coffee in the world's most prolific production area, it's good news for the price. If they are already substituting in other crops that inhibits the market's ability to react to supply shocks.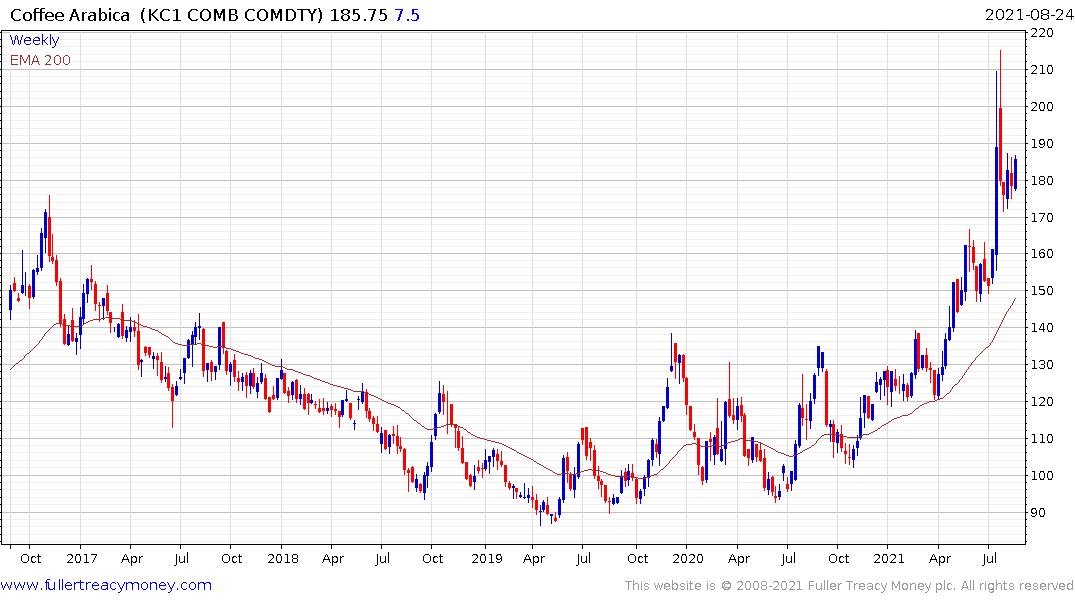 Arabica coffee has completed its base formation and continues to hold the majority of the frost-induced surge. A sustained move below the 150 area would be required to question medium-term scope for continued upside.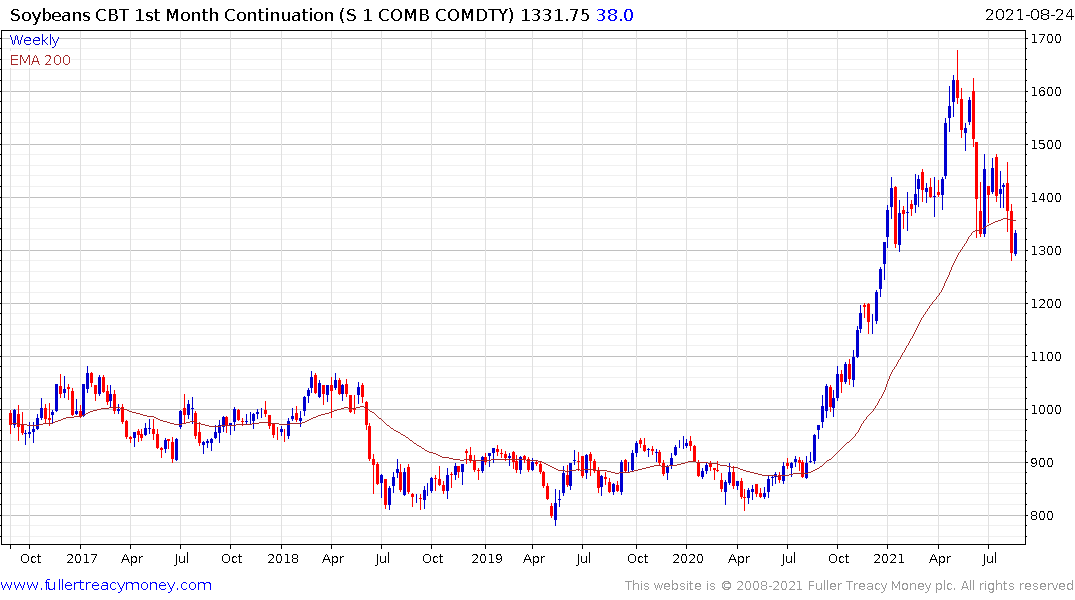 Soybeans continues to firm from the region of the trend mean. The prospect of rains next month is a threat to the continued uptrend but the big question is whether there will be enough precipitation to break the drought with La Nina forming at present.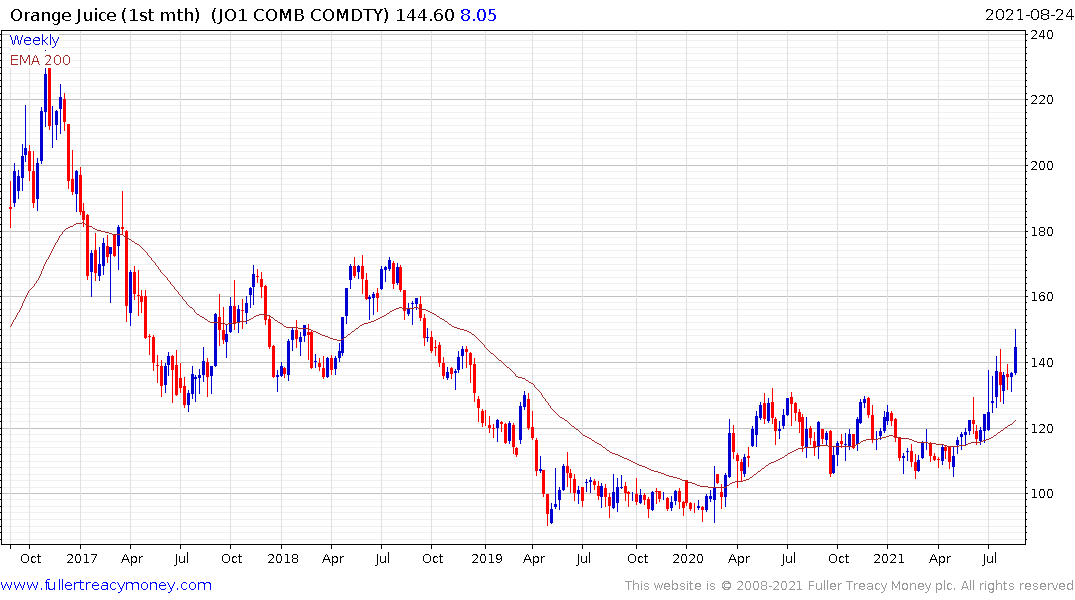 Meanwhile orange juice broke out today but was not quite able to hold all of the gain. A clear downward dynamic would be required to check momentum beyond a brief pause.
Back to top