Brazil Digital Report
Thanks to a subscriber for this slide deck from Gartner which may be of interest. Here is a section:
The Brazilian economy has reached a tipping point ▪ GDP growth has returned ▪ Consumer and industry confidence are high ▪ Inflation and interest rates are at all-decade lows ▪ Country risk is on the decline ▪ Capital markets are active as ever… ▪ …and BOVESPA is at its highest point to date.

But to expand growth and make other advances, the country will need to close gaps with developed and emerging economies: ▪ Productivity has grown very little over the last decade ▪ The demographic and workforce boom is over, meaning that productivity gains will be needed to drive growth ▪ We lack innovation, patents, and a skilled workforce… ▪ … and we have not seen any sign of homegrown tech or innovation giants among our top-performing companies.
Here is a link to the full report.

Corruption is a scourge Brazil has long had to contend with and it is not about to disappear overnight. In any society, the way the elite retain power is to ensure their supporters are well looked after, often at the expense of everyone else. That generally results in government employees receiving attractive pay packages and secured pensions. That is true in every country but represents a particular challenge when it represents an obstacle to recovery which is why pension reform is so important for the long-term health of the Brazilian economy.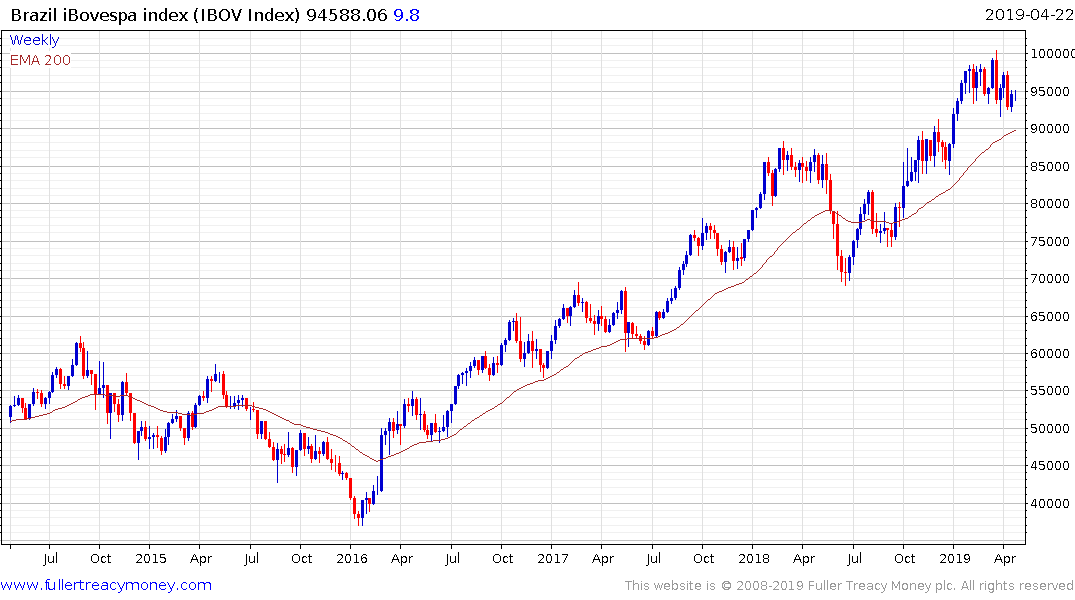 However, it represents a short-term headwind for the stock market since those flows represent a significant source of demand. The iBovespa Index has been consolidating for the last few months but the optimism about potential for governance to improve under the Bolsonaro administration suggests the medium-term uptrend will remain intact.
Meanwhile, support for a digital economy reformation of the economy is a priority not least because it can be used to boost accountability and encourage growth in tandem with deregulation.
Back to top