Brazil Coffee Areas Seen Drier than Normal in Next 5 Days
This note by Manisha Jha for Bloomberg may be of interest. Here it is in full:
Drier than average conditions are forecast across the Brazilian coffee region over the next five days, particularly in Cerrado, Marex Spectron said in emailed weather report.

Regions of southern Espirito Santo, southeast Minas Gerais and southeast Sao Paulo are forecast to be wetter than average
In the next five days thereafter, the whole Brazilian coffee region is expected to be wetter than average, except for the northern coffee region, which is expected to be slightly drier than normal

VIETNAM

Typhoon Nakri is forecast to weaken to a tropical depression before it makes landfall over central or eastern Vietnam between Nov. 10 and 11

"It is associated with heavy rain and strong, sustained winds"

There is an anomaly of 10 mm predicted across the Central Highland region over the next five days
Drier than average conditions expected in the northern coffee areas
NOTE: Vietnam Coffee Harvest Threatened by Tropical Storm: Maxar
Arabica coffee is particularly affected by weather conditions in Brazil and the price is also influenced by the outlook for the Real. Meanwhile Robusta coffee is much more dependent on growing conditions in the Vietnamese highlands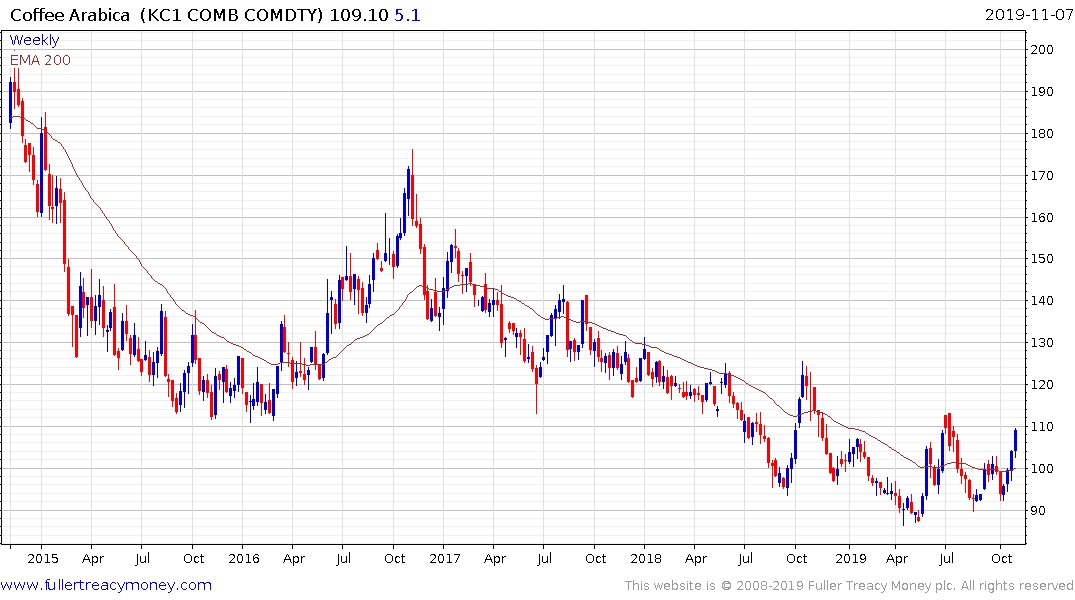 What I find particularly interesting at present is the commonality in the chart patterns of the two varieties. Arabica has tended to firm around the $1 area historically and is going so again. The rally over the last couple of weeks has broken the downtrend.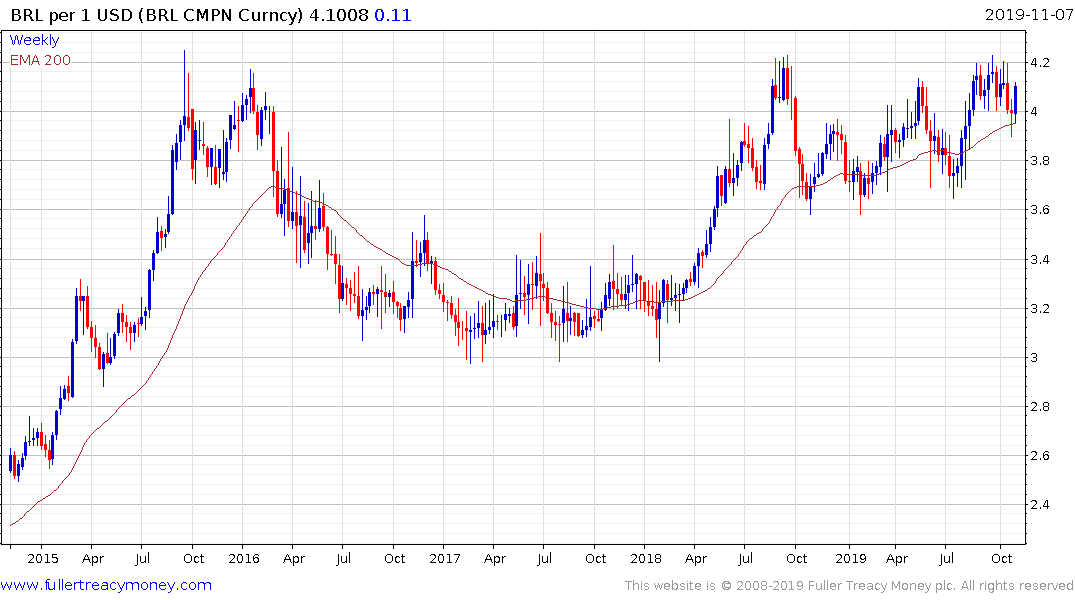 Generally, Arabica appreciates when the Real strengthens, but the Real has been pulling back rather sharply over the last few days on news Lula da Silva is to be released from jail which could potentially galvanise the leftist opposition against the more market friendly current administration.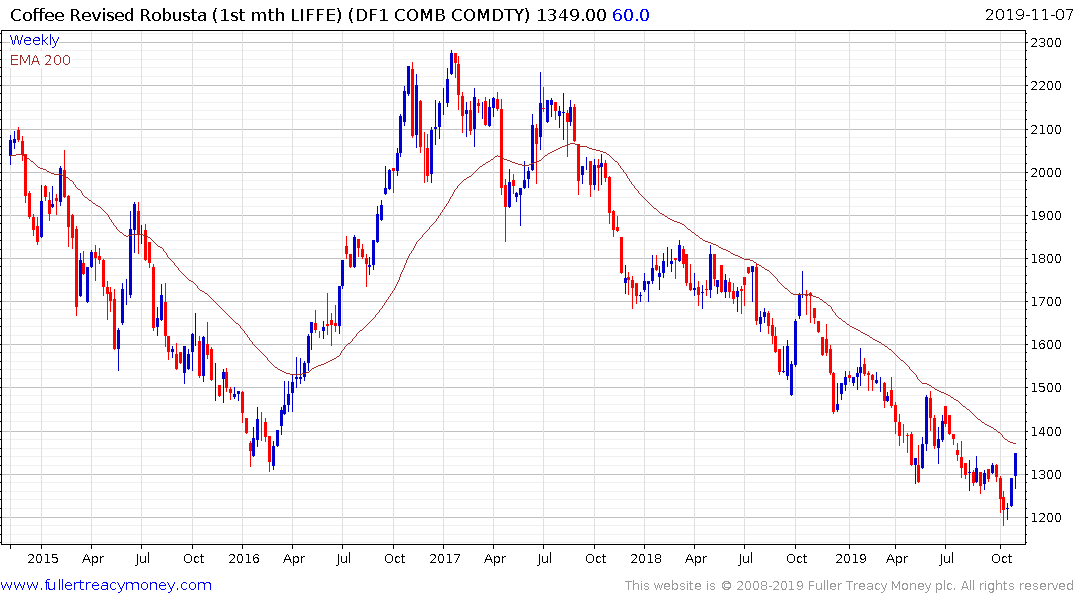 Robusta has rallied to challenge the region of its trend mean and the multi-year sequence of lower rally highs. It is also firming from an historic area of support and a sustained move above $1400 would break the downtrend.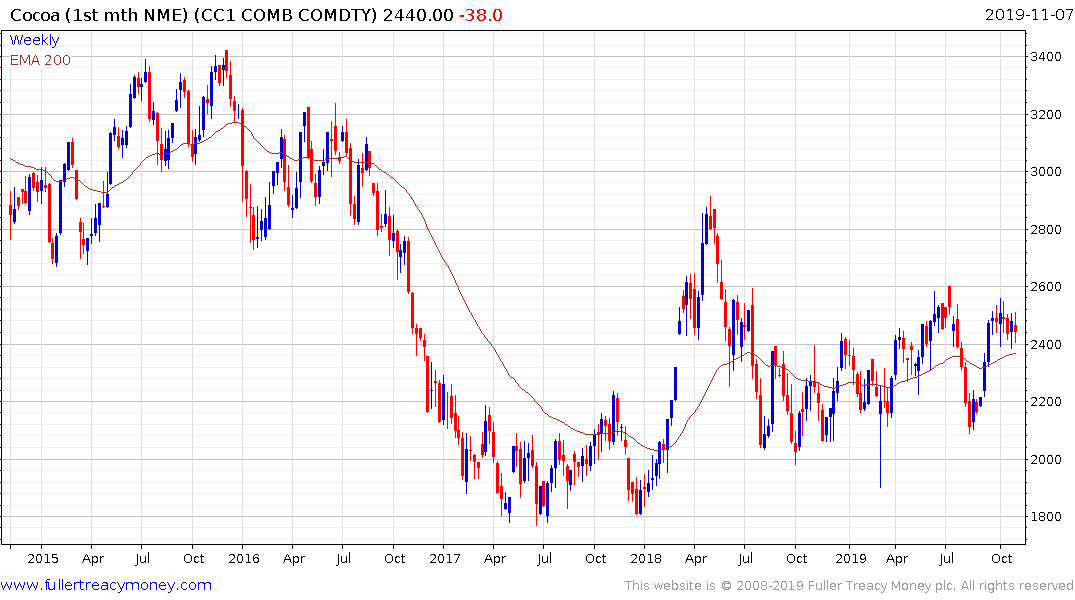 Elsewhere, cocoa has been steady in the region of the $2500 level for the last month and a sustained move below the trend mean would be required to check potential for an upward break.
Back to top