Brazil Central Bank Tempts Fate on Rates and Traders Follow Suit
This article for Bloomberg may be of interest to subscribers. Here is a section:
The drop in Brazil's swap rates goes against the move seen elsewhere in emerging markets, with yields rising across the board following the U.S. bond rout. Treasury yields surged recently with traders pricing in more tightening in the world's biggest economy amid concern about rising prices.

"BCB has raised rates almost 1,000 basis points in two years, so they are certainly willing to fight inflation," said Brendan Mckenna, a currency strategist at Wells Fargo in New York. "There is little they can do to defend against external shocks, but at some point policy makers have to wait for the effects of tighter policy to materialize."

Brazil's policy makers defied analyst expectations when it said that a final 100 basis-point rate hike in May would be enough to bring inflation back toward the 3.25% target next year. The last central bank weekly Focus survey shows economists see consumer prices running at 3.8% next year.

"The central bank was being held hostage of the Focus survey forecasts and now it decided to follow its own views," said Tony Volpon, chief strategist at Wealth High Governance and a former central bank director.
In the developed world there is no prospect of raising rates to a level above inflation. Everyone understands growth would reverse well before that point is ever reached. Economies are so overburdened with debt that even modest interest rates will kill off demand.
Brazil is at the other end of the spectrum. CPI has been running at over 10% since September on a year over year basis. The SELIC base rate is now 11.65%. Brazil is one of the few countries with positive real interest rates.
If inflation begins to moderate as the central bank expects, there is massive scope to cut rates which would ignite domestic demand. Meanwhile the continued strength of the commodity sector is a tailwind for the economy.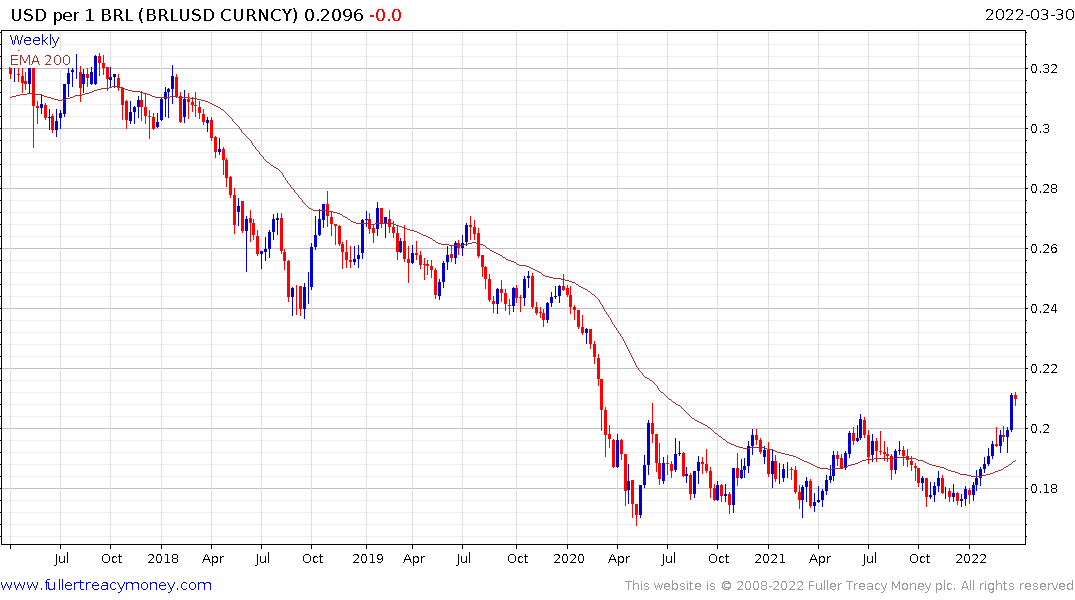 The Brazilian Real is in the process of completing a two-year base formation.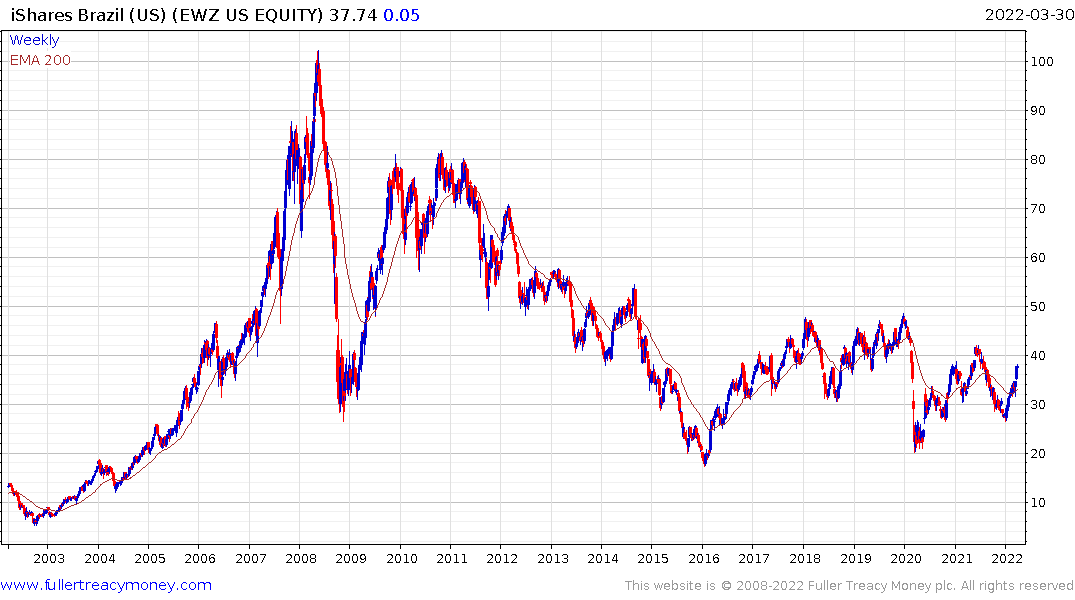 The iShares MSCI Brazil ETF continues to recover as it trends back towards the upper side of a volatile base formation.
Back to top