Brazil Bank Stock Goes From Worst to First After Investors Bail
This article by Francisco Marcelino and Ney Hayashi for Bloomberg may be of interest to subscribers. Here is a section:
Among the largest Brazilian banks, Santander is the one with the highest capital ratios, Victor Martins, an analyst at Planner Corretora de Valores, said by phone from Sao Paulo.

"If the economy picks up, they'll be in a better position to take advantage of that," Martins said. "It's all in their hands to do it."

Santander Brasil's capital ratio of 16 percent compares with 16.02 percent at Banco do Brasil SA at the end of the first quarter. It exceeded Itau's 15.3 percent and Banco Bradesco SA's 15.2 percent.
Santander declined to comment on its performance since the share-swap offer, which began in April 2014. That's when the bank offered to buy back the 25 percent stake in the Brazil unit it didn't already own at a price 20 percent above where it was trading at the time. The deal was to exchange shares of the local unit for those of the parent.

The majority of analysts covering the company recommended investors accept the offer, citing what they saw as a fair price and the risk of holding a stock with low liquidity.

"The market doesn't believe in our franchise, but we do," Javier Marin, Banco Santander's chief executive officer when the deal was announced, told reporters at the time. "That's why we're carrying out this transaction."
Brazil remains mired in a political scandal which throws light on the inadequate standards of governance that prevailed over the last decade. Now that commodity prices have fallen and excess capital from exports has dried up, the ability of the economy to thrive without reform in how the country is administered is in question. The Real offers a powerful representation of just how much stress the economy is under. It has more than halved since 2011. Some additional evidence of steadying would be a welcome development from the perspective of foreign investors.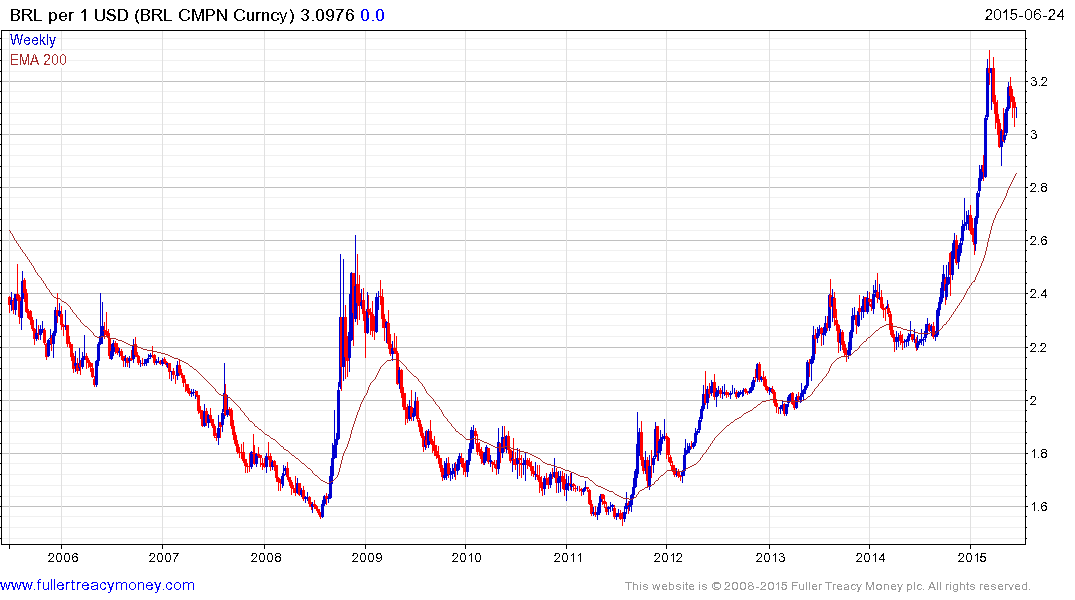 The banking sector had a number of US listed ADRs.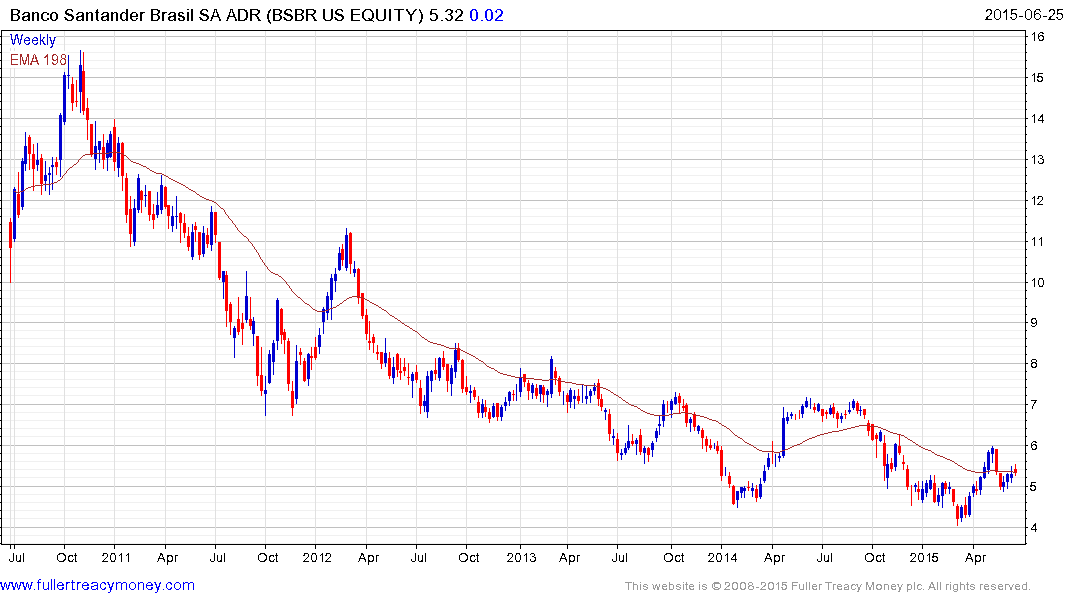 Santander's Brazilian unit still has an actively traded listing. The share found support in the region of $4 from March and will need to hold the $5 area is potential for additional higher to lateral ranging is to be given the benefit of the doubt.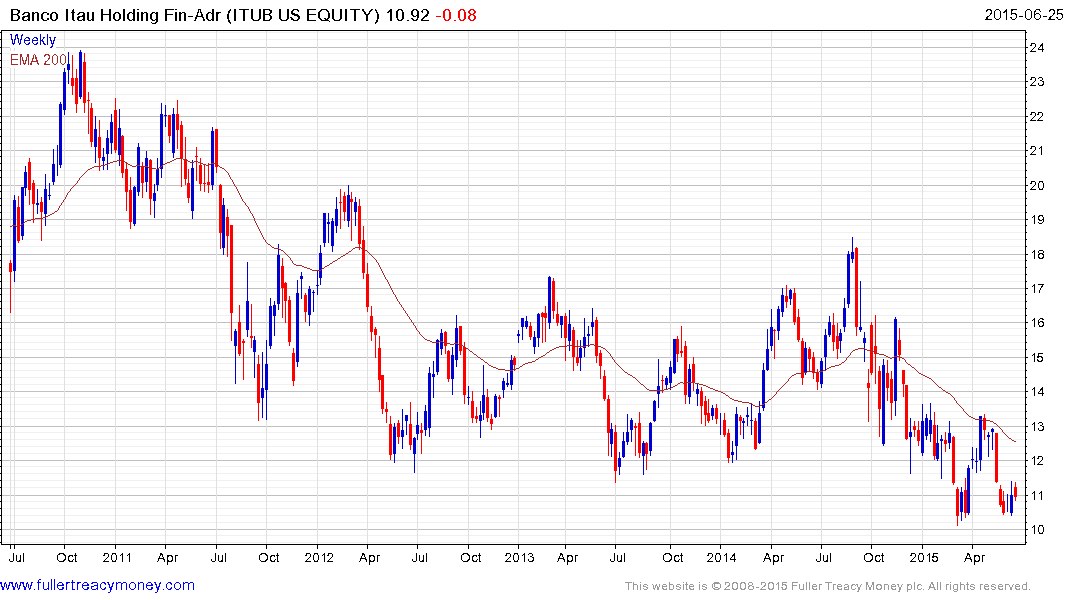 Itau Unibanco (Est P/E 8.26, DY 0.52%) continues to hold the $10 area and a sustained move above the 200-day MA would suggest more than a temporary return to demand dominance.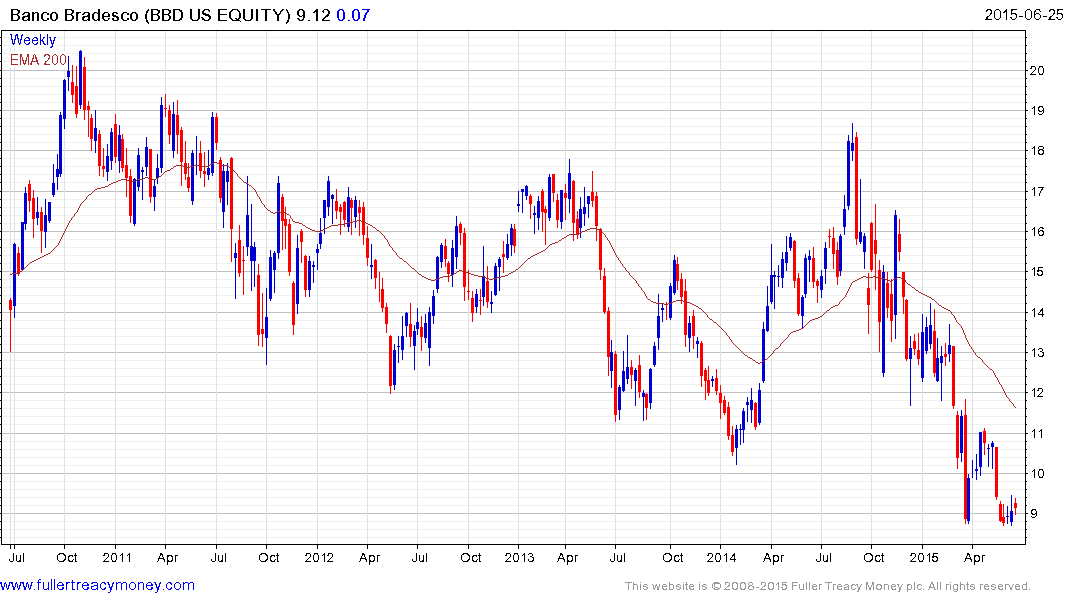 Banco Bradesco (Est P/E 8.16, DY 0.67%) has a similar pattern.
Back to top