Bracing Yourself for a Possible Near-Term Melt-Up
Thanks to a subscriber for this report by Jeremy Grantham which may be of interest. Here is a section:

I find myself in an interesting position for an investor from the value school. I recognize on one hand that this is one of the highest-priced markets in US history. On the other hand, as a historian of the great equity bubbles, I also recognize that we are currently showing signs of entering the blow-off or melt-up phase of this very long bull market. The data on the high price of the market is clean and factual. We can be as certain as we ever get in stock market analysis that the current price is exceptionally high. In contrast, my judgment on the melt-up is based on a mish-mash of statistical and psychological factors based on previous eras, each one very different, so that much of the information available is not easily comparable. It also leans very heavily on a few US examples. Yet, strangely, I find the less statistical data more compelling in this bubble context than the simple fact of overpricing. Whether you will also, dear reader, remains to be seen. In any case, my task in this note is to present the evidence, both statistical and touchy-feely, as clearly as I can.
Here is a link to the full report.

We do not yet have evidence of bubbly activity in the majority of assets, with bitcoin and the other cryptocurrencies representing the most obvious exception.

Veteran subscribers who have been listening to the audios or watching our videos over the last six months will be well aware I have a lot of sympathy with the view that we are in the early stages of the third psychological perception stage of this cyclical bull market which could climax in an acceleration.

That suggests there is little reason to be heavily in cash but there is an increasing need to pay particularly close attention to the consistency of trends.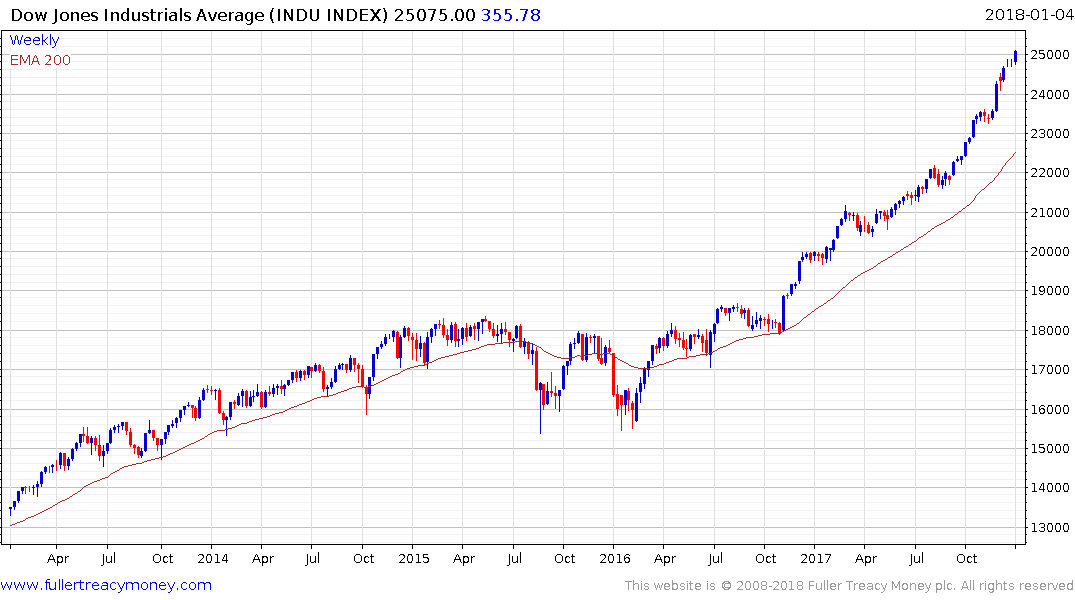 The Dow Jones Industrials Average, for example, has some of the clearest evidence yet of a pick up in the pace of the advance. It closed above 25,000 today to reassert the medium-term bull market and a clear downward dynamic, held for more than a day or two, would be required to check momentum beyond a pause.
Back to top