Boston Dynamics' Atlas robot can now chase you through the woods
This article by Rick Haridy for Gizmag may be of interest to subscribers. Here is a section:
A six-minute walk through an office and lab facility is chronicled in the video, and Boston Dynamics reports that before this recorded autonomous run, the robot was guided along the route manually by a human so a map of the space could be constructed. The video highlights SpotMini's obstacle avoidance systems and navigation map as it moves through the space, so it's not entirely clear how much autonomy the robot has regarding its overall route, but it can clearly dynamically respond to obstacles in the space.

As with other subdued Boston Dynamics video reveals, not much more detail is offered outside of the actual footage. The company was acquired by Japanese company SoftBank from Google parent company Alphabet for an undisclosed sum in 2017.
These videos of Boston Dynamics impressive robots are always visually astounding but they seldom show the human operator with the remote control running around behind the robot. The big success for Boston Dynamics is that it has demonstrated that it is possible to develop a robot that can navigate the human environment with relative ease and grace. That is already a huge achievement.
The next stage of evolution is outside its control. First off, these robots will only become truly useful when battery energy densities improve meaningfully. Tesla is already deploying 8:1:1 nickel, manganese, cobalt batteries with much improve battery life but Boston Dynamics' robots are going to need more advances in order to be truly independent of a wall socket.
Next, they need full automation. That is true on both a macro and micro scale. The data collection efforts in autonomous vehicles represents an arms race for companies like Google, Tesla, Uber and some of the more conventional car companies. Additionally, these robots need to be able to navigate inside buildings where a floorplan may be available but where there will also be a number of additional obstacles. Those are two completely different levels of autonomy and represent perhaps the most significant challenges to imminent commercialization.
However, there is progress being made in both battery energy density and autonomy so this represents an important example of how development in one technological field represents an enabling effect for other technologies. Combined this contributes to the exponential pace of technological innovation on aggregate.
Elsewhere in automation, this press release from Softwear and Li & Fung caught my attention. The latter is one of the largest supply chain managers so its partnership with a manufacturer of sewing robots is a reflection of how the company sees the evolution of the garment industry over the medium-term.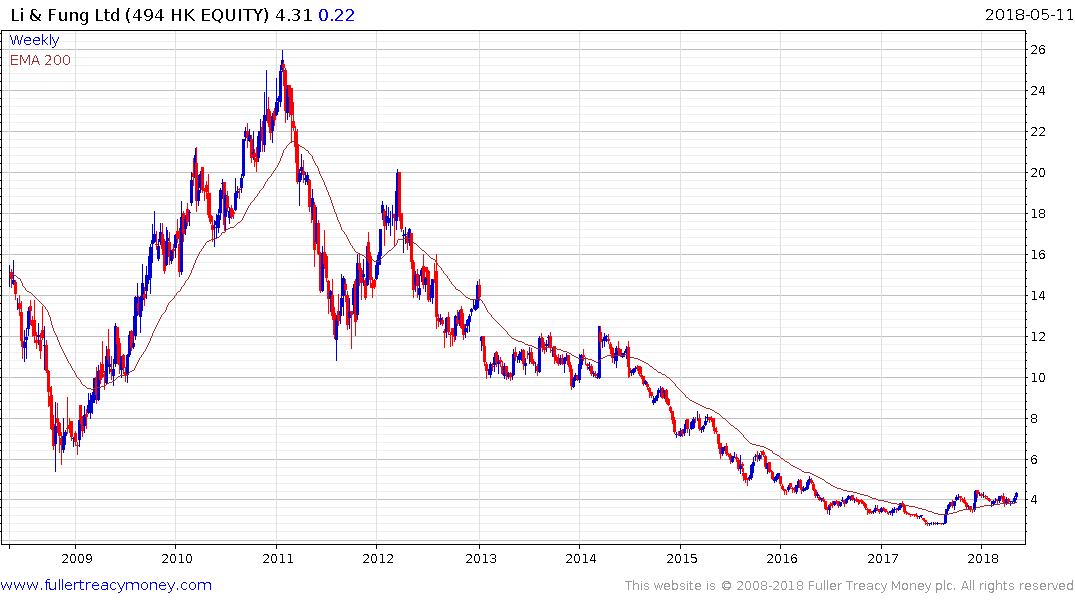 The share trended lower from a peak in 2011 near HK$20 and rallied in August last year to break back above the trend mean. It has been ranging above the MA since and is currently testing the upper side of that range.
Back to top