Boris Johnson's Taste for Brexit Danger Could Doom EU Trade Deal
This article by Tim Ross for Bloomberg may be of interest to subscribers. Here is a section:
The prime minister could walk away this year and seek to re-open negotiations at a later date. "Our door will never be closed," Johnson said. "We will of, course, always be ready to talk to our EU friends even in these circumstances."

Crucially, though, Johnson is a politician who has shown himself to be flexible and often keeps people guessing until the last moment. He says he wants a deal. His officials insist he does, too, and there are still almost four months to go before the real deadline at the end of the year.

The leak of government plans to dilute parts of the Brexit withdrawal agreement sparked muted warnings from Brussels on Monday and private dismay from EU officials. There cannot be a trade deal if Johnson breaks his promises on the earlier divorce accord, the EU said.

In London, the premier's team worked to contain the damage and play down any threat to the carefully crafted exit agreement.

After all, Johnson is a politician who loves to be loved. During a summer in which public pressure forced him to reverse plans repeatedly -- on issues including exam grading, wearing face masks, and local lockdowns -- Johnson has shown how much he cares about staying popular.

Opinion polls are studied closely in his Downing Street office. Currently they show only limited backing for leaving without a deal. Only a quarter of voters think that would be, as Johnson says, a "good outcome," according to YouGov. Half say such a result would be "bad" or "very bad."

How that sentiment shifts, or not, over the next four months may give the strongest clue to whether Johnson will change his mind.
It is very likely that the ambition of having an agreement in place by October was overly optimistic. As with most things in the EU, the negotiations are likely to come down to the wire in late December. Boris Johnson understands that you have to willing to walk away if you are to have any negotiating leverage. Holding out the prospect that the UK is willing to renege on treaties is part of the wider tapestry of brinksmanship.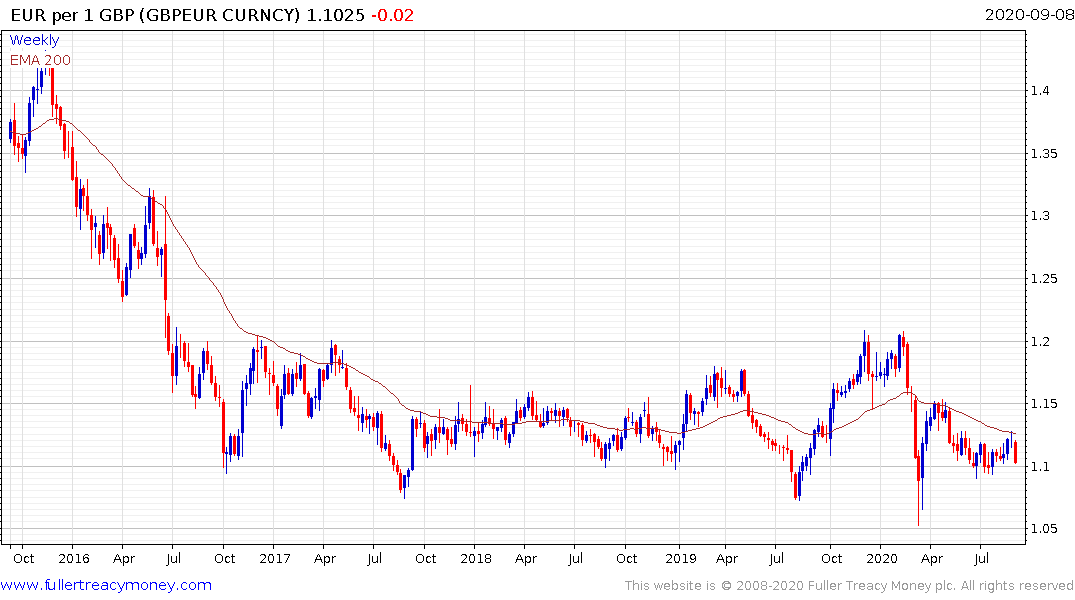 The Pound, however, is likely to be sacrificed in order to bolster the UK's negotiating hand. It is now back testing the €1.10 area and a clear rebound will be required to check potential for a break lower.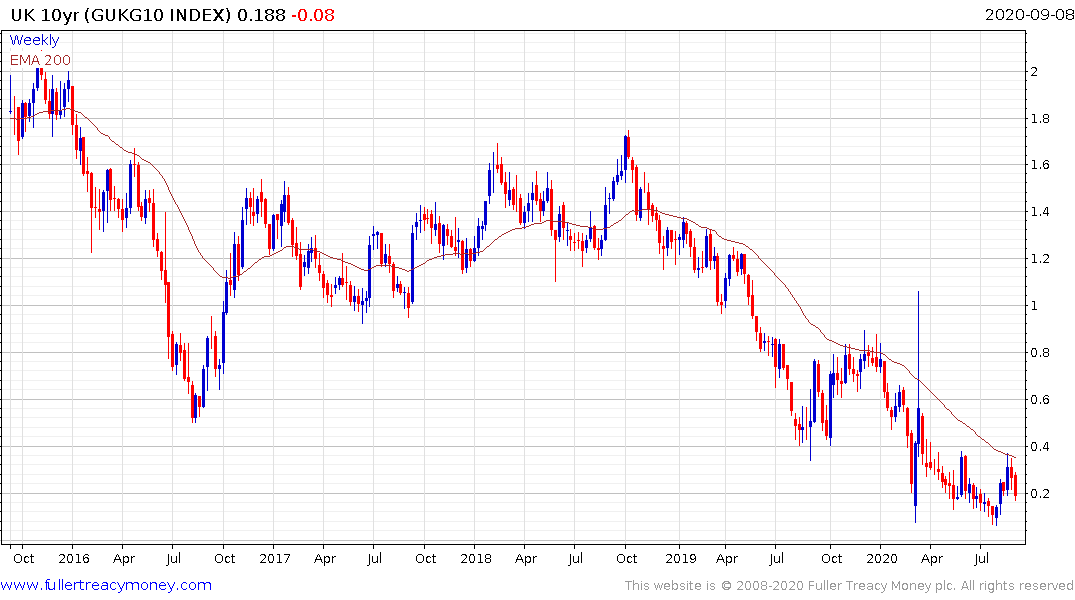 Gilt yields have pulled back in a dynamic manner from the region of the trend mean. That suggests the bets on negative interest rates are still in play.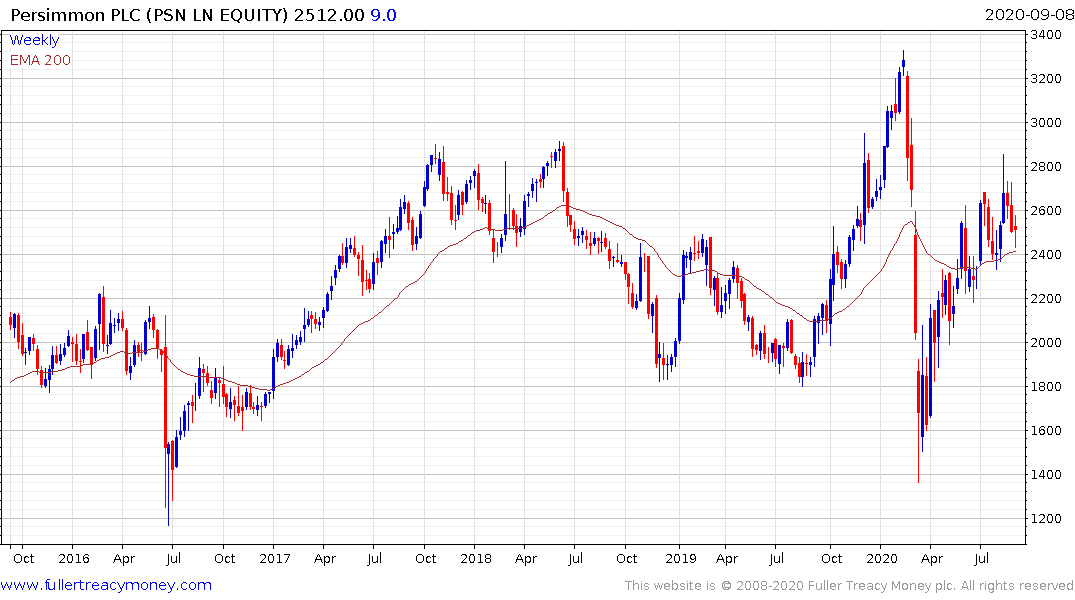 Limited supply, low interest rates, stamp duty holidays and the weakness of the currency are all helping to bolster the housing market. Persimmon, with a large land bank firmed today from the region of the trend mean.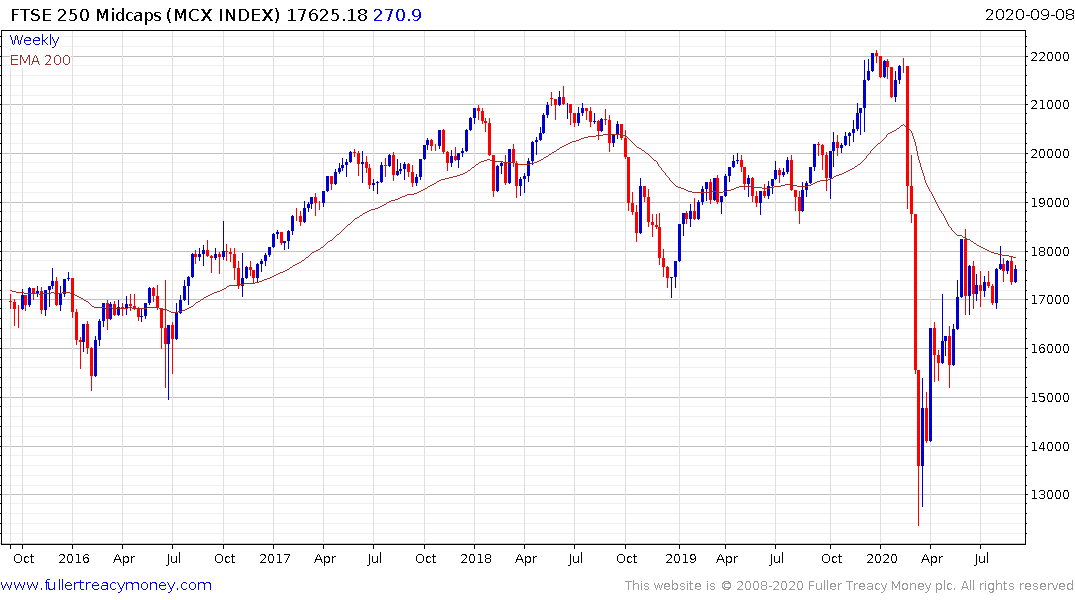 The FTSE-250 has been ranging below the trend mean since early June. A sustained move above 18000 would confirm a return to medium-term demand dominance.
Back to top