Border at 'Breaking Point' as More Than 76,000 Unauthorized Migrants Cross in a Month
This article from the New York Times posted earlier this month puts some numbers on the scale of the challenge faced in handling migrant issue on the USA's southern border. Here is a section:
Understanding what is happening on the border is difficult because, while the numbers are currently higher than they have been in several years, they are nowhere near the historic levels of migration seen across the southwest border. Arrests for illegally crossing the border reached up to 1.64 million in 2000, under President Clinton. In the 2018 fiscal year, they reached 396,579. For the first five months of the current fiscal year, 268,044 have been apprehended.

The difference is that the nature of immigration has changed, and the demographics of those arriving now are proving more taxing for border officials to accommodate. Most of those entering the country in earlier years were single men, most of them from Mexico, coming to look for work. If they were arrested, they could quickly be deported.

Now, the majority of border crossers are not single men but families — fathers from Honduras with adolescent boys they are pulling away from gang violence, mothers with toddlers from Guatemala whose farms have been lost to drought. While they may not have a good case to remain in the United States permanently, it is not so easy to speedily deport them if they arrive with children and claim protection under the asylum laws.

Families with children can be held in detention for no longer than 20 days, under a much-debated court ruling, and since there are a limited number of detention centers certified to hold families, the practical effect is that most families are released into the country to await their hearings in immigration court. The courts are so backlogged that it could take months or years for cases to be decided. Some people never show up for court at all.
Families with young children immediately require services and are a long way from self-sufficiency. That represents a challenge for border facilities never designed to handle the numbers of people seeking admission. It effectively means that anyone turning up at the border is given leave to remain in the USA.
While there are obviously hardships being endured by families in places like El Salvador, Nicaragua and Honduras, it would be folly not to consider they are also making a calculated bet that the solution to the USA's undocumented migrant problem is an amnesty. After all that is what every previous attempt to deal with the problem has entailed. It's also worth considering that previous amnesties have occurred during Republican presidencies.
The fact most of these people are not from Mexico but Central America begs the question why isn't Mexico policing it borders? That's the clear rationale behind the threat of tariffs amid a call to close down the industrial scale of shipping migrants from Mexico's southern border to its northern border which is dominated by gangs.
Immigration is a very divisive issue in any country and pushing the onus for action onto Mexico because the USA is incapable of having a rationale conversation about the subject is a desperate move. The Peso took the brunt of the market response to the Trump threat of escalating tariffs but the move was not as large as it might have been. Left wing populist AMLO has been eager not to upset markets since taking power and that has resulted in the Peso being among some of the steadiest global currencies. Nevertheless, the Dollar has held a progression of higher reaction lows for two years and that sequence remains intact.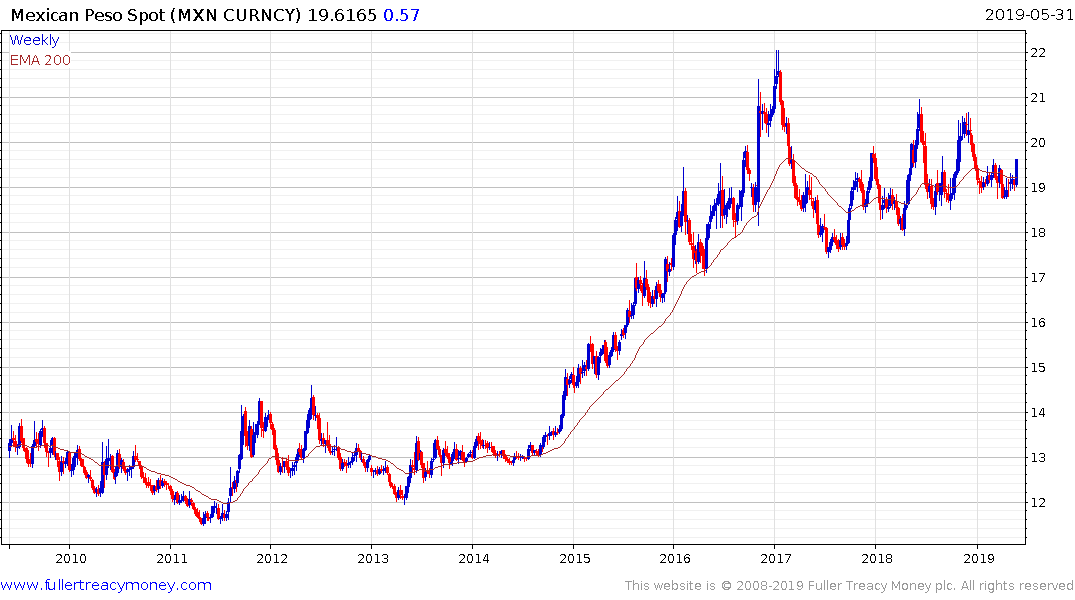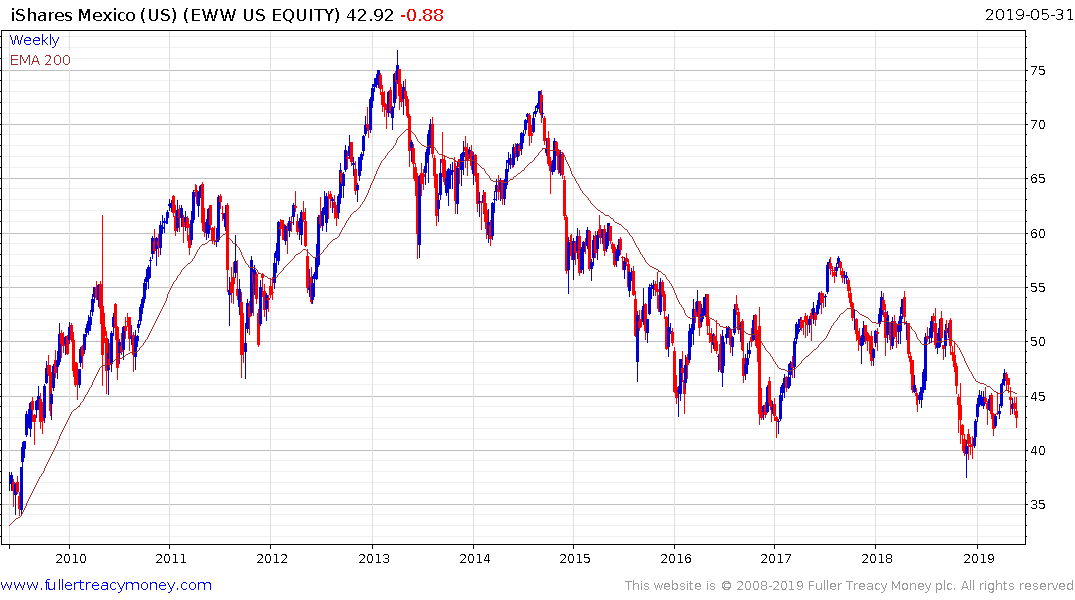 The iShares MSCI Mexico ETF has been trending downwards for six years and is back testing the region of the trend mean. It will need to sustain a move above $50 to signal a return to dominance beyond short-term steadying.
The bigger picture for Mexico is it has the potential to be a major beneficiary from the trade war with China. However, that is contingent in the renegotiated NAFTA agreement being ratified and the tariffs issue being resolved.
Back to top