Bondholders Present Plan to Seize Control of Vale, BHP Venture
This article from Bloomberg may be of interest to subscribers. Here is a section:
Bondholders presented a proposal to take control of Samarco Mineracao SA, a joint-venture between mining giants Vale SA and BHP Group Ltd. that's under bankruptcy protection in Brazil, according to a plan filed in court.

The plan would slash the 24 billion reais ($4.9 billion) that Samarco said it owes the two companies to less than 960 million reais, according to Renato Franco, a partner at Integra, the consulting firm hired by the bondholders. Samarco listed about 50 billion reais in defaulted debt in its April 2021 bankruptcy filing.

An ad hoc committee of bondholders, representing 17 funds including Oaktree Emerging Market Debt Fund LP, offered Samarco creditors two options. One includes no discount on the face value of the debt, a 2% cash payment upfront and 38% converted into voting shares. Since those bondholders have about 20.6 billion reais of Samarco's debt, and Vale and BHP would hold less than 960 million reais under their plan, creditors would take control of the firm.

In this option, the voting shares could be sold in the future, through a private transaction or on the public markets, Franco said. The remaining 60% of the debt would be swapped into a new 10-year dollar bond paying interest rates as high as 10.5% a year, which would be capitalized in the first and second years, and decrease after that.

Under the second option, creditors would have a 15% discount on the face value of the debt and the remaining 85% would be converted into an 18-year bond with interest rates no higher than 2.5% a year.

Samarco became unable to pay its debts after its waste dam collapsed in 2015, killing 19 people and almost destroying two villages in Mariana, Minas Gerais. The firm halted production, and it took until December 2020 before it was able to even partially restart operations.

The creditors' plan includes a proposal to speed up pellets and iron ore production at Samarco, at attempt to get the firm back to the 30 million tons per year it generated before the disaster, said Tito Martins, a former director at Vale SA who has been working as an adviser for bondholders. The idea is to double investments in 2023 and 2024 to $300 million a year, and get back to the previous production levels by 2026, three years before Samarco's current plan.

Bondholders also propose making Samarco responsible for no more than $2.8 billion of the $8.4 billion that the bankruptcy-protection process allocates toward disaster repairs. Vale and BHP would pay for the rest.

This is the first time creditors filed a restructuring plan for a company in Brazil, a possibility allowed under a new bankruptcy law, after a plan presented by the company was rejected in a meeting a month ago. The new plan must be approved at another meeting or through written and signed documents from creditors, said Marcos Pitanga, a lawyer hired by bondholders.
This deal relates to the dam collapses in 2015 rather than the even more disastrous collapse in 2019 at a Vale facility. The deal as laid out above sounds like a positive outcome for the creditors who will now gain control of significant iron-ore resources.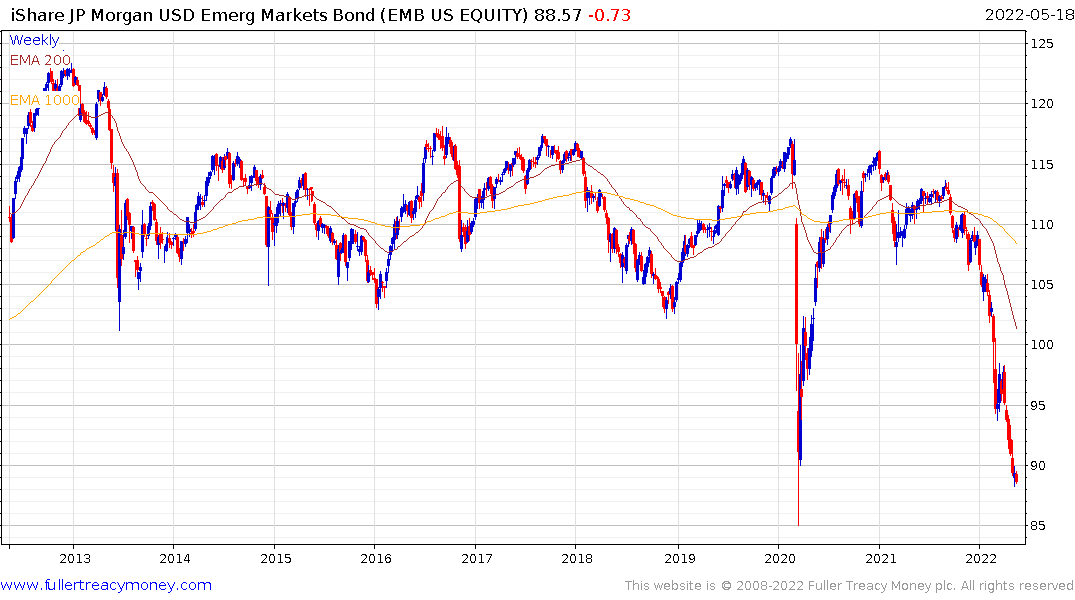 The emerging market bond ETF has accelerated lower this year and is back testing the lows from 2020. A deep short-term oversold condition is evident.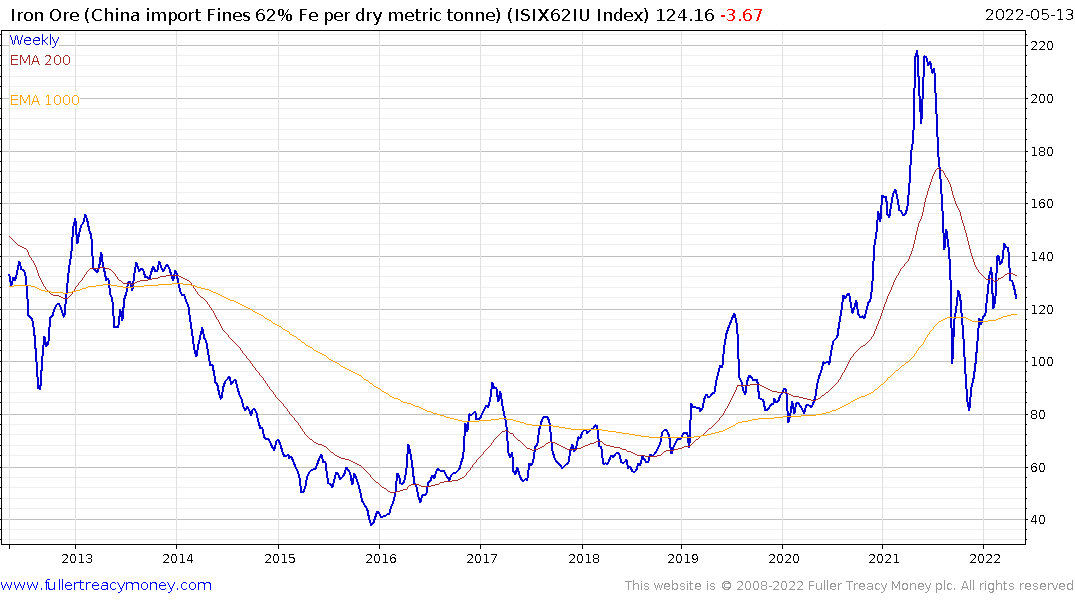 Iron-ore prices bottomed in early 2016 and iron-ore prices ramped higher in 2019 following the second more deadly accident in Brazil. That removed supply and left the market susceptible to a supply inelasticity event during the pandemic. Prices collapsed in the 2nd half of 2021 and have been ranging between $125 and $150 this year.

Vale tends to peak and trough in line with the iron-ore price and is currently firming from the region of the 1000-day MA.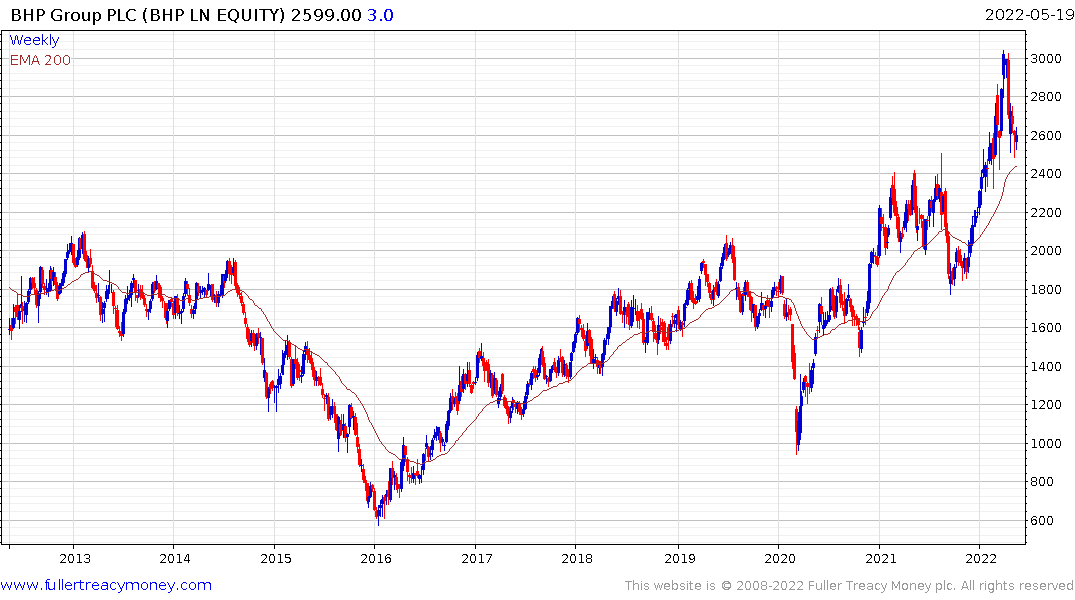 BHP is firming from the 200-day MA as it continues to hold the breakout to new all-time highs.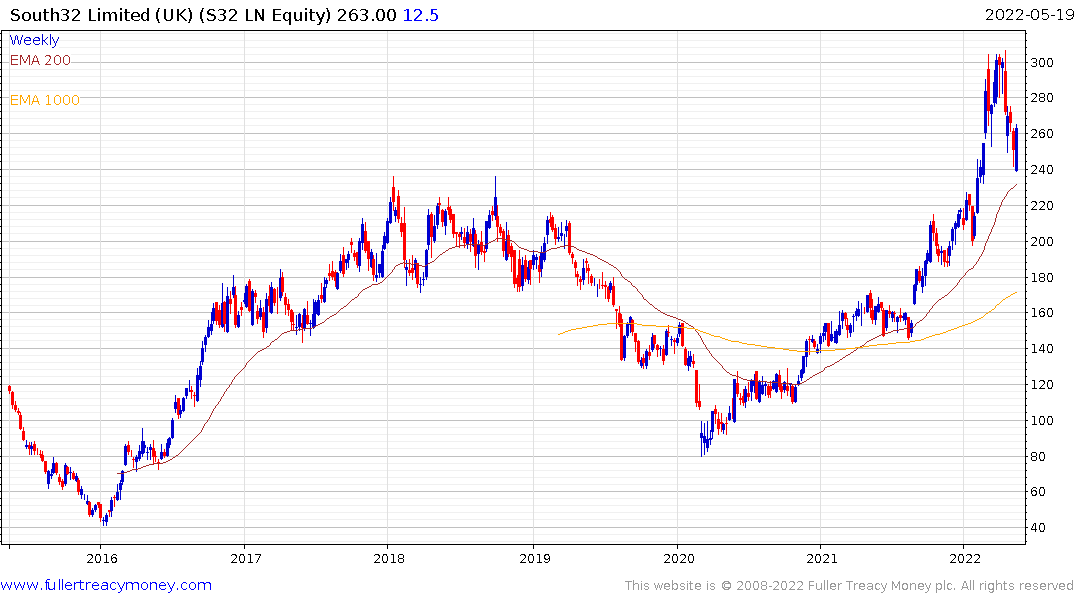 South 32 is also firming from the region of the 200-day MA.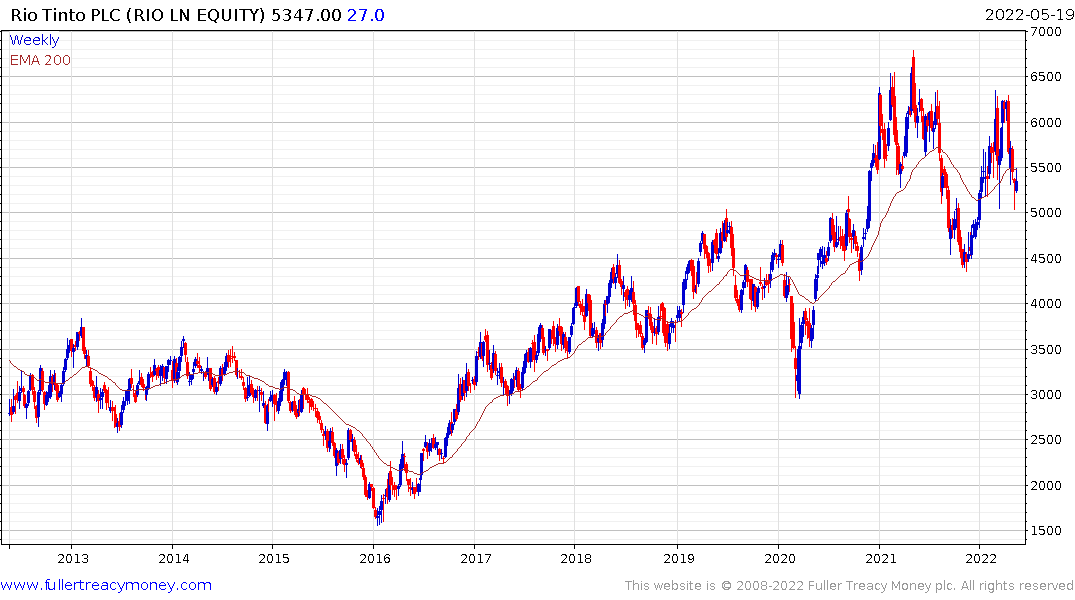 Rio Tinto is holding support above the psychological 5000p level.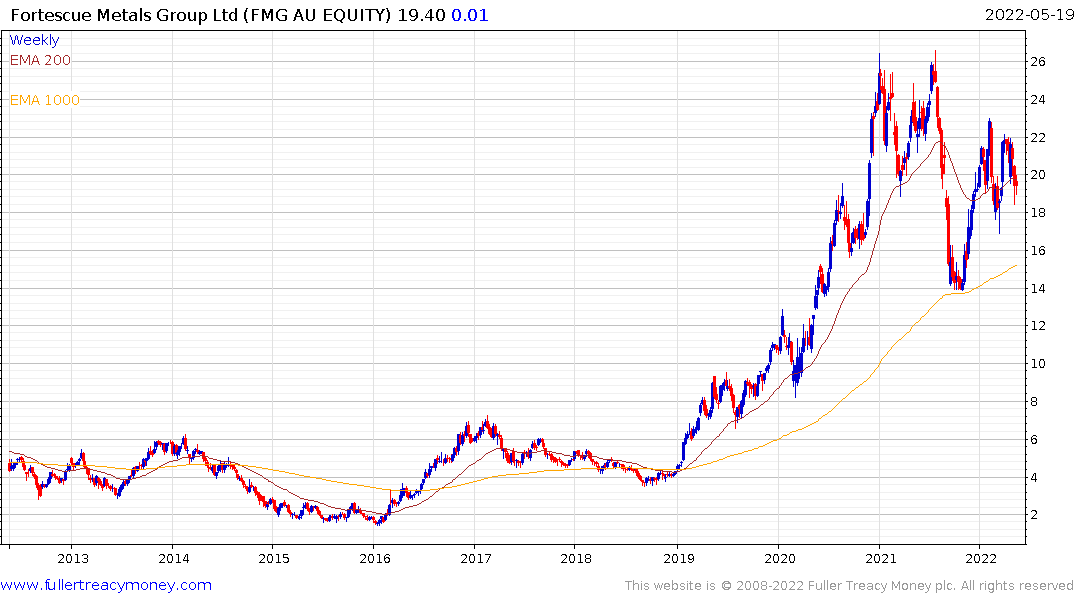 Fortescue Metals remains a high beta play on the iron-ore price and is currently testing the region of the 200-day MA and has held a succession of higher reaction lows since testing the 1000-day MA in late 2021.
Back to top