Bond Markets Brace for Billion Dollar Question From Japan
This article from Bloomberg may be of interest to subscribers. Here is a section:
Market watchers are bracing for volatility, should Japanese investors increase their sales of foreign securities and bring some of that cash home. Dai-ichi Life Holdings Inc., a life insurer with one of Japan's largest institutional portfolios, said last month that it's shifting more money to domestic bonds from US Treasuries and other foreign securities.

Some strategists expect the insurers to stay focused on domestic bonds, particularly longer-dated ones, with hedging costs for foreign investment still at elevated levels. Others see the potential for the overseas outflows to reverse, with the Federal Reserve expected to moderate the pace of its rate hikes and new BOJ governor Kazuo Ueda seen eventually tweaking policy.

Mizuho Securities Co. Chief Desk Strategist Shoki Omori expects life insurers to stay focused on domestic debt partly because they need to hold an additional ¥35 trillion of long-maturity Japanese government bonds to meet asset-liability management requirements by April 2025, when a new solvency regime will be implemented. In addition, controlling currency risk is too expensive now.

"They will continue to be cautious on overseas bonds as they see high grade bonds including sovereigns such as Treasuries being too rich on both a hedged and unhedged basis," Tokyo-based Omori said. "Hedging costs are too high at around 5% and the dollar-yen is too high to go outright at current levels."
Holding Treasuries was no party for investors over the last couple of years. That was doubly troublesome for Japanese investors when the Dollar peaked last year.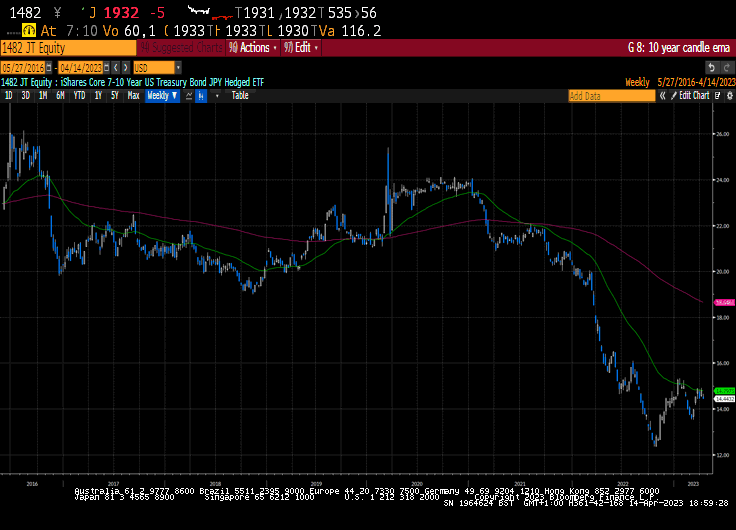 The iShares Core 7-10 Year Treasury bond JPY Hedged ETF lost half its value and is still trending lower. Everyone is aware that the higher yields go, the better the long-term outlook is for returns when rates eventually do peak. However until that happens there is a risk yields will continue to rise.
Click HERE to subscribe to Fuller Treacy Money
Back to top