BOE-Sunak Double Act Attempts to Boost Ailing U.K. Economy
This article by David Goodman, Alex Morales and Lucy Meakin for Bloomberg may be of interest to subscribers. Here is a section:
The measures aim to counter the impact of a resurgent pandemic that has forced the government to order pubs, restaurants and non-essential shops to shut. With the outlook already clouded by the U.K.'s looming exit from the European Union's single market -- potentially with no trade deal -- the nation risks a painful spike in joblessness.

Sunak told Parliament that the double injection of stimulus shows "all economic and monetary institutions are playing their part." Governor Andrew Bailey said in a press conference that it is "important that we take prompt, strong and coordinated action."

Spending on job support from November to March, along with an increase in help for self-employed workers, could cost around 25 billion pounds, Bloomberg Economics estimates.
If the government mandates a lockdown then some remedial action is necessary to blunt the economic hit to consumers and businesses. If the lockdowns and social media are abandoned then everything possible to reflate the economy will need to be done. Therefore, whichever way we look at it, the outlook is for more stimulus. The primary catalyst provided by the pandemic is to promote coordination between the monetary and fiscal authorities. It has ushered in modern monetary theory.
This a global phenomenon and we are in the midst of a period of competitive currency devaluation. At present the USA is doing most to devalue its currencies so the Pound remains quite steady against it. The UK stock market is trading at one of the most attractive valuations of any developed market because of the uncertainty about Brexit.
The big question for investors is in how the contentious issue of the UK's relationship with the EU will be settled. It's reasonable to expect an announcement of success before the end of the year. At that point there is clear scope for UK markets to play catch up.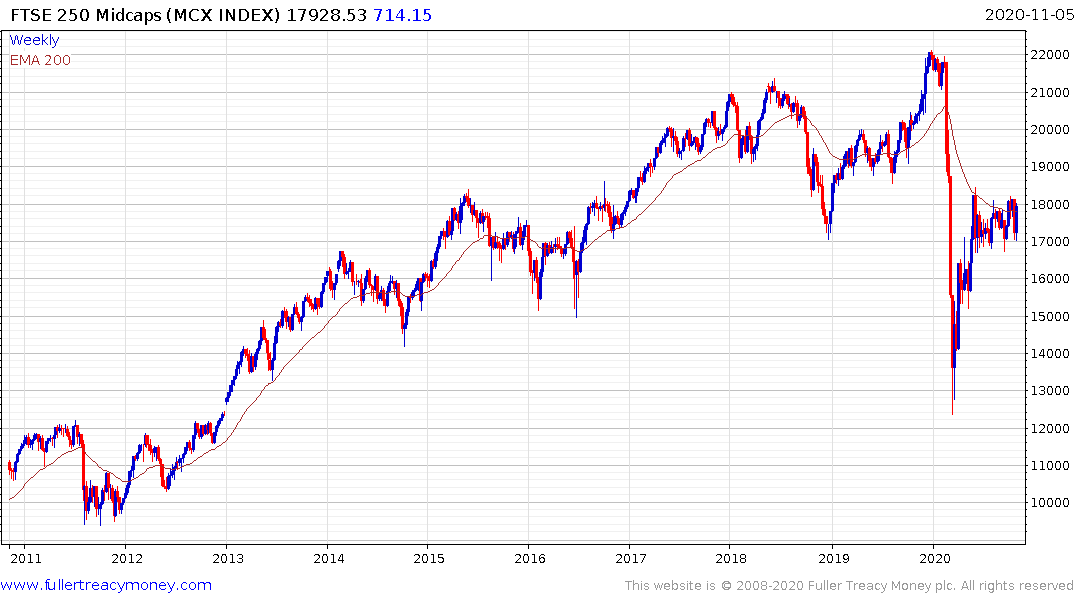 The FTSE-250 has been rangebound for five months. When it breakouts out, it is likely to do so in a dynamic manner.
Back to top