BOE Rate Increase May Not Be Enough to Revive Brexit-Vexed Pound
This article by Charlotte Ryan for Bloomberg which offers a summary of thinking on the Pound heading into the BoE meeting on Thursday. Here it is in full:
The Bank of England may increase interest rates this week for the first time in more than a decade, but that won't be enough to buoy the pound, according to strategists.

Markets almost fully price in a 25-basis-point increase in the BOE's key rate on Thursday, meaning investors are ill- prepared for a disappointment. Should Governor Mark Carney and fellow policy makers keep policy on hold, or deliver a one-time hike that merely reverses the emergency cut after the Brexit vote, sterling could add to the last two weeks' declines, according to Ross Walker, an economist at NatWest Markets.

The U.K. currency has declined 1.8 percent against the dollar during October as concerns about the lack of progress in Brexit negotiations weighed on investor sentiment. It snapped a two-day decline on Monday, gaining 0.3 percent to $1.3161 as of 9:11 a.m. The yield on 10-year U.K. government bonds fell 1 basis point to 1.34 percent.

"Sterling needs a hawkish hike in order to rally," said Walker. "The pound could come under pressure" otherwise, he said.

While money-market pricing suggests an 89 percent probability that the Monetary Police Committee will tighten on Thursday, banks including Credit Suisse Group AG and Barclays Plc expect a "one-and-done" move. Investors will look to the language of the MPC minutes, vote split and the quarterly Inflation Report to gauge the policy outlook further ahead.

"I'd prefer to go into the meeting" with a short position on sterling, said Steven Barrow, head of currency strategy in London at Standard Bank. "There is a reasonable enough chance they don't raise rates. We'll have to see what comes out from the statement the bank puts out."
The bond market has pretty much priced in the potential for the Bank of England to raise rates this week, with 3-month yields rising from a low in July of 0.12% to 0.41% today. Perhaps the biggest question is not so much whether they will raise rates but rather will they manage to sustain the hike and whether they will raise again?

This article from Reuters highlights the fact that less than a third of households now have a mortgage. Here is a section:

Interest payments on the average variable rate mortgage will rise by 180 pounds ($237) a year, according to Nationwide, one of Britain's biggest lenders.

But fewer Britons than in the past will be immediately affected. The proportion of English households with mortgages has fallen below 30 percent from more than 40 percent a decade ago. And a record-low 40 percent of those mortgages are variable rate, down from 70 percent in 2001, Nationwide said.

Another way to view those statistics is that property prices are so high many people have been unable to get on the property ladder so they are renting. If that is indeed the case then the onus for footing the cost of interest rates rises is likely to fall on landlords with variable rates. While the number of fixed rate loans has grown in the UK, fixes are seldom for more than five years. That suggests a potentially long tail on interest rate rises for the economy.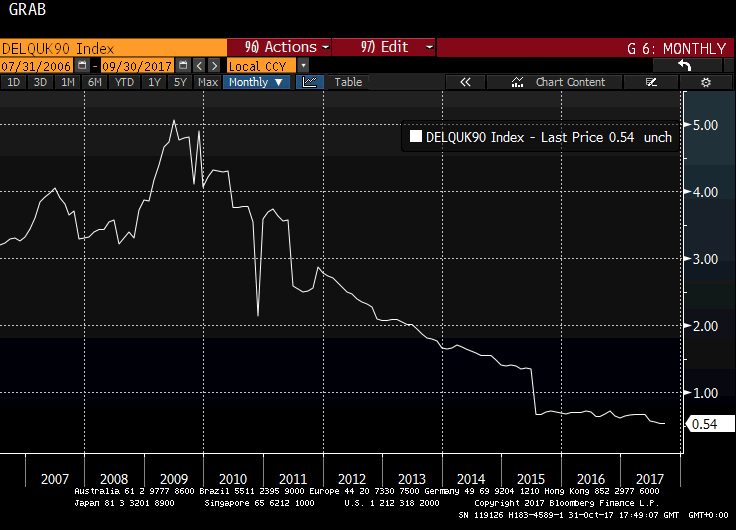 90-day Credit Card Delinquencies made a new low in September suggesting the consumer credit market is not being stressed. However, this is an Index worth monitoring because it is likely to offer initial signs of stress should interest rates become a burden for the economy.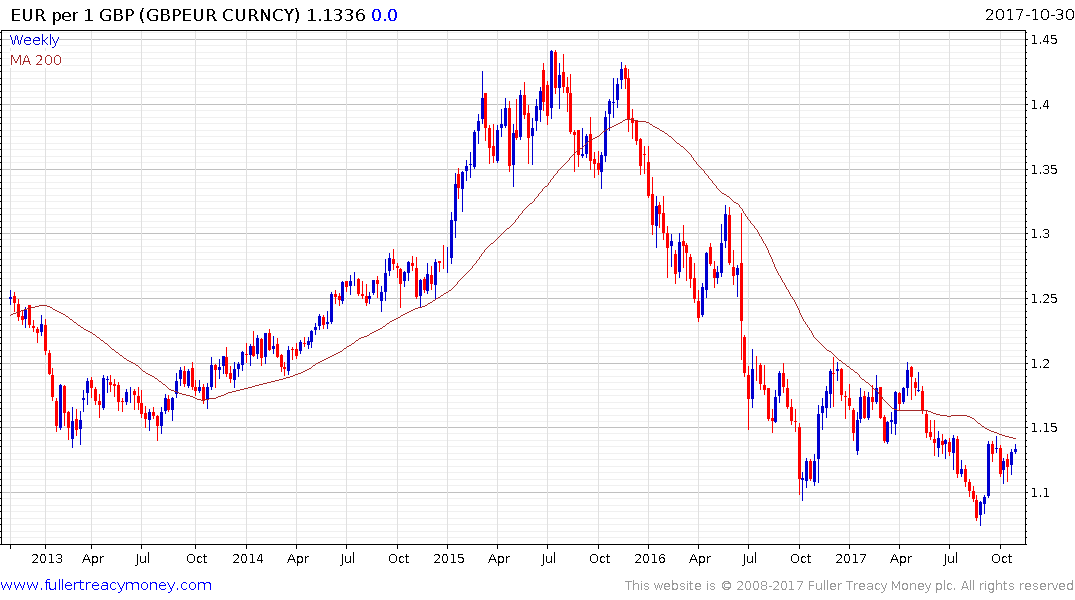 Meanwhile, the Pound is back testing the region of the trend mean against the Euro and a sustained move above it will be required to break the medium-term downtrend.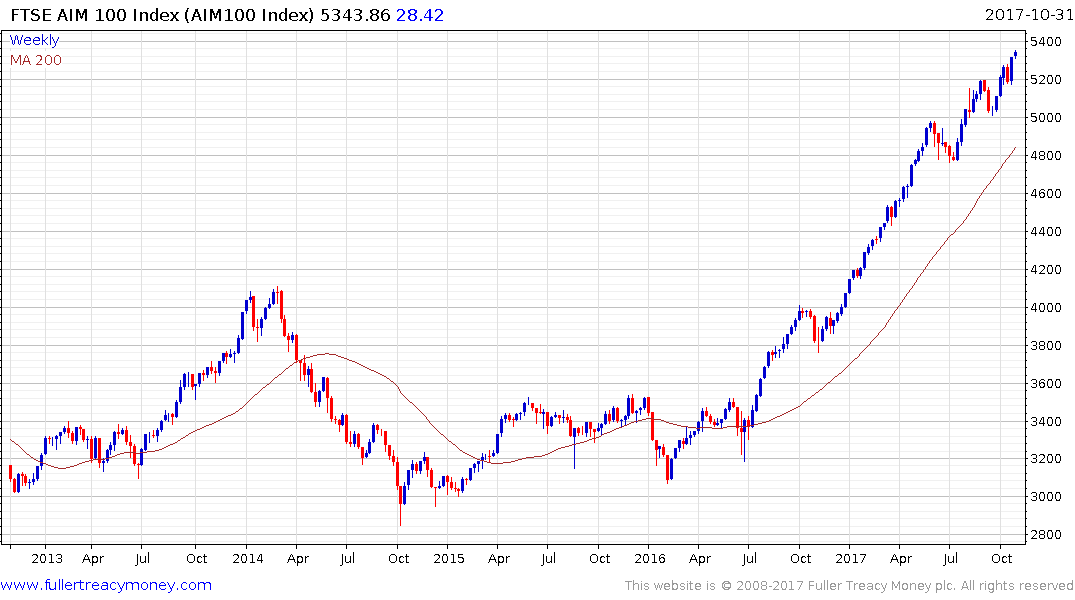 The pace of the AIM100's uptrend has moderated over the last few months but it continues to hold a progression of higher reaction lows.
Back to top