Bitcoin Whale's Bad Trade Leaves Counterparties Holding the Bag
This article by Benjamin Robertson, Andrea Tan and Yuji Nakamura for Bloomberg may be of interest to subscribers. Here is a section:
A massive wrong-way bet on Bitcoin left an unidentified futures trader unable to cover losses, burning counterparties and threatening to dent confidence in one of the world's largest cryptocurrency venues.

The long position in Bitcoin futures listed on OKEx, a Hong Kong-based exchange, had a notional value of about $416 million, according to an OKEx statement on Friday and data compiled by Bloomberg. OKEx moved to liquidate the position on Tuesday, but the exchange was unable to cover the trader's shortfall as Bitcoin's price slumped. Because OKEx has a "socialized clawback" policy for such instances, it will force futures traders with unrealized gains this week to give up about 18 percent of their profits.

While clawbacks are not unprecedented at OKEx, the size of this week's trading debacle has attracted lots of attention in crypto circles. The episode underscores the risks of operating on lightly regulated virtual currency venues, which often allow high levels of leverage and lack the protections investors have come to expect from traditional stock and bond markets. Crypto platforms have been dogged by everything from outages to hacks to market manipulation over the past few years, a period when spectacular swings in Bitcoin and its ilk attracted hordes of new traders from all over the world.
Margin requirements are an exchanges primary tool in ensuring they are not left making up the shortfall when traders' positions go awry. These kinds of events mean that the margin requirements for trading cryptocurrency futures are only going to get more onerous. Just as with every other futures traded market that is going to put a dampener on speculation.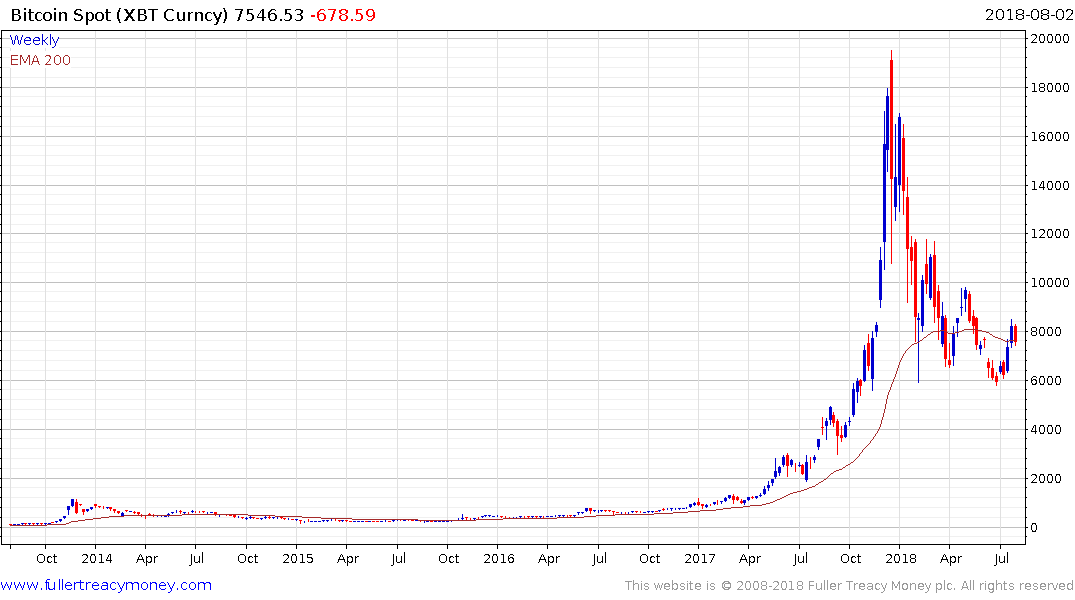 The Bitcoin price has stabilised above $5000 but a progression of lower rally highs remains in place. A break back above $10000 would be required to question the medium-term downward bias.
Back to top