Bitcoin Tumbles to 5-Month Low as Libra Hit by U.S. Backlash
This article by Claire Ballentine and Olga Kharif for Bloomberg may be of interest to subscribers. Here is a section:
"The biggest thing behind this is that volumes have been very very low," said Josh Lim, head of trading strategy at Galaxy Digital in New York. "On the sentiment side of things, the fact that the Libra coalition has faced some major challenges and the Telegram launch was halted by the SEC, it really curtailed investor appetite for crypto broadly."

Potentially adding to concern is the news that Alphabet Inc.'s Google has built a computer that's reached "quantum supremacy," performing a computation in 200 seconds that would take the fastest supercomputers about 10,000 years. Skeptics of cryptocurrencies have noted that advances in computing could make the slower proof of work system used by Bitcoin and other tokens obsolete.
The launch of bitcoin settled futures on the same day that the first whiff of Google's quantum supremacy news broke in September was responsible for the dynamic break below $10,000. The Congressional debate about Facebook's Libra project and confirmation of the quantum supremacy story were catalysts for selling pressure today.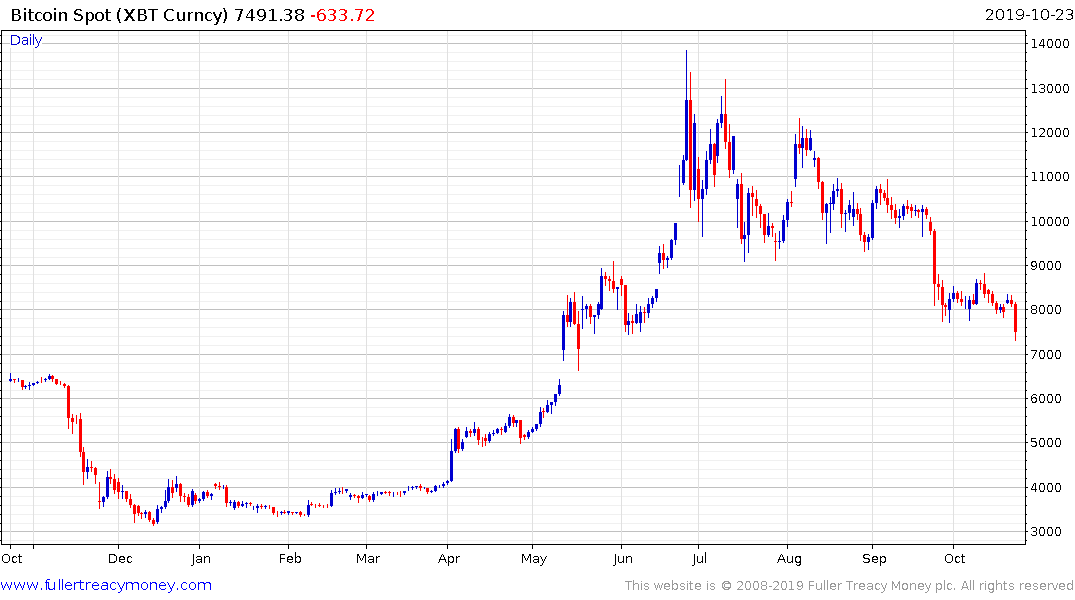 A downtrend has been underway for the last five months, following the peak near $14,000, and a break in that succession of lower rally highs will be required to challenge the downward bias.
The acceleration in the pace of innovation in quantum computing is not something that was envisaged when bitcoin was first proposed. I don't know the answer but I wonder if DAC based cryptocurrencies like IOTA face the same challenge.
Back to top