Bitcoin Tumbles Most in Three Months Amid South Korea
This article by Eric Lam and Jiyeun Lee for Bloomberg may be of interest to subscribers. Here it is in full:
Bitcoin extended losses for a third day, tumbling 12 percent Sunday as South Korean cryptocurrency exchange Coinrail said there was a "cyber intrusion" in its system.

The largest cryptocurrency declined to $6,749 as of 2 p.m. in New York, the biggest drop since March 14, according to data compiled by Bloomberg from Bitstamp pricing. That widens Bitcoin's losses for the year to 53 percent. Peer cryptocurrencies Ethereum and Ripple fell 11 percent and 12 percent, respectively.

Coinrail said in a statement on its website that it's reviewing its system due to hacking attempts. The exchange says it has managed to freeze all exposed NPXS, NPER and ATX coins, and that other cryptocurrencies are now being kept in a cold wallet. The statement is the only content available on the exchange's homepage, and contact information could not immediately be located.

The exchange trades more than 50 different cryptocurrencies and was the 98th largest, with a 24-hour volume of about $2.65 million, according to data from Coinmarketcap.com.
Cryptocurrency exchanges are hacked with uncomfortable regularity with relatively large percentages of investors having had their portfolios stolen via hacking operations at exchanges or from plain old ransomware. Here is a section from an article on CNBC from last Friday:
Roughly $1.1 billion worth of cryptocurrency was stolen in the first half of 2018, and unfortunately for owners, it's pretty easy to do, according to cybersecurity company Carbon Black.
Criminals use what's known as the dark web to facilitate large-scale cryptocurrency theft. There are now an estimated 12,000 marketplaces and 34,000 offerings related to cryptotheft for hackers to choose from, the company said in a study released Thursday.
"It's surprising just how easy it is without any tech skill to commit cybercrimes like ransomware," Carbon Black Security strategist Rick McElroy told CNBC. "It's not always these large nefarious groups, it's in anybody's hands."
The necessary malware, which McElroy said even occasionally comes with customer service, costs an average of $224 and can be priced as low as $1.04. That marketplace has emerged as a $6.7 million economy, according to the study.
This kind of fraud and theft tends to be overlooked as part of the wild west nature of an emerging exciting market when the price is rising but it proves deleterious to confidence when prices are declining. It's a good example of how crowds are tolerant of contradiction. Threats that your money will be stolen are ignored in the mania but cause fear in the decline.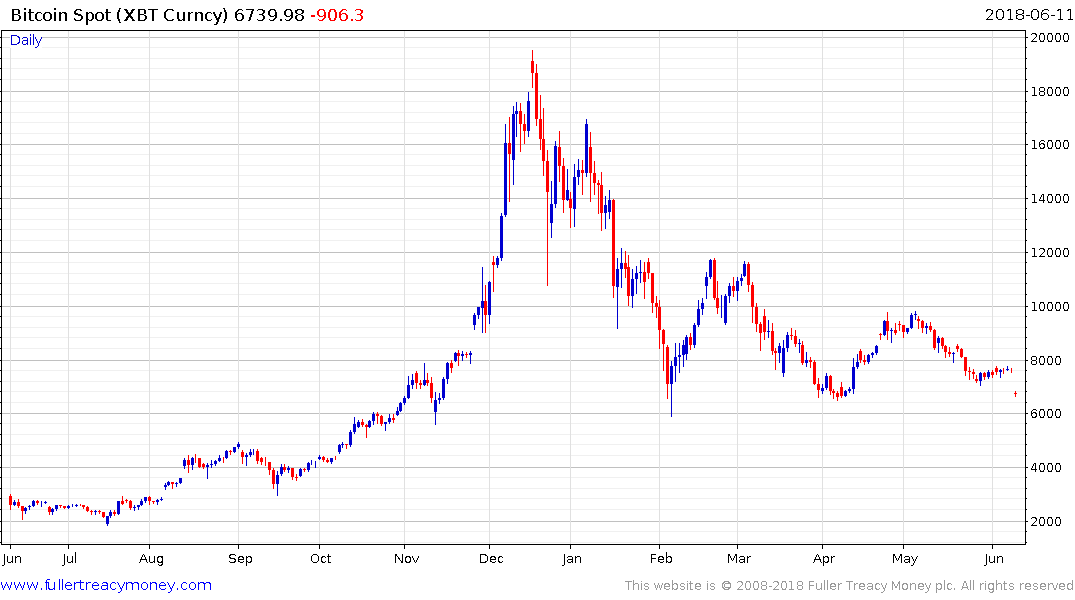 Bitcoin has been forming a triangular pattern with both a progression of higher reaction lows and lower highs. It is now back testing the April low and will need to rally smartly tomorrow if another downward leg to the bear market is to be avoided.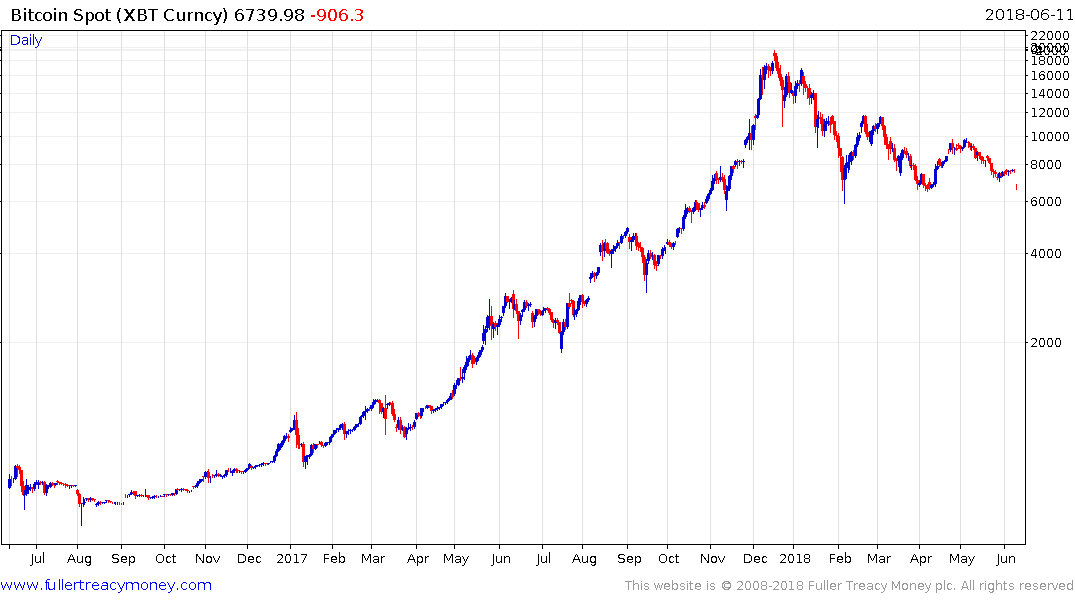 The two-year log scale chart highlights just how much room for a further decline there is if a move below the April lows is sustained.
Back to top