Bitcoin Surges Past $7,000 to Extend Record Rally
This article by Eric Lam for Bloomberg may be of interest to subscribers. Here is a section:
"It is simply remarkable how resilient bitcoin has been in the face of significant negativity," said Lukman Otunuga, a research analyst at ForexTime, in a Nov. 1 note to clients. "The price action suggests that bulls have a very firm grip."

In a blog post this week, Themis warned CME is "caving in" to pressure from clients and placing a seal of approval around a "very risky, unregulated instrument that has a history of fraud and manipulation." The products planned by CME "remind us of the collateralized debt obligations which were peddled during the financial crisis," the post said.

Asked whether he's concerned about a potential bubble, CME Chief Executive Officer Terry Duffy said on Bloomberg TV on Nov. 1 that the firm's job is to "manage risk, not decide what the price of a product is."
Bitcoin is considered by advocates to be a global phenomenon and it might get there eventually with progressively more countries legislating for its inclusion as an investment vehicle within their domestic markets.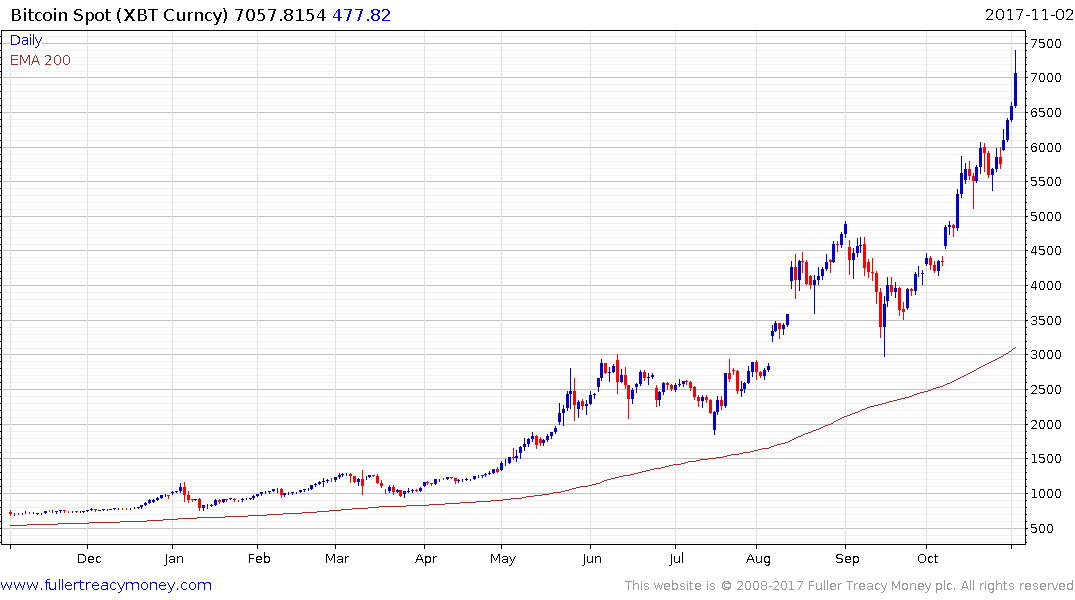 While the bitcoin boom is making headlines, and as I have explained previously has a number of clear consistency characteristics, it is likely to have a limited life. Right now, bitcoin miners, primarily in China, enjoy wide margins. However, as with any business that grows in scale, margins tend to contract as participation rises.
The one question I have had that no one can seem to satisfactorily answer is why blockchain needs to attach a value to the tokens created in the mining process? It would be just as easy to charge for usage and market forces will eventually result in whatever that charge is being negotiated lower. The market is still probably some ways from reaching that conclusion, but it does seem to be the inevitable conclusion of the bitcoin boom. After all, the true value in the technology resides in blockchain and that is true regardless of what the nominal price of bitcoin is.
In the meantime, this impressive breakout is in line with bitcoin's history of impressive moves. Once this short-term advance move has run its course, a sharp pullback is to be expected. $5000 should offer an area of support and if that level fails it would represent a major inconsistency.
Back to top