Bitcoin splits again, creating a new cryptocurrency called bitcoin gold that then plunged 66%
This article from CNBC may be of interest to subscribers. Here is a section:
There are differences of opinions within the bitcoin industry as to whether a fork is good or bad.

"These forks are very bad for bitcoin. Saturating the market with different versions of bitcoin is confusing to users, and discredits the claim that there are a limited number of bitcoins — since you can always fork it and double the supply," Sol Lederer, blockchain director at Loomia, said in an emailed statement Tuesday.

But some have said forks are a good part of any cryptocurrency ecosystem.

"If a crypto-community has irreconcilable differences, then you can go your separate ways and that is just fine," Bob Summerwill, chief blockchain developer at Sweetbridge, a company creating blockchain solutions, said in a statement Tuesday.

Still, there is bullishness around bitcoin. A survey carried out by CNBC last week asking where the bitcoin price was headed found that 49 percent of the 23,118 people who voted answered "above $10,000."
There is a certain Darwinism to the evolution of Bitcoin where mutations split off and are weighed individually by the market. The two hard forks since July resulted from intractable disagreement about the nature of what the evolving market for Bitcoin should be.

It was basically a battle between monetary purists who view it as an immutable asset and those seeking to build a transaction oriented ecosystem dependent on ease of use, transaction speed and at least some flexibility in supply. So far, the former are in the ascendency and these forks were likely required if some of the most bullish projections for bitcoin, and more importantly the underlying blockchain network are to ever be realised.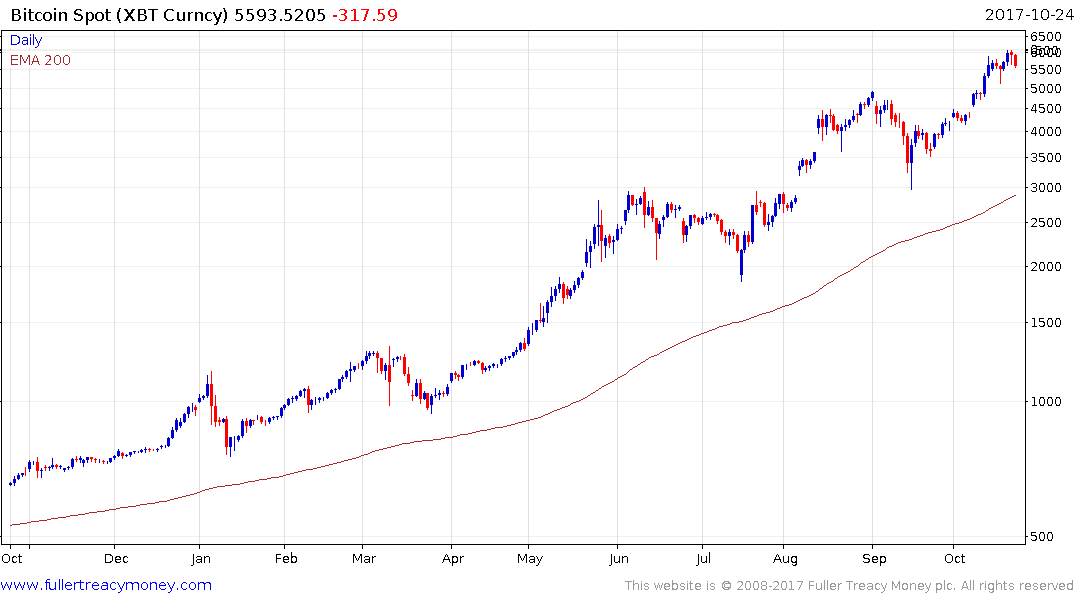 Bitcoin paused at $6000 on Monday but a sustained move below $5000 would be required to begin to question medium-term uptrend consistency.

This primer from Bank of America/Merrill Lynch on cryptocurrencies may also be of interest.
Back to top