Bitcoin Selloff Accelerates as Credit-Card Issuers Extend Ban
This article by Todd White and Eric Lam for Bloomberg may be of interest to subscribers. Here it is in full:
Bitcoin declined for a fifth day, breaking below $7,000 for the first time since November and leading other digital tokens lower, as Lloyds Banking Group Plc joined a growing number of big credit-card issuers halting purchases of cryptocurrencies on their cards.

The biggest digital currency sank as much as 18 percent to $6,985 as of 1:12 p.m. in New York, according to composite Bloomberg pricing. It has erased almost 65 percent of its value from a record high $19,511 in December. Rival coins also retreated on Monday, with Ripple losing as much as 17 percent and Ethereum and Litecoin also weaker.

Bitcoin's longest run of losses since Christmas day has coincided with investors exiting risky assets across the board, with stocks globally retreating in the wake of a slump in U.S. markets Friday. Bitcoin so far seems to be struggling to live up to any comparison with gold as a store of value, which is an argument made by some of its supporters. Bullion edged higher as other safe havens -- the yen, Swiss franc and European bonds -- also gained.

Weeks of negative news and commercial setbacks have buffeted digital tokens. A growing number of big credit-card issuers have said they're halting purchases of cryptocurrencies on their cards, including JPMorgan Chase & Co. and Bank of America Corp. Several cited risk aversion and a desire to protect their customers.

Meanwhile, North Korea is trying to hack South Korea's cryptocurrency-related programs to steal digital currencies and has already stolen tens of billions of won worth, Yonhap News reported. And authorities in digital-coin powerhouse South Korea and other countries are weighing increased regulatory scrutiny of the industry, news which helped spark the ongoing selloff.

China will block all websites, including foreign platforms, related to cryptocurrency trading and initial coin offerings in an attempt to finally stamp out speculation in the market, according to the South China Morning Post.
More than 10% of all cryptocurrency wallets have been hacked. If that were the case with banks, they would be empty, but banks do not offer the kinds of rewards cryptocurrencies offer so greed keeps people coming back for more. I've seen more than a few comparisons today highlighting the fact bitcoin has experienced even larger pullbacks before. To mind that misses the point.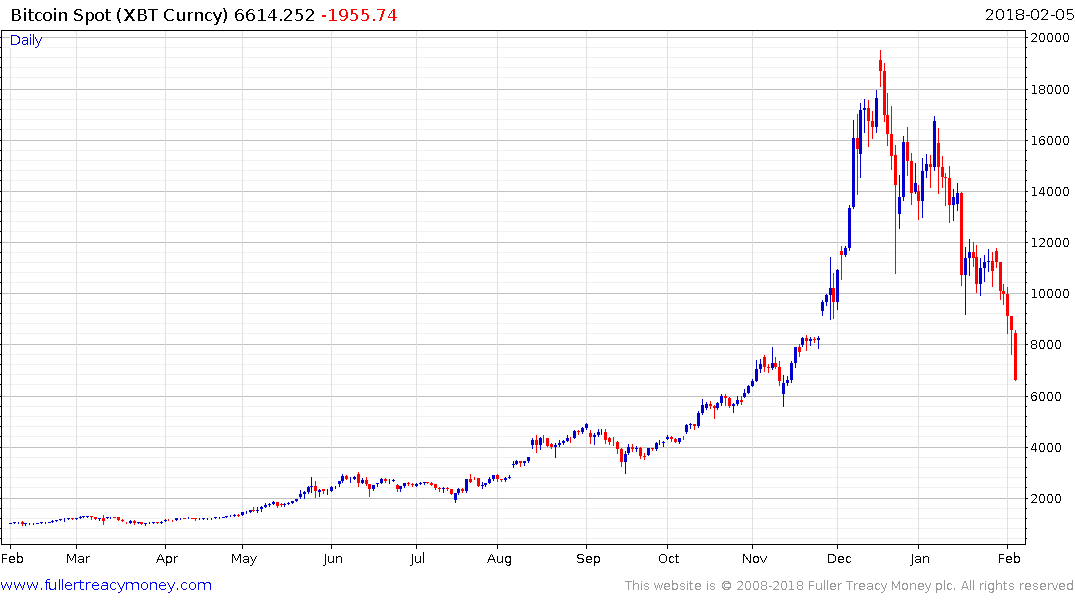 Back in 2010 bitcoin pulled back by 93% but it had no real competition. Today bitcoin is the blockchain world what AOL and Netscape were to the early internet. It is going to be overrun with newer, better, nimbler, faster competitors that have real world applications. That implies the natural value for bitcoin is zero because it will fall victim to obsolescence.
This article from Handlesblatt discusses how Volkswagen is talking with the progenitors of IOTA to give autonomous cars a digital blockchain signature so they can pass through tolls, pay for charging etc. unencumbered by needing to interact with a person to complete transactions.
Back to top