Bitcoin's Future Is All Mapped Out
This article by Marcus Ashworth for Bloomberg may be of interest to subscribers. Here is a section:
And, in fairness, there's a game attempt to stop this being completely off-the-scale Wild West stuff. It's a cash-settled futures contract in U.S. dollars, with no actual delivery of Bitcoin required. The exchange will impose a minimum initial margin -- the deposit required to trade a specified amount of futures contracts -- of 35 percent. That's seven times more than for trading oil or mini-S&P equity futures. There will be a twice-daily requirement to make sure the 35 percent buffer is intact, given Bitcoin's constant swings. Clearing members can impose a higher limit if they want. Two-minute trading breaks will kick in if the daily price moves 7 percent away from the previous day's settlement price, then again at 13 percent and a hard limit at 20 percent when all trading will cease unless trading can restart within that band. There are no stated plans to offer options on the futures, until the contract is fully established. That would be too much rocket fuel.
Anticipation about the wall of money that could hit the bitcoin market with the introduction of futures is propelling speculation in the original cryptocurrency. This is an acceleration which is close to the ferocity of the move in 2013 when the price first managed to reach $1000 despite the fact it is multiples that level today.

Even for a market where accelerations are "normal" this is a big one and therefore at least a short-term ending signal, not least since futures also introduce the ability to short the market.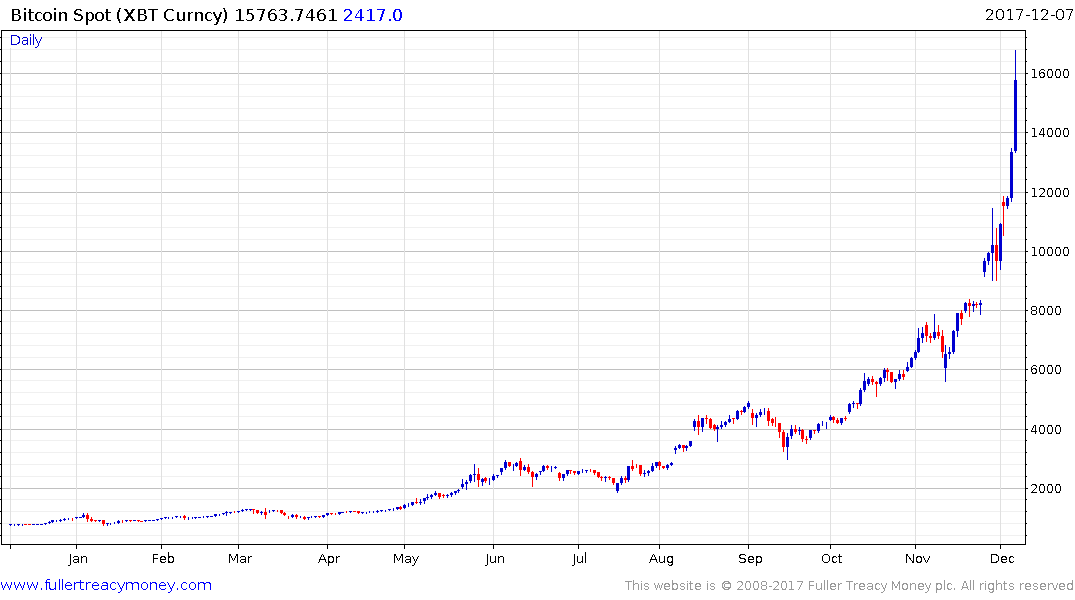 The most recent approximation of a range was between November 29th and December 4th. There is no point arguing about whether that in fact constitutes a range in the normal sense of the word since we can only deal with the reality provided by the market. That suggests the first region of potential support, when bitcoin next pulls back, is $11000, or $5000 away from where it was trading today. There is the potential that the introduction of futures could a catalytic event for those who wish to short the market so it is an appropriate time to at least think about trailing stops on a long position.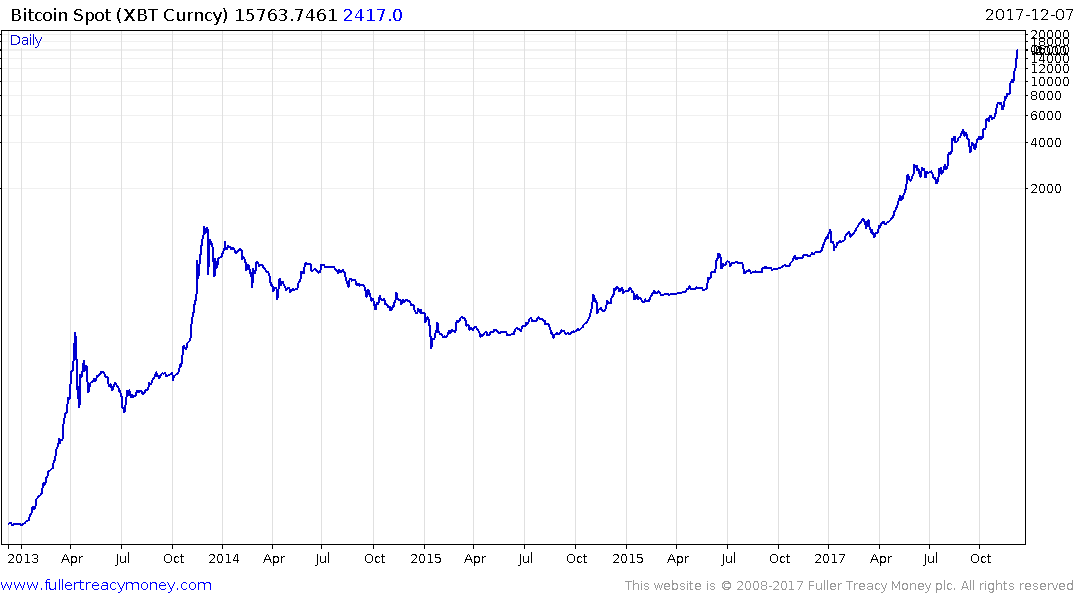 Back to top