Bitcoin Mania Grips Retail Traders in Flashback to Fall 2017
This article by Claire Ballentine and Edward Robinson for Bloomberg may be of interest to subscribers. Here is a section:
"FOMO is slowly kicking in. We are only just beginning to see some of our retail clients borrowing against their Bitcoin to buy more Bitcoin and that will ultimately propel the rally well into the $20,000s and beyond," said Antoni Trenchev, co-founder and managing partner of Nexo in London, which bills itself as the world's biggest crypto lender.

Trading got so intense overnight in XRP that U.S. cryptocurrency exchange Coinbase crashed, according to media reports. That sparked a plunge in the coin after the massive rally took it to a record.

Coinbase's official status page says that its website is operational, and that an incident on Monday at 10 p.m. has been resolved. A spokesperson from Coinbase said they are looking into Bloomberg News' request for comment.

While Main Street investors may be dreaming about hitting a jackpot, more seasoned market veterans remain wary about the sudden boom. The crypto world is notoriously opaque, and unlike stocks or bonds, which are rooted in economic and business fundamentals, getting a read on what makes Bitcoin tick can be impossible even for the savviest investors

"Whenever I see mainstream media attention like this, that usually leads to a sell-off," said Kevin Murcko, the founder and CEO of CoinMetro, an Estonia-based crypto exchange. "The big fish need to lay off risk so they open the floodgates to bring in retail guys to dump on. Not sure this is the case this time around but it seems a bit suspect."
Back in 2017, legions of college kids went home for Thanksgiving and convinced their parents investing in bitcoin was a good idea. The price jumped from $8000 to over $1900 in the ultimate Santa Claus rally. It then gave up the whole advance by the beginning of February.
Enthusiasm about a re-run of 2017 is running high among retail investors. The number of venues where cryptocurrencies can be traded has proliferated over the last few years with Robinhood being the most notable new entrant for retail traders this year.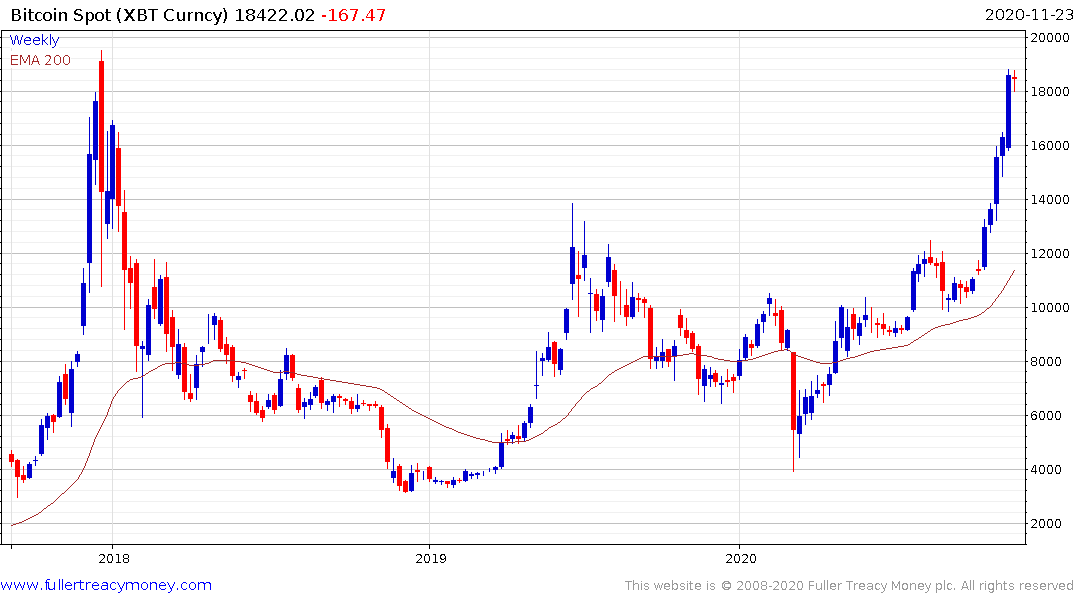 Ranges are explosions waiting to happen and this is the second time bitcoin has ranged for three years. Some consolidation in the region of the peak would not be all that surprising in a normal asset class but bitcoin is known for the ferocity of its explosive moves. A clear downward dynamic would be required to check momentum.
Ripple has almost tripled in two days. In the process it has completed its base formation.
Back to top