Bitcoin Losses Gather Pace, With Prices Nearing Three-Week Low
This article by Anchalee Worrachate and Eric Lam for Bloomberg may be of interest to subscribers. Here is a section:
"Bitcoin has already achieved the fastest-ever price appreciation of any must-have asset," wrote JPMorgan Chase & Co. strategists John Normand and Federico Manicardi in a report on Thursday. "Current prices are so far above production costs that mean-reversion lower in returns is a recurring concern."

Bitcoin was down 10% to $31,532 as of 10:08 a.m. in New York. Prices are on track for their first back-to-back weekly decline since early October.

Adding to the anxiety, a report in a trade blog suggested that there had been what's known as a double purchase, where the same "coin" is used in two separate transactions.

"This really will chill a lot of that relentless buying and belief that Bitcoin is a stable form of providing transactions" if a double-spend actually happened, said Edward Moya, senior market analyst at Oanda.
Talk of a double purchase went wild on social media overnight. The primary issue is that bitcoin is designed to ensure that is impossible. Bitcoin processing is slow because it is designed to ensure that a bitcoin cannot be used to make a transaction twice. People try all the time to make double purchases but in order for a transaction to be considered "secure" it needs to go through six blocks. Therefore, I believe it is unlikely that bitcoin has been hacked or that a double purchase has taken place. However, the whole issue does highlight the difficulty bitcoin has in scaling the number of transactions. It is the primary argument against it being a medium of exchange for everyday purchases.
A much more significant development has been Janet Yellen using her confirmation process at the Senate to call out Bitcoin as a problem. The threat of regulation or real name holding, for example, are much more important threats than the rumours of a double spend.
The thing to understand about bitcoin is no one really knows how to value it or what the future holds. Everyone has an opinion. My own view is that it is akin to Netscape in the early internet. That company is still bumbling around as Firefox today, but Chrome is the primary venue for internet browsing. Bitcoin was the first and imperfect cryptocurrency. It is still the largest and attracts the majority of flows but it has design flaws that limit its real-world use.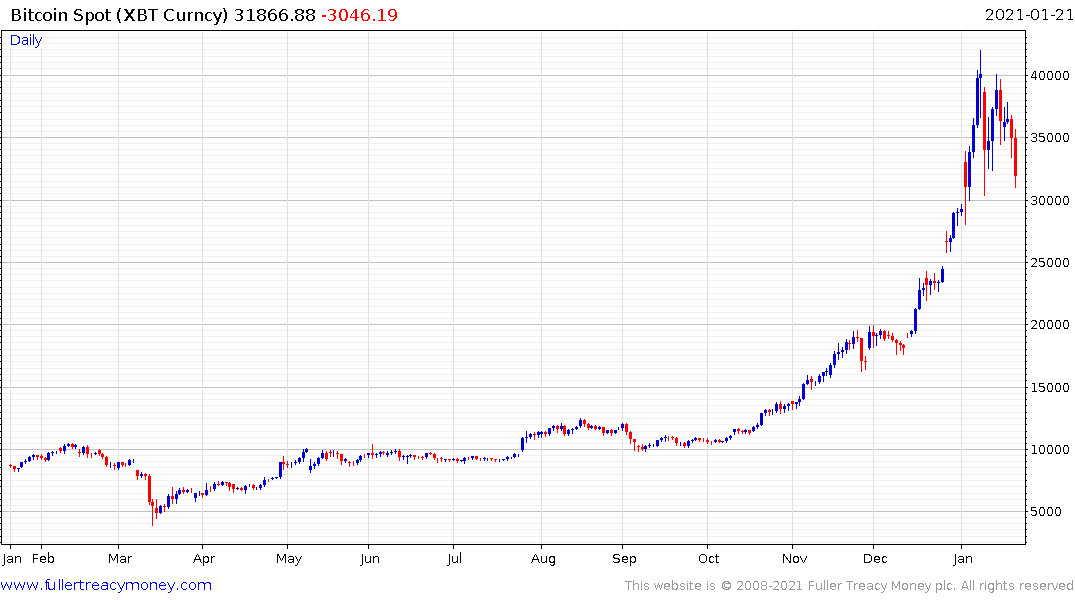 The consistency of the trend has been quite clear since the initial bounce in March. Reactions of less than 20% have been the norm and this one from peak to trough was 27%. That's an inconsistency. The trend is also no longer a staircase with a series of ranges one above another. That's an inconsistency. A triangular pattern has been forming since the peak on January 8th. That was characterised by a series of lower highs and higher lows. Today's breakdown takes the price back to test the low above $30,000.
It's a reasonable conclusion that a lot of stops are now just below the $30000 level, with the current area representing a point where buy the dip traders will become active.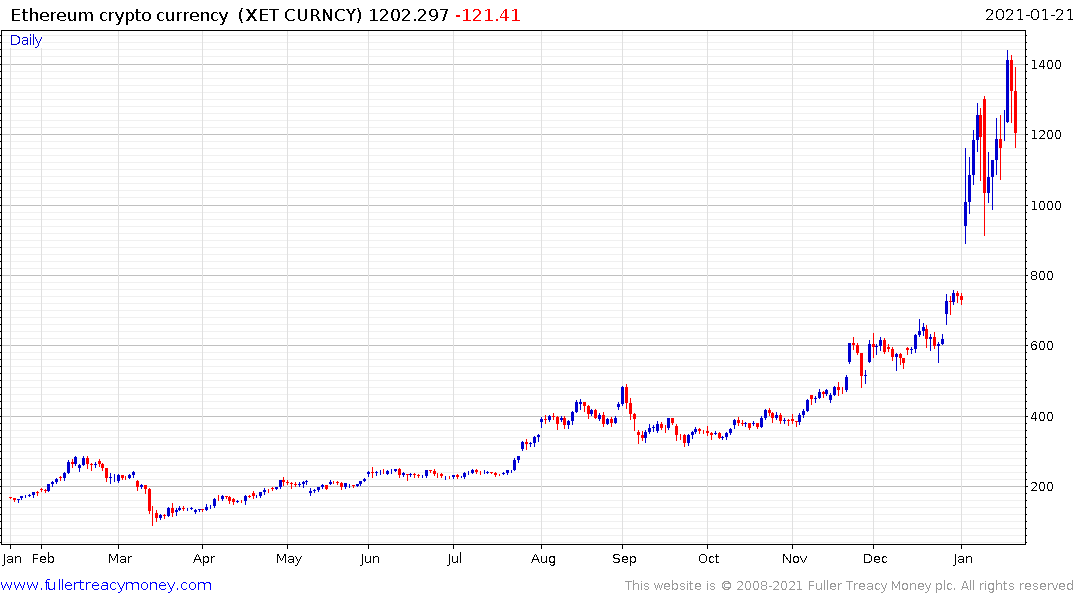 Ethereum briefly hit a new all-time high and pulled back today. It has been outperforming bitcoin of late, as expected. The $1200 area should now offer support. More importantly, if the trend to remain consistent the breakout above that level will need to be sustained. Failed upside breaks are generally a sign supply and demand are coming back into balance and that's not good news following a big advance. I've introduced a stop on my leveraged ethereum position as a result.
Back to top