Bitcoin Hits Six-Week High as Financial Titans Push Into Crypto
This article from Bloomberg may be of interest. Here is a section:
WisdomTree is trying again for permission to start a spot US Bitcoin ETF after being rebuffed in the past. BlackRock made its filing on June 15. The SEC has resisted allowing such spot funds but BlackRock's attempt carries the heft of the world's largest asset manager and its track record of winning approvals.

"The BlackRock filing changed everything, that reignited the race," said Eric Balchunas, senior ETF analyst at Bloomberg Intelligence.

BlackRock's application landed amid Grayscale Investments LLC's legal battle with the SEC to convert the Grayscale Bitcoin Trust into a physically backed ETF. The trust's discount to net asset value has narrowed sharply on speculation BlackRock's step could end up bolstering Grayscale's case.
The evolution of an ETF market for bitcoin would have several knock-on effects. The first is it would confirm the assets are securities and that would increase the potential for some form of regulation. The second is it would create what is effectively a derivative contract on the price. Because ETFs offer instant liquidity there will inevitably be mismatches because during times of high volume, the bitcoin network slows down.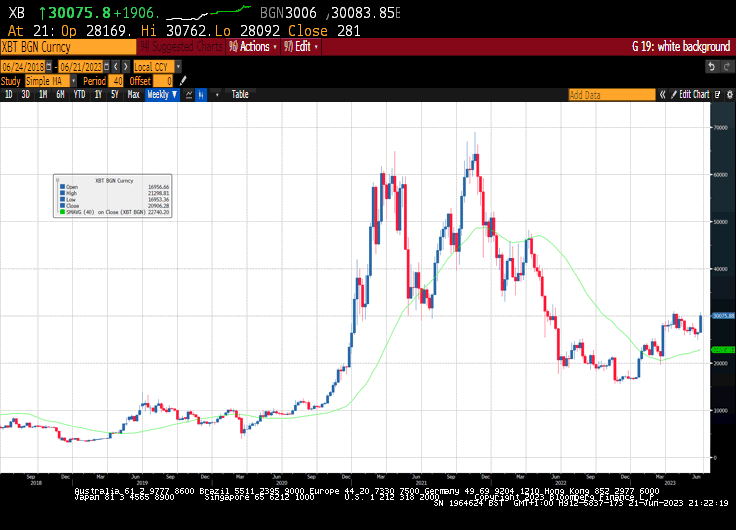 The biggest near-term impact will be to withdraw supply from the market. As ETFs attract assets, they will soak up available supply of bitcoin. That is driving the recovery in the price. Of course it is also a speculation on whether ETFs are in fact granted permission.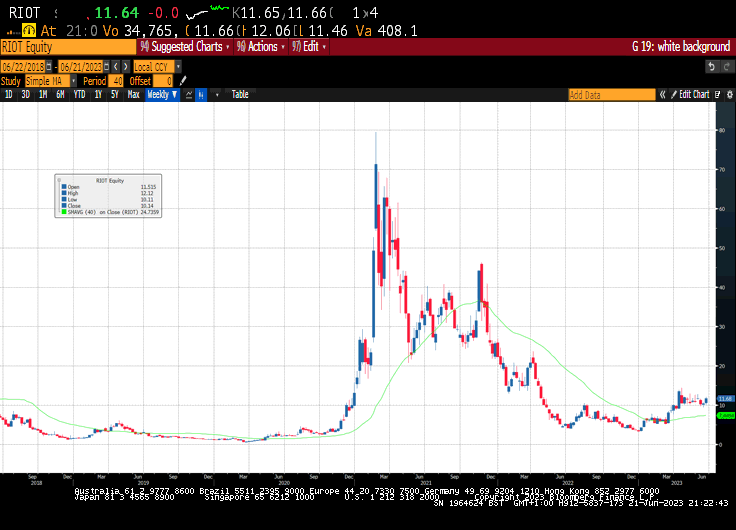 Bitcoin miners are the only source of new supply. Riot Platforms continues to exhibit first step above the base characteristics.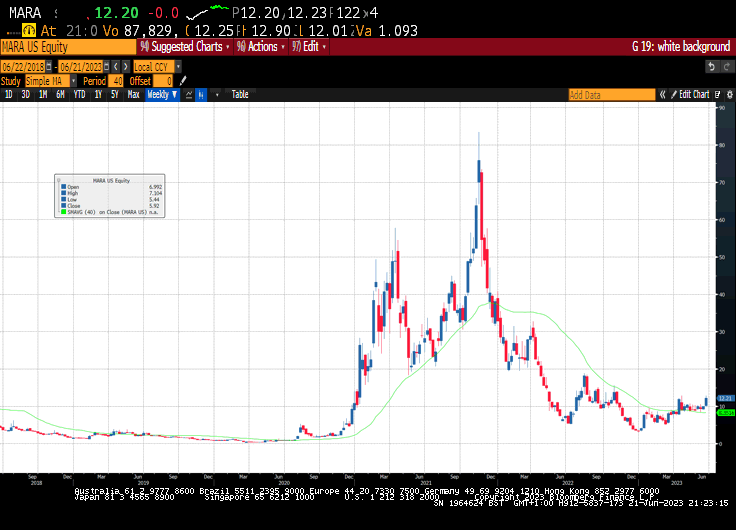 Marathon Digital Holdings is also rebounding from depressed levels.
One might wonder why large asset managers are suddenly expressing such concerted interest in the crypto sector? It may be in response to demand from their customers. It may also be in preparation for an alternative to holding fiat currency because global growth is slowing down, and the monetary and fiscal response required to address that issue is unlikely to support the purchasing power of state sponsored currencies.
Back to top