Bitcoin Futures Could Open Floodgates Into Crypto Markets
This article by Camila Russo for Bloomberg may be of interest to subscribers. Here it is in full:
Bitcoin is spiking to a record after CME Group Inc. said it's planning to launch bitcoin futures as the move could open the floodgates of investors who have been standing on the sidelines as bitcoin soared over 500 percent this year.
The cryptocurrency jumped as much as 5.2 percent to $6,416.39 after the CME said it will start offering trading the derivatives in the fourth quarter. Futures will be settled in cash based on a bitcoin index that CME started calculating in November.

The move comes after the Chicago Board Options Exchange said in August it's exploring bitcoin derivatives opportunities, while the Commodity Futures Trading Commission in July registered cryptocurrency trading platform LedgerX as the first federally regulated cryptocurrency derivatives exchange and clearinghouse.

With bitcoin futures becoming mainstream, the next logical step seems to be a bitcoin exchange-traded fund, as the Securities and Exchange Commission had cited the lack of derivatives as one of the reasons for rejecting approval of the funds. ETFs and derivatives are likely to make bitcoin trading a lot more palatable for hedge funds and mutual funds, as the instruments will allow them to hedge for the digital asset's volatility and avoid some of the hassles of investing in bitcoin directly.
Right now bitcoin is a market worth about $100 billion but trading is for, the most part done, without access to market leverage. I'm sure there are people putting purchases on their credit cards etc., but bitcoin is primarily an unleveraged market. That is about to change.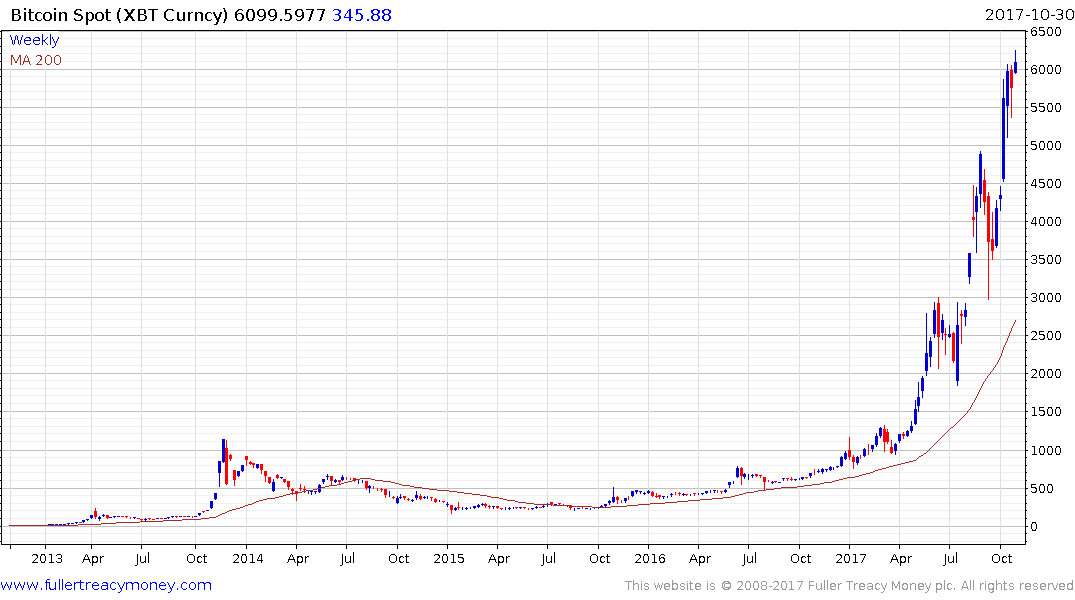 The advent of options trading in China in early 2015 represented the most recent occasions when leverage was introduced to a large market which had previously been dominated by retail cash transactions. The fact options started trading around the same time the Hong Kong/Shanghai stock market Connect was introduced were the catalysts for an acceleration in the pace of speculation in the market.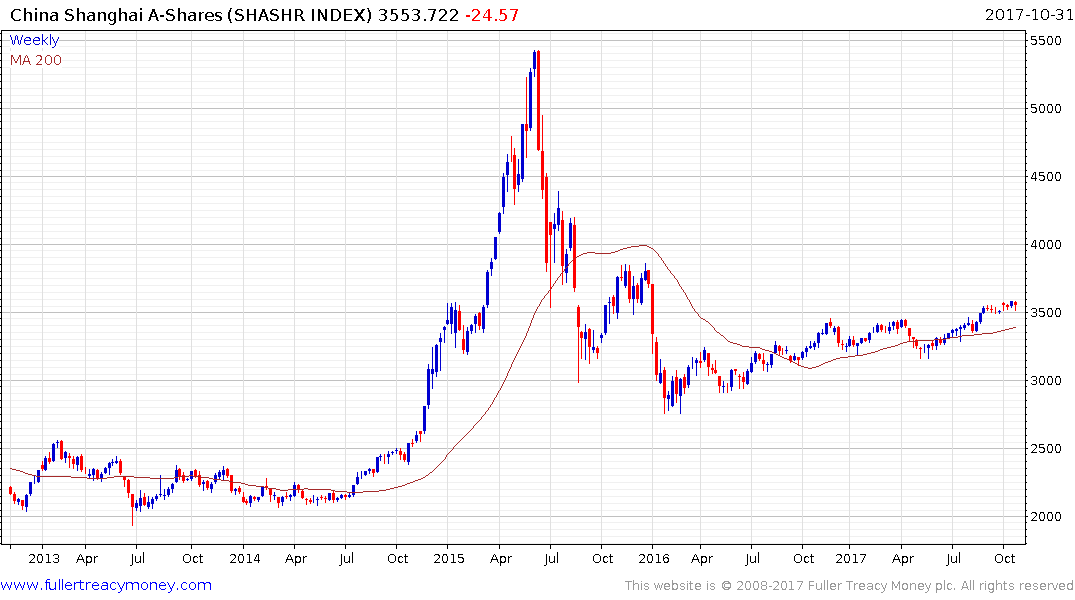 It is quite possible the introduction of futures and options to Bitcoin trading could have a similar influence. I have argued that best way to analyse bitcoin prices is via log scale charts because the majority of investors are unleveraged. When we view the chart with that scale we are presented with a rhythmic staircase step sequence uptrend which has been punctuated with a number of sharp drawdowns. If the broad consistency of the trend holds, the next pullback should find support in the region of $5000.

When options are introduced it will be better to monitor both log and arithmetic scale charts.
Back to top